Posted On Jan 8, 2018
Five Food Trends to Look Forward to in 2018
Just like fashion, food has its own style. Some foods are in and the others all but are forgotten. Food trends dictate much more than just the flavor of the week and include the culinary colors, styles, sights and smell for the entire year. For instance, Kale was a big favorite in 2017 but experts have predicted that it is definitely on the way out.
Food trends, as surprising as the term may sound, are so important to the food industry that Whole Foods actually had a team of experts compiles a list of the food trends they expect to see hitting the markets this year. Yes, seriously, it happened!
We all know that shrimp cocktails are passé and we definitely don't want to seem gauche while throwing the soiree of year, so here's a list of five foods you can serve at your celebration or event in 2018 and stay at the cutting edge of food fashion!
Spoiler Alert: There are plenty of reasons to love the food experts in this list!
1. Tacos!
Orange Taco Shells
Reason # 1: Tacos are finally in! You can finally feel free to stuff yourself with tacos for breakfast, lunch and dinner (and dessert too!) and look cool doing it. It's time to have Taco Mondays, Wednesdays, Thursdays, Fridays, Saturdays and Sundays in addition to Taco Tuesdays. Restaurants are experimenting with unique fillings and flavors, like seaweed taco shells and dessert tacos.
Serve your guests tacos with non-traditional fillings like vegan stuffing or Middle Eastern flavors for an exotic touch. Try our multi-colored mini taco shells with fillings you like or our Southwestern Shrimp Taco Bowls for something different!
2. Floral Flavors
Once the forte of culinary specialists, edible flowers are going mainstream with an array of uses in food. From edible petals in food to delicate infusions of beverages, they are here to take our taste buds by storm. Look out for lavender flavored beverages and rose infused desserts. Elderflower, a floral note that has been on the rise for a while now, is going to come into its own. This is definitely a trend that is going to be pleasing to the eye.
3. Plant-Based Foods
Being vegan or vegetarian is going to be much easier this coming year as plant-based foods come into the limelight. Plant-based meat substitutes are being taken to a whole new level with mind-blowing alternatives like "bleeding" vegan burgers being created using technology or sushi grade 'tuna' made from tomatoes. The popularity of dairy-free milk substitutes like nut milk is also on the rise, making it so much easier to find that particular brand of almond milk you really love!
Try serving our vegetarian and vegan appetizers at your table and see your guests really appreciate the effort you have taken!
4. The Middle East is Taking Over
Moroccan Lamb Lollipops
Well, only when it comes to food anyway. That's another reason to love the predictions. Most of us are fairly familiar with hummus, pita, and tahini by now and it's time for a whole host of Middle Eastern specialty foods and flavors to come into their own. Look out for an increase in cardamom, za'atar, and harissa flavored dishes along with halloumi, shakshuka, and lamb. Yum!
Try our Moroccan Lamb Lollipops to add that unusual touch to your dinner table.
Tip: Stuff taco shells with the Middle East inspired filling!
5. Mushrooms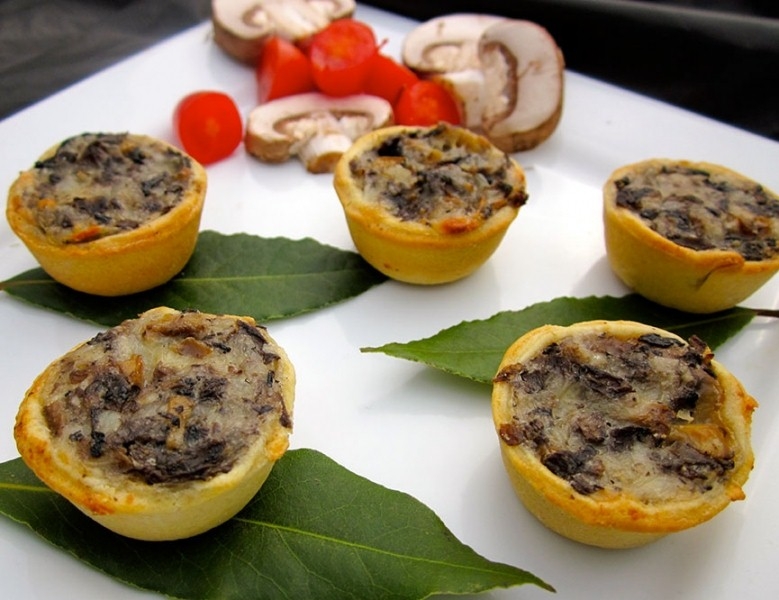 Mushroom Tarts
We did say that there are plenty of reasons to love the trending foods this year and it's time for the humble mushroom to shine. If any foodstuff needs its own star on the walk of fame, it is definitely the mushroom.
Functional mushrooms, normally used as dietary supplements like cordyceps, reishi and lions mane, for example, are making their way into bottled drinks, teas, coffees, and smoothies, apart from rich broths. There's no reason for alarm though, their flavors pair pretty well with cocoa, coffee and chocolate!
Some of our best party appetizers have mushrooms like our Mushroom Tarts filled with shiitake, oyster, Portobello, cremini and button mushrooms, so keep up and check out the whole range here.
Stay on top of 2018 food trends with AppetizersUSA! Get in touch with us to order appetizers online for any occasion.
As most of you already know gluten free has been the talk of the food industry for quite a few years now. It became widely popular for being known as the "cool, new diet" trend for awhile, since people believed it was the fad of the...
Read the full post
It's nearing the end of October which means it's ghosts and goblins, brooms and witches time. It also means it's a time for pumpkins, lots and lots of pumpkins. Whether you're carving them with the kids or for some creative...
Read the full post
A dinner party is a time for celebration and getting together, a time for family, friends, and food. But when when it's our own party, we want to serve amazing food without missing time with our guests because we're too busy in the...
Read the full post
Whether you're planning your wedding, a fancy dinner party, or a simple BBQ, the dessert table is probably the most attractive section of the buffet, because who doesn't love delicious treats? Everyone looks forward to indulging a bit...
Read the full post
Catering to a large event is hectic. Not only does the food have to be pushed out on time, but it needs to be perfectly cooked - in large quantities! Keeping guests waiting for food could lead to your client not picking your business to cater to...
Read the full post
Spring surely brings a special kind of magic with it. The dreariness has passed; a few flowers are making a brave foray into the world and you find birds composing songs. There's a skip in everyone's step as the world looks fresh and...
Read the full post
Holiday season! It's that time of the year when the fireplace crackles and friends and family gather around tables filled with food and good cheer. Cocktail parties, sumptuous feasts, and good times are just around the corner. With good...
Read the full post
Memorial Day is fast approaching, along with the fun and exciting summer days and summer nights. With that comes the much anticipated BBQ's, pool parties and holiday celebrations. Traditional 'American-style' food is the go-to,...
Read the full post
Pool parties are all about having fun in a carefree atmosphere. There are three things that guarantee to make them a true success – good company, refreshing drinks and unforgettable appetizers. Along with all those pina coladas and sweet and...
Read the full post