Posted On Jun 19, 2018
There's nothing more romantic than a summer wedding. The birds are singing and the sun is shining and everyone is in an effortless, festive mood. Elaborate floral decorations and colorful dresses are as integral to a summer wedding as delicious summery food.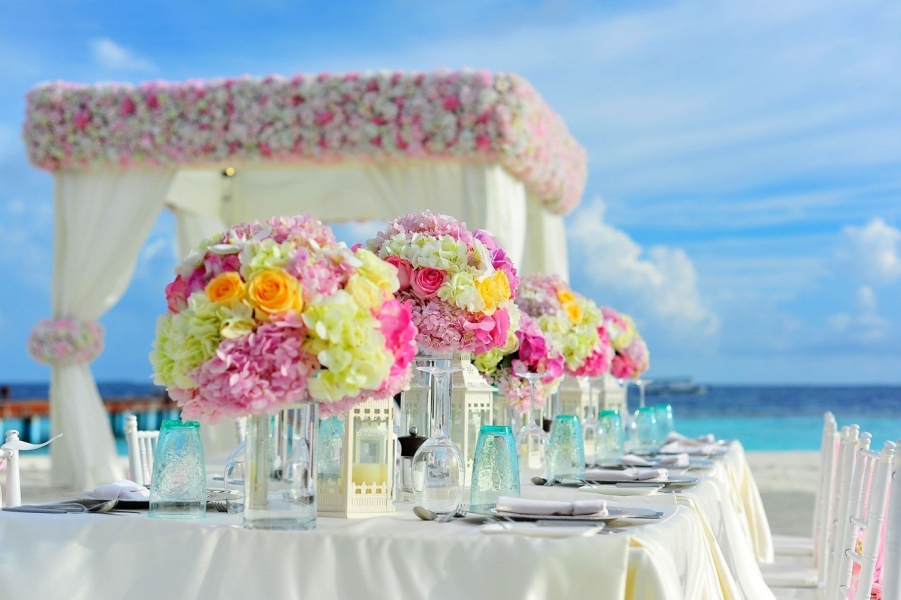 There are plenty of ways to help your guests beat the heat and ensure that almost everything goes right. Here are some ideas to help your guests enjoy a gorgeous summery way without getting too hot under the collar:
1. If you're planning an outdoor wedding, make sure you have plenty of shaded areas at your venue.
2. Have servers hand out cool drinks before the ceremony and arrange drink stations at convenient spots.
3. Paper fans can help keep your guests cool and make great wedding favors as well.
4. Make sure there's plenty of bug spray handy at your outdoor banquet.
5. Serve light and refreshing food. Think cold appetizers.
Have fun picking a theme for your food. Opt for refreshing food themes – a seafood theme works well if you have a beach wedding or a Mediterranean one works well in a garden. It'll give you an excuse to serve up all your favorite salads with lashings of olive oil as well. We've picked out some our best summer wedding appetizers to help you get started with planning your all-important menu.
1. Andouille Sausage & Shrimp Kabob
These delicious kebobs are served on knotted skewers which make them the perfect finger food as your guests won't have to juggle their drinks, plates and food all at the same time. The spicy sausage and plump shrimp make a lovely contrast to the crisp peppers. Delicious!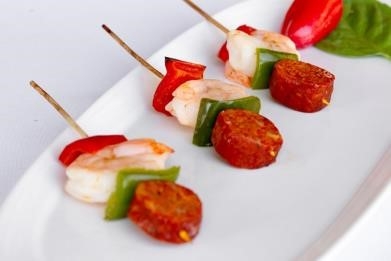 2. Dates and Bleu Wrapped In Bacon
Sticking with the theme of easy to eat summer party appetizers, this unusual appetizer made of delicious sweet juicy dates stuffed with savory creamy blue cheese, wrapped in bacon is sure to be a delightful surprise to your guests. Oh and it's served on a knotted skewer - so no cutlery required!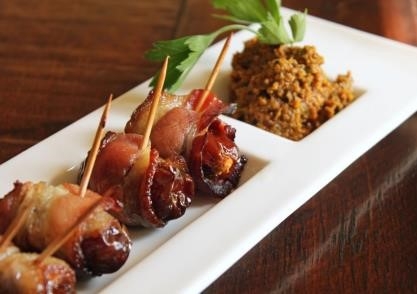 3. Goat Cheese and Fruit Crostini
Fruits and cheese make for a winning combination. Spread a mixture of goat cheese and honey on lightly toasted slices of baguette. Top with thinly sliced fruit like peaches or berries. Serve it up! Delicious, refreshing and healthy!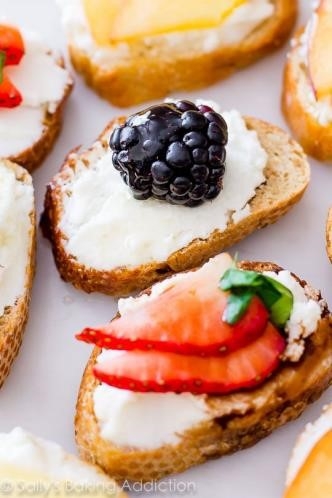 Source: http://whatmollymade.com
4. Gruyere and Summer Leek Tart
This appetizer will definitely please your vegetarian guests. Made from gorgeous aged gruyere cheese and summer leeks layered into a handmade pastry cup, you're guaranteed to get a delicious mouthful with every bite.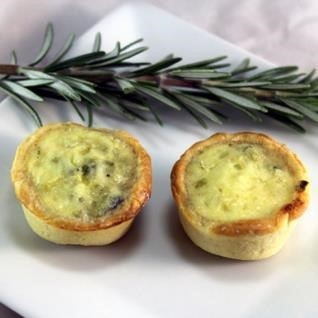 5. Cold Canapés Assortment
Cold appetizers are ever so easy to serve. They just simply need to be thawed! Serve up our assortment of our cold canapés which include whipped brie with toasted almonds and fruit chutney in a tart shell, island seasoned shrimp on coconut cornbread with cilantro mousse and candied pineapple, roast beef roulade with whipped horseradish mousse on a petit toast square, whipped seafood mousse with black olive garnish on marbled rye, and salami cornets with herb cheese and an artichoke heart wedge and you'll be sure to please the most discerning of your guests.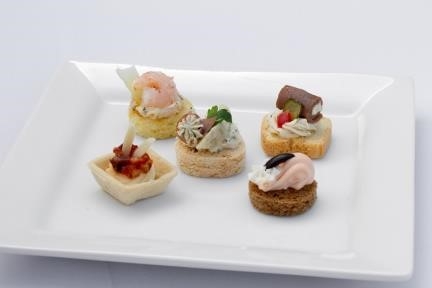 6. Watermelon Skewers with Feta, Mint & Cucumber
This appetizer is full of summer colors. Make a reduction of balsamic vinegar and sugar and drizzle over toothpicks threaded with watermelon cubes, then mint, then feta squares and cucumber slices. Yum!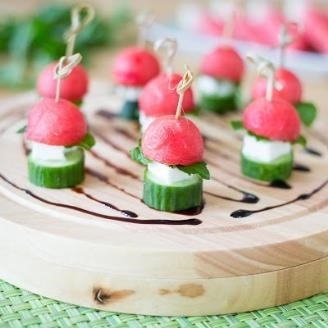 Source: http://www.eisforeat.com/
7. Shortbread Tuxedos
These shortbreads are sure to bring a smile to even the stiffest of upper lips. Made up of buttery English shortbread wafers partially dipped in chocolate and garnished with a white chocolate "tuxedo" motif, they work well as a sweet snack or an elegant dessert.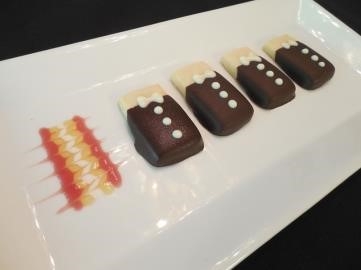 8. Wild Salmon and Asparagus Tip Quiche
This lovely seafood appetizer graces any menu, regardless of theme. Comprising of poached Atlantic salmon with a touch of lemon and sautéed asparagus tips with honey mustard and white wine, all layered into handmade pastry cups, you can be sure you're serving your guests only the finest of ingredients.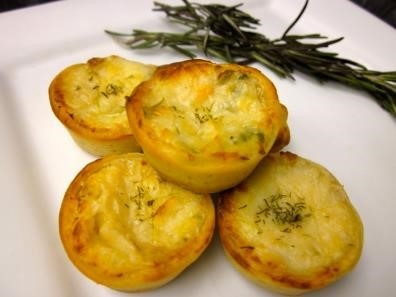 No matter what the occasion, or how large or small your party is, at Appetizers USA we are delighted to take some of the stress off your head. Browse through our products at our online store or contact us for fast, hassle free and prompt delivery of appetizers to your doorstep.
It's almost time for Thanksgiving and soon it will be time for Christmas. The holiday season has officially begun and diets are put on hold. It is time for family, good friends and cozy times around the fireplace. And tables laden with food!...
Read the full post
Spring is here and summer will be too before you know it. The flowers are out and the lawns have recovered from the harshness of winter. The warm weather brings with it the perfect opportunity to host a party outdoors. It's time to tell your...
Read the full post
As most of you already know gluten free has been the talk of the food industry for quite a few years now. It became widely popular for being known as the "cool, new diet" trend for awhile, since people believed it was the fad of the...
Read the full post
Five Food Trends to Look Forward to in 2018 Just like fashion, food has its own style. Some foods are in and the others all but are forgotten. Food trends dictate much more than just the flavor of the week and include the culinary colors, styles,...
Read the full post
A dinner party is a time for celebration and getting together, a time for family, friends, and food. But when when it's our own party, we want to serve amazing food without missing time with our guests because we're too busy in the...
Read the full post
It's nearing the end of October which means it's ghosts and goblins, brooms and witches time. It also means it's a time for pumpkins, lots and lots of pumpkins. Whether you're carving them with the kids or for some creative...
Read the full post
Whether you're planning your wedding, a fancy dinner party, or a simple BBQ, the dessert table is probably the most attractive section of the buffet, because who doesn't love delicious treats? Everyone looks forward to indulging a bit...
Read the full post
Catering to a large event is hectic. Not only does the food have to be pushed out on time, but it needs to be perfectly cooked - in large quantities! Keeping guests waiting for food could lead to your client not picking your business to cater to...
Read the full post
Spring surely brings a special kind of magic with it. The dreariness has passed; a few flowers are making a brave foray into the world and you find birds composing songs. There's a skip in everyone's step as the world looks fresh and...
Read the full post