Posted On Dec 12, 2016
The holidays are an exciting time of year. It's a time of gathering, feasts, parties, presents and fun, but it's also a time to really let your creativity shine. Whether it's wrapping your Christmas presents to a state of perfection or decorating your house into a winter wonderland, this time of year takes everything to another level. Here at AppetizersUSA, we love our tasty treats and appetizers served in all their delights at our family dinners, corporate party or New Year's celebration and we especially love to add those unique, fun touches to them as well. Now let's be honest, the dinner is superb, but what we're really looking forward to, are those mouth-watering, tasty desserts, that no matter how full you might be, there is somehow always room for, are we right? If you're looking for some to serve without the hassle, check out our desserts page and if you're still looking for tasty appetizers to appease your guests prior to them, take a look at our Christmas Appetizers that your guests will be sure to love.
As for the dessert portion of the evening, here is where your creativity can really make an appearance. Get in the holiday spirit with themed-filled desserts that will be fun and festival for all. We found a few that will definitely be a hit to serve at your party or to bring along as a sweet treat. If you decide to try one of these great recipes, be sure to take a picture and tag us on Facebook or Instagram, we'd love to see your creatively at work!
Hot Cocoa Christmas Cookies

http://kitchenfunwithmy3sons.com/2015/12/hot-cocoa-marshmallow-cookie-cups.html/
Because these are too adorable and too good not to make.
Frosted sugar cookie dip
http://homemadehooplah.com/recipes/frosted-sugar-cookie-dip/
A dip in dessert style? Yes, please!

Christmas light strawberries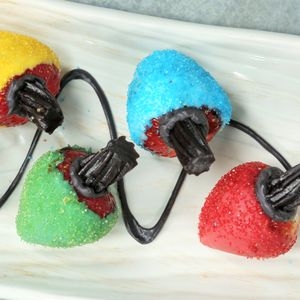 http://www.myrecipes.com/how-to/video/christmas-light-strawberries
Bring the lights inside and light up your dessert tray.

Marshmallow krispie treat ornaments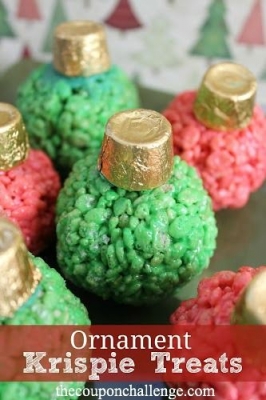 http://www.thecouponchallenge.com/marshmallow-treat-ornaments.html
These ornaments definitely don't belong on the tree.
Snake cake penguins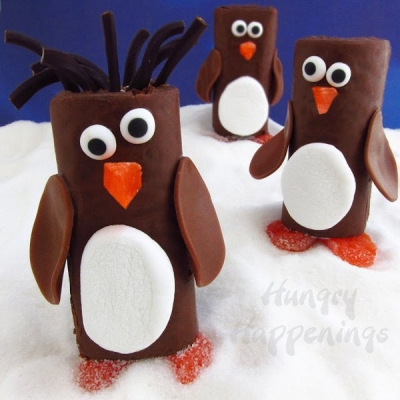 http://hungryhappenings.com/2012/07/snack-cake-penguins-great-treat-to.html/
These are so cute that you almost won't want to eat them!
Snowflake cookies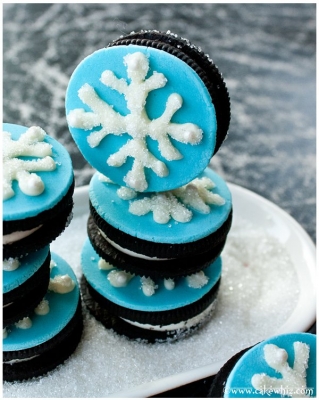 http://cakewhiz.com/snowflake-cookies/
Adding a twist to Oreos is always a fun treat.

Christmas tree cupcakes
http://www.cuded.com/2015/12/30-christmas-food-ideas/
We tend to see Christmas Tree Cupcakes at a lot of parties, but having a strawberry in the middle will definitely add a surprise element into the mix.
Leg lamp cookies

http://www.delish.com/cooking/recipes/a50435/leg-lamp-cookies-recipe/
For anyone who loves A Christmas Story and will have it playing all day long on Christmas, this one is definitely for you.
Rick krispie treat presents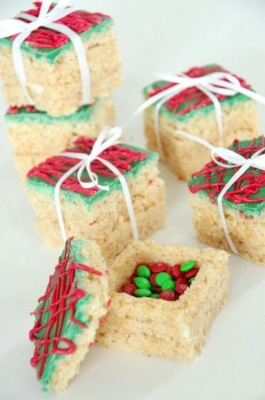 http://meaningfulmama.com/rice-krispies-treats-presents-surprise
Presents galore! Giving the gift of food is a must!

Thanksgiving is right around the corner, which makes it the official start to the holidays. It makes you wonder where the year 2016 has gone since it seems to have flown by. Now, here we are with Turkey Day quickly approaching and some of you are...
Read the full post
If you've had the chance to do some traveling then you know that the journey often includes sampling local food and delicacies along the way. If you haven't had the opportunity to venture outside of the country, that doesn't...
Read the full post
Christmas dinner is here and gone. Another year spent with family and friends gathered around the tree, opening presents, followed by the gathering around the kitchen for a day of cooking, cocktails, and treats. It can take days of...
Read the full post
The month of May is an exciting yet busy month. Summer is right around the corner, which means graduation season is upon us, vacation planning is in the works and fun holidays, pool parties and BBQ days will soon consume our weekends. This...
Read the full post
It's hard to believe that we just celebrated Halloween and now we all have Thanksgiving on the brain. It may only be the beginning of November, but this month of giving thanks is going to fly by, so getting ahead on your turkey party...
Read the full post
Seasons Greetings! Yup, it's finally time to say that. The air is crisp, the holiday music is jingling, the boots are worn, the shopping has begun, the lights are hanging, the hot chocolate is steaming, the cookies are baking and the...
Read the full post
There's no single celebration that lends itself to a unique, customized and completely themed menu quite like Halloween. Between the trick-or-treating, costume parties and carving out jack-o'-lanterns, time flies in...
Read the full post
Summer's here! It's the time to kick back and relax and to throw barbeque and pool parties. It's also time to celebrate that warm weather and indulge in the summer's bounty full of fresh fruits and chilled...
Read the full post
Memorial Day is fast approaching, along with the fun and exciting summer days and summer nights. With that comes the much anticipated BBQ's, pool parties and holiday celebrations. Traditional 'American-style' food is...
Read the full post