Posted On Dec 27, 2017
The holiday season is upon us and it is time to get cooking. Winter is the time for feasts. But these feasts, as delicious as they are, can take a lot of time to prepare. So take a bit of the burden off and order your appetizers online so you can concentrate on preparing the biggest feast of the year for your family and friends.
So without further delay here are our top picks for chicken breast appetizers that you must try this holiday season.
1. Pesto Chicken Pita Pockets
These yummy pita pockets are filled with deliciously succulent chicken breast chunks flavored with a classic pesto sauce. Make the filling ahead of time and fill them just before you serve to prevent the bread from getting soggy.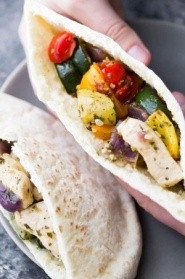 (https://sweetpeasandsaffron.com/meal-prep-pesto-chicken-pita-pockets/)
2. Coconut Chicken Tenders
These chicken breast strips are dipped in coconut batter and rolled in a shredded coconut and breadcrumbs mixture. The perfect combination of flavor and crunch. Order them online for hassle free meal prep.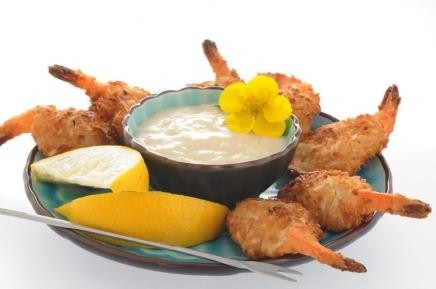 (https://www.appetizersusa.com/coconut-chicken-tenders-_8_136_26388.html)
3. Roasted Chicken and Veggie Skewer
Another super simple starter of chicken breast chunks seasoned with olive oil and mixed Italian herbs, roasted just right. Toss in a few veggies with the same seasoning, mount them onto a skewer and you are good to serve.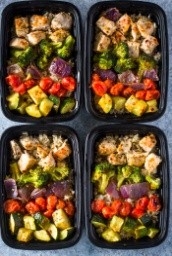 (http://gimmedelicious.com/2016/12/17/meal-prep-healthy-roasted-chicken-and-veggies/)
4. Sesame Chicken Tenders
Another great way to dress chicken breast strips is with sesame seeds! These strips are marinated in sesame oil and sprinkled with sesame seeds. Buy them online and all you have to do is deep fry and serve.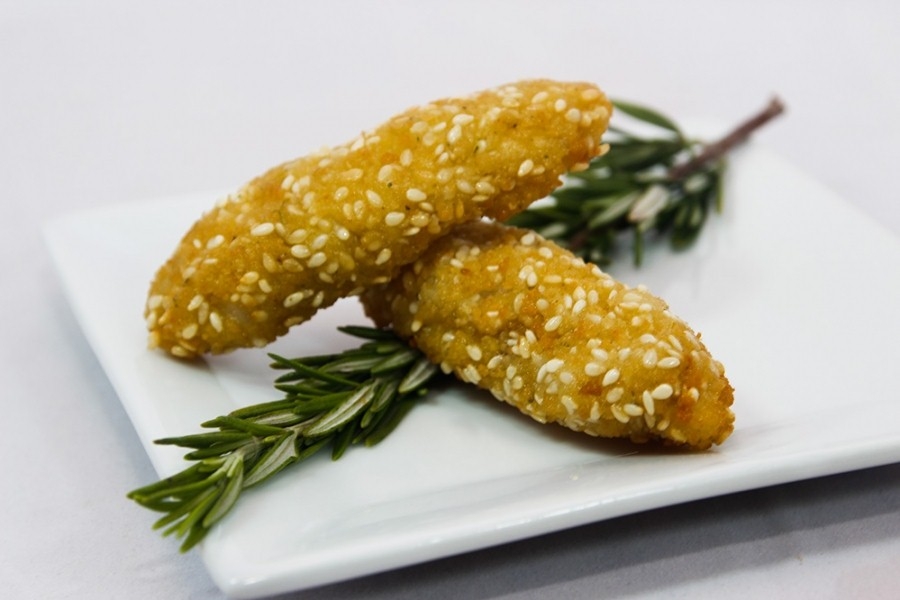 (https://www.appetizersusa.com/sesame-chicken-tenders-_8_111_26380.html)
5. Teriyaki Chicken Stir Fry Skewers
Stir fry chicken breast chunks with an assortment of veggies you like in some olive oil and teriyaki sauce. Mount them on skewers and you have a delicious appetizer that is ready to serve.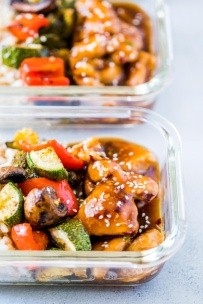 (https://myfoodstory.com/teriyaki-chicken-stir-fry-meal-prep-recipe/)
6. Chicken Wellington
This mouthwatering chicken and mushroom combination never disappoints. Wrapped the perfectly crumbly puff pastry, these are a sure winner. Order them online, bake until golden brown and serve.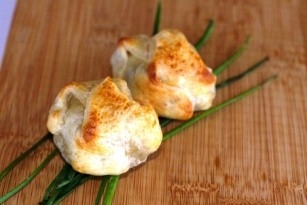 (https://www.appetizersusa.com/chicken-wellington_8_145_26341.html)
7. Chicken Salad in a Jar
A new fresh way to serve salad is in a jar! Grab some glass jars and toss in some lettuce, shredded chicken breast, cherry tomatoes, pecans and whatever else your heart desires. Chill till you are ready to serve.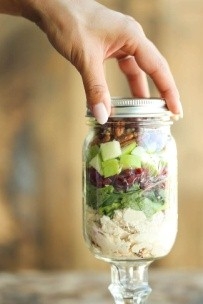 (https://damndelicious.net/2015/09/25/chicken-apple-and-pecan-salad-in-a-jar/)
8. Chicken and Vegetable Kabob
This divine combination of the tender chicken breast with red peppers, green peppers and onions make for a perfect kabob. Order online and serve at your next Christmas party!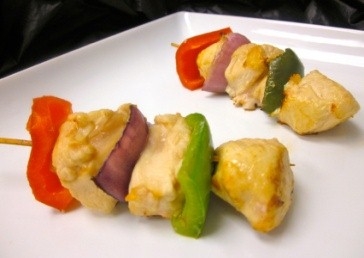 (https://www.appetizersusa.com/chicken-vegetable-kabob-_8_125_26242.html)
9. Fontina Chicken Bites
This heavenly blend of creamy fontina and sun-dried tomatoes covered in the moist chicken breast with a crunchy breadcrumb crust is enough to make anyone salivate. You'd best order plenty because we guarantee that your guests will be asking for more!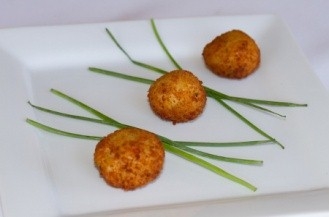 (https://www.appetizersusa.com/fontina-chicken-bites-_8_111_26364.html)
10. Baked Chicken and Broccoli Skewers
Baked broccoli is possibly the most delicious vegetable dish. Grab some chicken breast chunks and broccoli, drizzle on some melted garlic butter, season with salt and pepper and bake to perfection. Once cooked, mount them on skewers and serve hot with your favorite dip.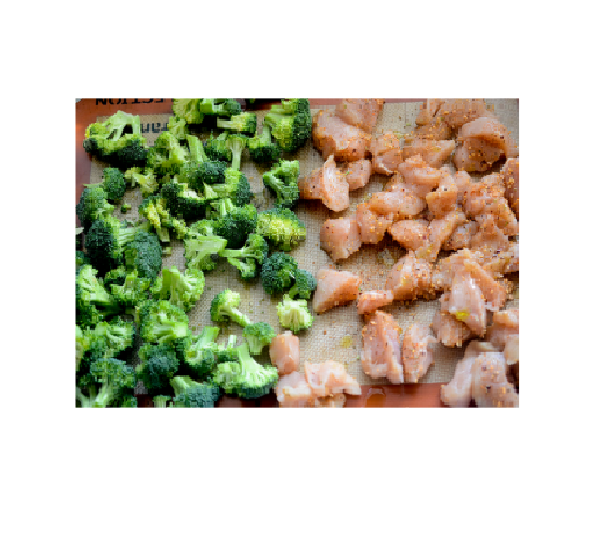 (http://www.recipe-diaries.com/2016/11/26/baked-chicken-broccoli-and-sweet-potatoes/)
These ten chicken breast appetizer ideas should keep you busy right up to Christmas day. Don't hesitate to try a few of these appetizers for your winter feasts this holiday season.
And don't forget, you can always order them online if you are too overwhelmed with meal prep. All our Appetizers USA appetizers are ready and available at a moment's notice. They are all FDA approved and made from top quality products. So this Christmas allow us to help you have a very Merry Christmas indeed!
We found this mouth-watering recipe from Cookie + Kate. These hearty quesadillas are filled with spicy sweet potatoes, black beans, and melted cheese. Serve them with a creamy avocado dip to really take them over the top, so don't skip...
Read the full post
It's hard to believe that we just celebrated Halloween and now we all have Thanksgiving on the brain. It may only be the beginning of November, but this month of giving thanks is going to fly by, so getting ahead on your turkey party planning...
Read the full post
The month of May is an exciting yet busy month. Summer is right around the corner, which means graduation season is upon us, vacation planning is in the works and fun holidays, pool parties and BBQ days will soon consume our weekends. This time of...
Read the full post
Pool parties are all about having fun in a carefree atmosphere. There are three things that guarantee to make them a true success – good company, refreshing drinks and unforgettable appetizers. Along with all those pina coladas and sweet and...
Read the full post
Camping is a popular get-a-way option for families and friends. It's a fun experience that allows you to enjoy the fresh air, explore the limitless bounties of nature and serves as a simple reminder of life with limited or no technology; a...
Read the full post
A Sunday noon cookout in your backyard is always a hit. The blue sky, bright sunlight, and a great group of friends and family spending the day together. The only thing that can make it more perfect is some delicious, smoky, lip-smacking...
Read the full post
It's almost time for Thanksgiving and soon it will be time for Christmas. The holiday season has officially begun and diets are put on hold. It is time for family, good friends and cozy times around the fireplace. And tables laden with food!...
Read the full post
Whether you're having a small get-together with friends and family, catering a grand anniversary celebration or feeding a couple of hundred high-powered business professionals at your annual holiday party, AppetizersUSA has got your back. ...
Read the full post
Memorial Day is fast approaching, along with the fun and exciting summer days and summer nights. With that comes the much anticipated BBQ's, pool parties and holiday celebrations. Traditional 'American-style' food is the go-to,...
Read the full post