Posted On Sep 13, 2015
A dinner party is a time for celebration and getting together, a time for family, friends, and food. But when when it's our own party, we want to serve amazing food without missing time with our guests because we're too busy in the kitchen. Ordering from AppetizersUSA is the solution to your entertaining needs. Now you can serve gourmet hors d'oeuvres and enjoy the party at the same time with our easy frozen appetizers and desserts.
We offer a wide range of flavors and styles of appetizers - hot, cold, light and refreshing, decadent and delightful. We have so many options you could even skip the main course and just serve your guests one mouth-watering appetizer after another. It couldn't be easier - we provide excellent customer service, fast shipping, and easy preparation. Most of our appetizers are just thaw, bake, and serve.
Here are a few of our favorite bites that just may whet your appetite to throw a party as soon as your order arrives. If these don't get your taste buds tingling, let us know what you're planning for your next party and we will help you select the perfect menu for your event.
BACON
One of today's hottest ingredients is a classic appetizer staple.
One of our most popular appetizers is our
Dates and Bleu Wrapped in Bacon
(pictured, below). Our sweet dates are stuffed with savory, creamy bleu cheese, then hand wrapped in bacon on a knotted skewer. These are fully cooked, just warm and serve.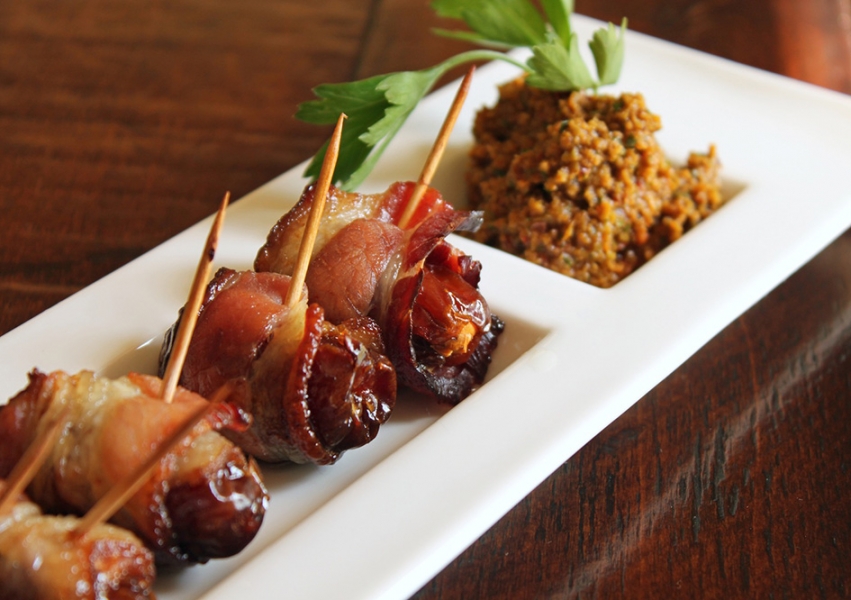 Scallops Wrapped in Bacon
Our plump, 20/30 count tender bay scallops are delicately seasoned with a touch of herbs, spices, lemon, and garlic then wrapped in cured bacon.
Check out more bacon-inspired appetizers
here
.
VEGETARIAN AND GLUTEN-FREE
Never again be the host who resorts to the veggie tray - our vegetarian and gluten-free options are just as easy and certainly more delicious. Here are just a few of our top sellers:
Caramel Apple with Goat Cheese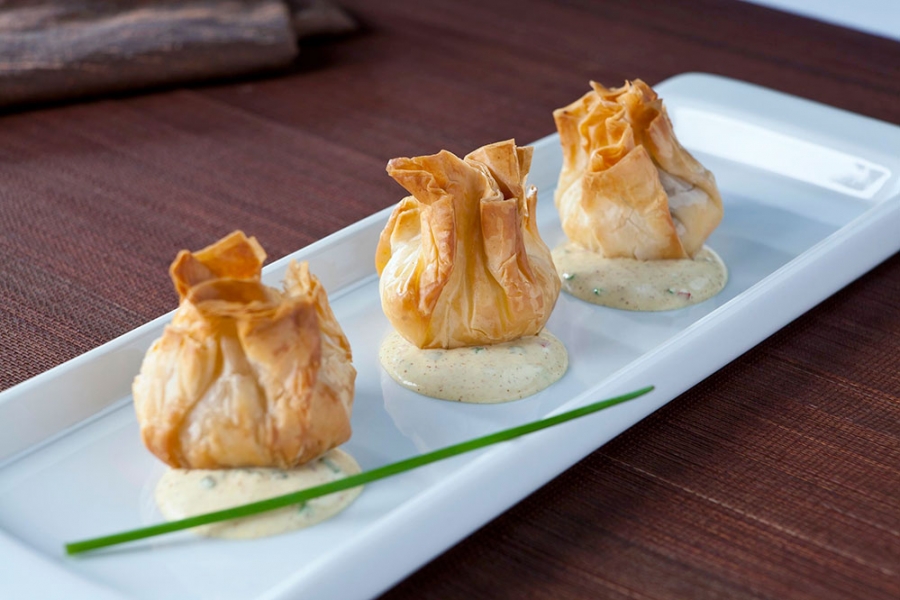 (pictured) This savory vegetarian option is made with apples, goat cheese, walnuts and caramel in a phyllo beggars purse.
Crispy Asparagus with Asiago
Wrapped in a crispy phyllo roll, this fresh cut asparagus spear garnished with Asiago cheese will become an instant classic on all your party menus. 100% vegetarian and 100% delicious.
Antipasto Kabob
This gluten-free skewer features fire roasted tomato along with Kalamata olive, fresh mozzarella, and marinated artichoke heart. Just thaw and serve!
CLASSY COMFORT FOOD
These appetizers are perfect for everything from family holiday parties to stately dinner events. We take your favorite flavors from home and elevate them into bite size bits of elegance.
Beef Wellington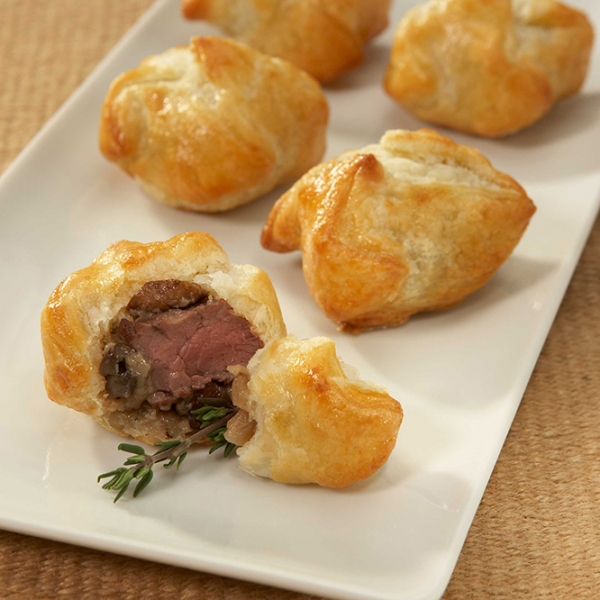 Made with a savory piece of fresh, USDA choice aged beef tenderloin, accented with mushroom duxelle and wrapped in a French-style puff pastry.
Truffled Mac and Cheese
Creamy macaroni and cheese with truffle oil and shaved black truffle slices.
Browse our site for many more options, or let us know how we can make your party the best party you've ever hosted. You might just like us so much that the next time you plan a party, you'll find yourself thinking "Appetizers - they're what's for dinner!"
Memorial Day is fast approaching, along with the fun and exciting summer days and summer nights. With that comes the much anticipated BBQ's, pool parties and holiday celebrations. Traditional 'American-style' food is the go-to,...
Read the full post
Seasons Greetings! Yup, it's finally time to say that. The air is crisp, the holiday music is jingling, the boots are worn,the shopping has begun, the lights are hanging, the hot chocolate is steaming, the cookies are baking and the parties...
Read the full post
Colorful foods are very much in vogue this year making cold appetizers the ideal way to serve up some delicious food while still sticking to the trend. Cold appetizers are among the best things about summer parties and here are a few reasons why:...
Read the full post
Whether you're planning your wedding, a fancy dinner party, or a simple BBQ, the dessert table is probably the most attractive section of the buffet, because who doesn't love delicious treats? Everyone looks forward to indulging a bit...
Read the full post
There's no single celebration that lends itself to a unique, customized and completely themed menu quite like Halloween. Between the trick-or-treating, costumer parties and carving out jack-o'-lanterns, time flies in the days...
Read the full post
Holiday season is right around the corner. It's hard to believe that the summer months are behind us and that we're already in the month of October. It's nice to enjoy the cooler weather that is upon us along with the yummy...
Read the full post
As most of you already know gluten free has been the talk of the food industry for quite a few years now. It became widely popular for being known as the "cool, new diet" trend for awhile, since people believed it was the fad of the...
Read the full post
Whether you're having a small get-together with friends and family, catering a grand anniversary celebration or feeding a couple of hundred high-powered business professionals at your annual holiday party, AppetizersUSA has got your back. ...
Read the full post
What to Put on the Menu this July Fourth! With the fourth of July just around the corner, it's time to start planning that big cookout and fire up the grill. While everyone is shaking out their best red, white and blue outfits, take a...
Read the full post