Posted On Jun 4, 2018
Nothing says elegance as much as a well laid out seafood platter – it's a feast for the eyes, the taste buds and the soul. Well-made seafood dishes remind people of holidays they've had, of warm balmy winds and clear blue skies or even the occasional ice fishing holiday in a quaint village in Norway.
Apart from the happy memories that seafood can bring, here are a few good reasons to have seafood appetizers on your dinner party menu:
Seafood appetizers are a healthy way to snack

Seafood appetizers, whether hot or cold, pair wonderfully with wine and a whole bunch of cocktails

Seafood appetizers can be ever so quick and easy to make letting you focus on more important things like mingling with your guests or getting your entrée just right

Seafood appetizers work well for any occasion, whether it is a casual get together or a sophisticated soiree

Your pescatarian guests will be absolutely thrilled
Yes, seafood is great but you do need to exercise caution, too! Here are five things you must take into account while planning your seafood starters:
Some people are allergic to shellfish, so ask your guests beforehand and make sure appetizers containing shellfish are prepared separately and labelled clearly before serving

Make sure the seafood you are serving is fresh or high quality frozen

Make sure the seafood is sustainably sourced (your fishmonger or supplier will be able to guide you)

If you are serving something exotic, make sure it's not endangered. Shark fin is a big no-no

Do not serve blowfish if you aren't a licensed Japanese chef!
If you're looking for ideas for seafood hors d'oeuvres for your next party, look no further! Here are some of the best seafood appetizers that will grace any occasion.
10 amazing seafood starters for your next party
1. Casino Shrimp
These elegant shrimp appetizers are served on a knotted stick making them really easy to serve and eat. The shrimp marinated in a spicy casino mix and wrapped with Applewood smoked bacon is sure to be a big hit.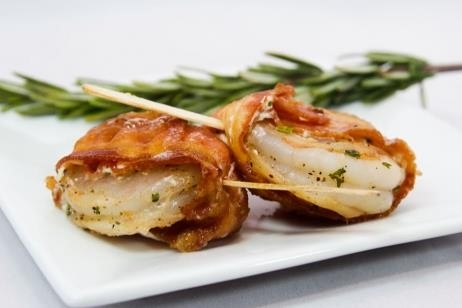 2. Smoked Salmon Shooters
Smoked salmon is the perfect seafood for an appetizer. Add some playfulness to your party with these smoked salmon shooters. Simply fill shot glasses halfway with a mixture of yogurt, salt, lemon zest, dill, red onion and finely chopped cucumbers. Top with some more chopped cumber and smoked salmon slices. Serve cold.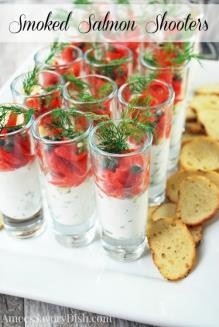 Source: https://ameessavorydish.com/
3. Coconut Shrimp
This appetizer pairs really well with a piñacolada. Each Coconut Shrimp appetizer is made up of a large butterflied shrimp dipped in a light coconut batter and rolled in a crispy mixture of coconut and breadcrumbs. They just need to be deep fried from frozen for less than ten minutes or baked until golden brown. Scrumptious!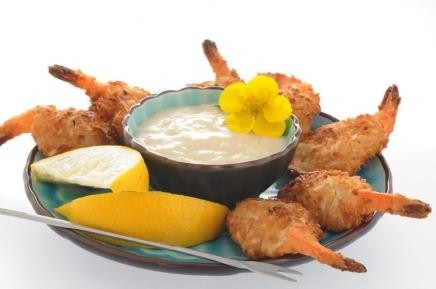 4. Smoked Salmon Dip
Seafood can be turned into a dip, too! Simply pulse together cream cheese, four ounces of the smoked salmon, horseradish, mayonnaise, lemon juice, yogurt, dill, salt, pepper, paprika and Tabasco sauce in your food processer. Add some chopped salmon, chill and serve. It goes really well with cumber sticks, flatbreads or crackers.
Source: https://palatablepastime.com/
5. Panang Shrimp Spring Rolls
The crispiness of this spring roll combined with the flavors of the shrimp in a spicy ground chili paste with hints of red curry (accompanied by sautéed leeks and coconut cream) brings a burst of flavor and texture with every bite. Your guests will be hankering for seconds!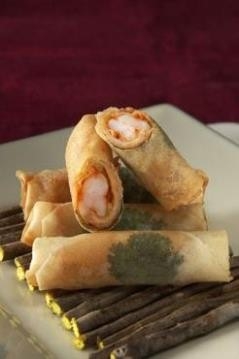 6. Lobster Cobbler Pot Pie
These Lobster Cobbler Pot Pies are perfect for an evening soiree. The sweetness of the lobster in a savory tartlet shell and the warmth of the carrots, onions and creamy béchamel sauce brings a smile with every bite. The best part is you simply have to bake them from frozen!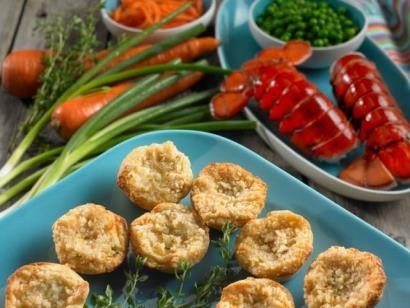 7. Smoked Salmon Roses
There is something decadently elegant about smoked salmon. These smoked salmon roses simply take it up a notch. The sweet dark rye makes for a graceful visual contrast to the pink salmon rosettes and the dill cream cheese mousse will have your guests smiling in delight.
8. Lobster Empanadas
Go for a sophisticated appetizer with these Lobster Empanadas. The dough has a delicious kick with its jalapeño and cheddar cheese flavor giving a delightful contrast to the stuffing of lobster, corn, onions, yellow squash, zucchini and Monterey Jack cheese.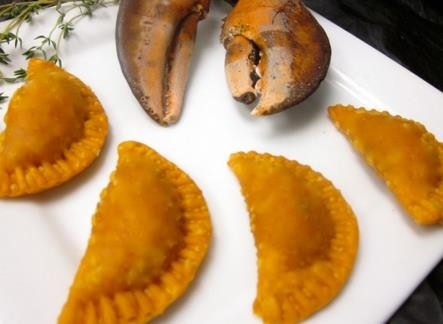 9. Bacon Wrapped Scallops
Wrap good quality scallops with bacon and fasten with a wooden toothpick. Cook under a broiler for 15 – 20 minutes, turning once, until bacon is cooked. Serve with your favorite dip. You can make this ahead of your party and store in your refrigerator. Simply cook before serving. Alternatively, check out our Scallops Wrapped in Bacon.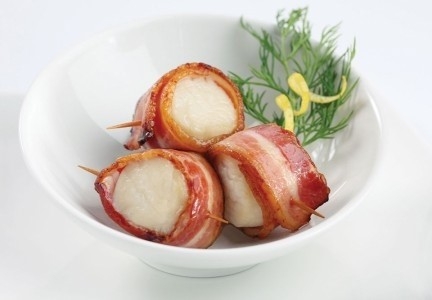 Source: https://www.recipegirl.com/
10. Crab Cakes
Crab cakes are always a crowd pleaser and make a delicious, filling hot seafood appetizer. These luscious bites are made of crabmeat richly flavored with spices and peppers. The crab cakes are lightly breaded to make sure that the flavor of the crabmeat comes bursting through.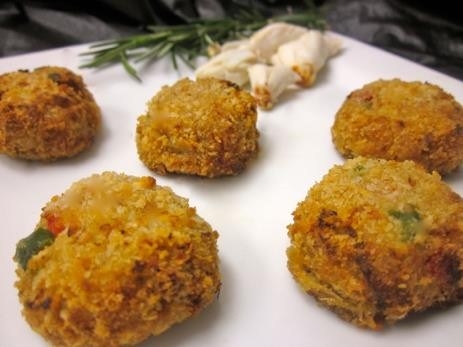 If cooking isn't your forte, or there is just too much to organize for your party, do not hesitate to give us a call for some mouthwatering seafood appetizers. Order our appetizers online for quick and reliable delivery of high quality appetizers right to your doorstep. And don't forget to tell us what your favorite seafood appetizer is in the comments below.
Holiday season! It's that time of the year when the fireplace crackles and friends and family gather around tables filled with food and good cheer. Cocktail parties, sumptuous feasts, and good times are just around the corner. With good...
Read the full post
Memorial Day is fast approaching, along with the fun and exciting summer days and summer nights. With that comes the much anticipated BBQ's, pool parties and holiday celebrations. Traditional 'American-style' food is the go-to,...
Read the full post
Pool parties are all about having fun in a carefree atmosphere. There are three things that guarantee to make them a true success – good company, refreshing drinks and unforgettable appetizers. Along with all those pina coladas and sweet and...
Read the full post
A Sunday noon cookout in your backyard is always a hit. The blue sky, bright sunlight, and a great group of friends and family spending the day together. The only thing that can make it more perfect is some delicious, smoky, lip-smacking...
Read the full post
Warm weather, finally! Gone are the days of having a select few friends over and exchanging tales by the fireside. It's time to throw that fancy summer party! Catering to crowds is not always easy though. So we've put together a few...
Read the full post
Camping is a popular get-a-way option for families and friends. It's a fun experience that allows you to enjoy the fresh air, explore the limitless bounties of nature and serves as a simple reminder of life with limited or no technology; a...
Read the full post
It's hard to believe that we just celebrated Halloween and now we all have Thanksgiving on the brain. It may only be the beginning of November, but this month of giving thanks is going to fly by, so getting ahead on your turkey party planning...
Read the full post
There's no single celebration that lends itself to a unique, customized and completely themed menu quite like Halloween. Between the trick-or-treating, costumer parties and carving out jack-o'-lanterns, time flies in the days...
Read the full post
We found this mouth-watering recipe from Cookie + Kate. These hearty quesadillas are filled with spicy sweet potatoes, black beans, and melted cheese. Serve them with a creamy avocado dip to really take them over the top, so don't skip...
Read the full post