Posted On Jul 11, 2017
Tacos! We all love them, we all crave them. They even have their very own day of the week with a hashtag included - #Taco Tuesday. Besides pizza, hamburgers and hot dogs, tacos seem to also be another American staple food that are simply irresistible, especially when they have that added crunch to them.
If you have ever attended a party where tacos were served, chances are they were whipped up as the main dish, or least in part of the dinner festivities that are included. Now, what about adding a a little twist to dish? Instead of making tacos the meal, how about making them as an appetizer? We found a great recipe on the blog, Kevin & Amanda, and we couldn't not share these mouth-water, Crunchy Taco Cups that they created. Baked in a muffin pan (brilliant idea) these soft and melty, yet crunchy layered appetizer will leave you wondering why you ever made tacos any other way.
Here is the recipe below and click on the link to read more about these irresistible Crunchy Taco Cups!
crunch taco cups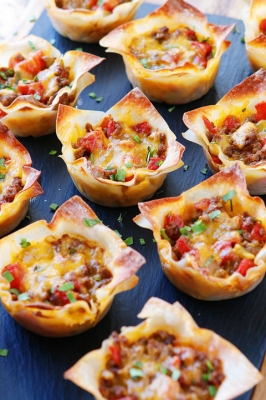 YIELD: 12 CUPS (ABOUT 3-4 SERVINGS)

ingredients:
1 lb lean ground beef, browned and drained

1 envelope (3 tablespoons) taco seasoning

1 (10-oz) can Ro-Tel Diced Tomatoes and Green Chiles

1 1/2 cups sharp cheddar cheese, shredded (or Mexican blend)

24 wonton wrappers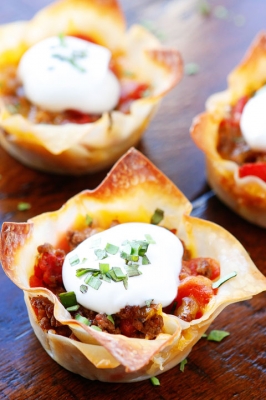 directions:
Preheat oven to 375 degrees F. Generously coat a standard size muffin tin with nonstick cooking spray.
Combine cooked beef, taco seasoning, and tomatoes in a bowl and stir to combine. Line each cup of prepared muffin tin with a wonton wrapper. Add 1.5 tablespoons taco mixture. Top with 1 tablespoon of cheese. Press down and add another layer of wonton wrapper, taco mixture, and a final layer of cheese.

Bake at 375 for 11-13 minutes until cups are heated through and edges are golden.

Get the full recipe here: http://www.kevinandamanda.com/crunchy-taco-cups/
Memorial Day is fast approaching, along with the fun and exciting summer days and summer nights. With that comes the much anticipated BBQ's, pool parties and holiday celebrations. Traditional 'American-style' food is the go-to,...
Read the full post
Holiday season is right around the corner. It's hard to believe that the summer months are behind us and that we're already in the month of October. It's nice to enjoy the cooler weather that is upon us along with the yummy...
Read the full post
Whether you're planning your wedding, a fancy dinner party, or a simple BBQ, the dessert table is probably the most attractive section of the buffet, because who doesn't love delicious treats? Everyone looks forward to indulging a bit...
Read the full post
Ah, spring. The time when the weather is near perfect, flowers are beginning to bloom, the sun is shining and people are out and about enjoying all sorts of outdoor activities. It's the perfect season for simple and easy out door parties,...
Read the full post
A dinner party is a time for celebration and getting together, a time for family, friends, and food. But when when it's our own party, we want to serve amazing food without missing time with our guests because we're too busy in the...
Read the full post
Whether you're having a small get-together with friends and family, catering a grand anniversary celebration or feeding a couple of hundred high-powered business professionals at your annual holiday party, AppetizersUSA has got your back. ...
Read the full post
Pool parties are all about having fun in a carefree atmosphere. There are three things that guarantee to make them a true success – good company, refreshing drinks and unforgettable appetizers. Along with all those pina coladas and sweet and...
Read the full post
As most of you already know gluten free has been the talk of the food industry for quite a few years now. It became widely popular for being known as the "cool, new diet" trend for awhile, since people believed it was the fad of the...
Read the full post
If you've had the chance to do some traveling than you know that the journey often includes sampling local food and delicacies along the way. If you haven't had the opportunity to venture outside of the country, that doesn't mean...
Read the full post