Posted On Jan 9, 2018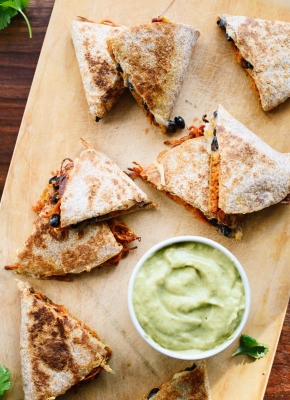 We found this mouth-watering recipe from Cookie + Kate. These hearty quesadillas are filled with spicy sweet potatoes, black beans, and melted cheese. Serve them with a creamy avocado dip to really take them over the top, so don't skip it! These are a great appetizer or busy weeknight dinner. Recipe yields 4 quesadillas (each made from 1 tortilla folded in half, for a visual). Also, Try our Black Bean Quiche for party & Event.
1 cup mild salsa verde, either homemade or store-bought

1 large ripe avocado, pitted and sliced into a few big pieces

Big handful of fresh cilantro (some stems are ok)

½ lime, juiced (about 1 tablespoon lime juice)

Quesadillas
1 medium-to-large sweet potato (about 12 ounces), peeled

1 to 2 tablespoons olive oil

1 teaspoon chili powder

½ teaspoon ground cumin

Salt
4 whole grain tortillas (about 8" in diameter)

3 cups (about 6 to 8 ounces) freshly grated cheddar or Monterey Jack cheese

1 cup cooked black beans (from one 15-ounce can), rinsed and drained


2 teaspoons refined avocado oil or other quality high-heat vegetable oil, for brushing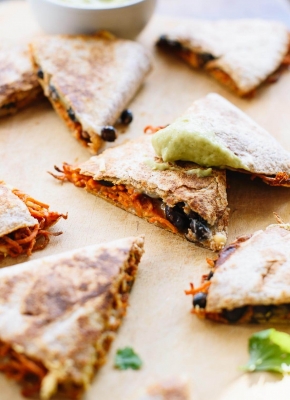 1. Make the avocado salsa verde: In a food processor or blender, combine the salsa verde, avocado, cilantro and about 1 tablespoon lime juice. Blend until the salsa until it is super creamy, stopping to scrape down the sides as necessary. Scoop it into a bowl for dipping.

2. If you have a spiralizer: Slice off the pointy ends of the sweet potatoes, then spiralize the sweet potatoes using blade A (the skinniest noodle option). Warm 1 tablespoon olive oil over medium heat until shimmering, then add the spiralized sweet potato, chili powder, cumin and a pinch of salt. Cook, stirring often until the noodles are tender and cooked through, about 8 to 10 minutes (I added another tablespoon oil to my cast iron skillet to prevent the noodles from sticking; non-stick skillets may not need any extra).

3. If you don't have a spiralizer: Slice your sweet potatoes into ¼″ cubes. In a large skillet, warm the olive oil over medium heat. Add the chopped sweet potatoes and toss to coat, then add the chili powder, cumin and a pinch salt. Stir to combine. Once the pan is sizzling, add a scant ¼ cup water, then cover the pan and reduce heat to low to avoid burning the contents. Cook, stirring occasionally until the sweet potato is tender and cooked through, about 10 minutes.

4. Make the quesadillas, one or two at a time: Heat a 10-inch skillet over medium heat. Warm one tortilla for about 30 seconds, flipping halfway. Flip once more, and sprinkle one-half of the tortilla with about ⅓ cup shredded cheese. Cover the cheese with ¼th of the cooked sweet potatoes and ¼ cup beans. Sprinkle with ⅓ cup cheese over the fillings and fold over the empty side of the tortilla to enclose the fillings.
5. Quickly brush the top side of the quesadilla with a light coating of oil, then flip it with a spatula. Let the underside of the quesadilla cook until golden and crispy, about 1 to 2 minutes. Brush the top side with a light coating of olive oil, then carefully flip it and cook until the underside is golden and crispy. Transfer it to a cutting board. Repeat with remaining quesadillas.

6. Slice each quesadilla into three even wedges using a sharp pizza cutter or chef's knife. Serve immediately, with avocado salsa verde on the side.
It's almost time for Thanksgiving and soon it will be time for Christmas. The holiday season has officially begun and diets are put on hold. It is time for family, good friends and cozy times around the fireplace. And tables laden with food!...
Read the full post
It's heating up in Arizona, which means summer is right around the corner. With that comes lots of barbecues, pool parties, gatherings and fun. The first of which happens in May and it's the true celebration to kick-off the start of...
Read the full post
No Thanksgiving is complete without the food that gets the dinner party started. Before everyone sits down to give thanks, the gathering of people mixing and mingling over cocktails and appetizers, maybe even watching football, is the way to kick...
Read the full post
A yacht party is a great way to spend quality time, bonding with friends and family. The ocean, the sun, the breeze, the views of the coastline or cityscape, the waterways and the like provide an idyllic setting for celebrations. Now, add to...
Read the full post
The number of people eating gluten free foods is growing – whether they are doing it because they are gluten intolerant, suffer from celiac disease or are simply looking for healthier ways to eat. If you aren't on a gluten free diet...
Read the full post
Summer's here! It's the time to kick back and relax and to throw barbeque and pool parties. It's also time to celebrate that warm weather and indulge in the summer's bounty full of fresh fruits and chilled wine. Throwing a...
Read the full post
There's so much to celebrate in summer – glorious weddings, sports, graduations or simply life in the sunshine! It's the perfect time to entertain friends and family outdoors with a barbeque by the pool or an elegant sit-down...
Read the full post
Holiday season! It's that time of the year when the fireplace crackles and friends and family gather around tables filled with food and good cheer. Cocktail parties, sumptuous feasts, and good times are just around the corner. With good...
Read the full post
The holidays are finally here and celebrating with friends, co-workers and family is what it's all about. Gathering together to make warm memories during these crisp chilly months and spreading love and joy is what makes our hearts full. ...
Read the full post