Posted On Nov 29, 2016
Seasons Greetings! Yup, it's finally time to say that. The air is crisp, the holiday music is jingling, the boots are worn,the shopping has begun, the lights are hanging, the hot chocolate is steaming, the cookies are baking and the parties are beginning! The merriest time of year is finally among us and while some of you plan months in advice your family gathering or corporate party, there are some that are still figuring out all the details. Either way, there are still plenty of touches you can add and cute and fun ideas to make it uniquely your own.
Decor. Decor is key for setting the theme and ambiance, for adding glitz and glam, for showcasing your creativity and for creating elegance and fun for your guests to enjoy. One of our personal favorite areas to decorate is the table. Table setting is the eye-catching focal point before the appetizers, drinks and food is served. It's the placement in which all your guests gather at once and thats the place where you really want to wow them.
Luckily there are a ton of great ideas to decorate your holiday table in a festive and imaginative way this holiday season. Whether it's your whole office staff gathering together at a venue of your choice, an intimate group of close friends or big family gathering, give them the gift of a beautiful table setting to enjoy some food and memories at.
snowflake coasters
A little snow on the table to give your bubbly a little extra sparkle.
tree napkins
The kids table will adore these.
sculptware spandex linens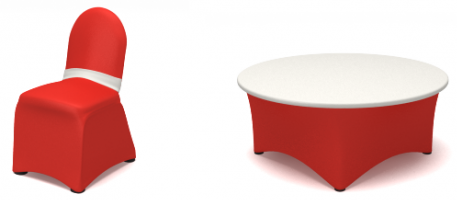 Cover your table and chairs with Sculptware to match your theme without the hassle of regular table cloths. Plus add a little sash to your chairs for an extra special touch. Source: www.sculptware.com
stocking napkins

Stuff your stockings with utensils. Cute and creative! Source: www.buzzfeed.com
snowman plate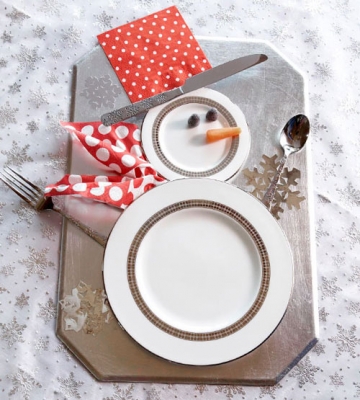 Because it's too cute not to. Source: www.eatwell101.com
music mat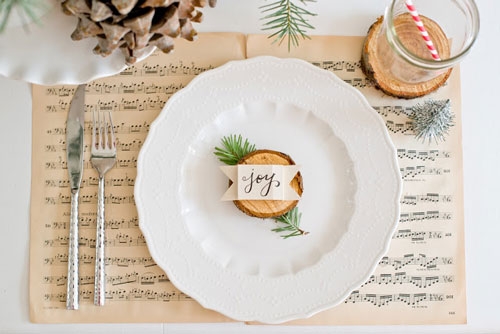 The holidays are filled with music, why not showcase it as a unique placemat? Find the sheet music to your favorite holiday tune or give everyone a classic one of their own. Frosty the Snowman anyone? Source: www.eatwell101.com
paper craft cards

This is perfect if you want if you to do buffet style but still want to create place settings. Source: www.satsumadedesigns.com
candy cane name tags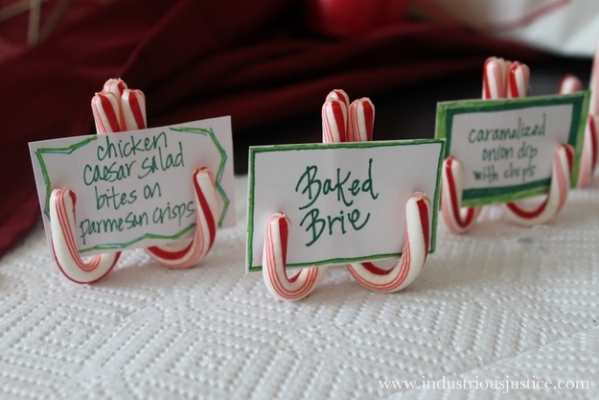 Labeling your food or your name tags has never looked so yummy. Source: www.buzzfeed.com
candy mint centerpieces

Simple, yet appropriately darling. Source: www.buzzfeed.com
There's so much to celebrate in summer – glorious weddings, sports, graduations or simply life in the sunshine! It's the perfect time to entertain friends and family outdoors with a barbeque by the pool or an elegant sit-down...
Read the full post
Holiday season is right around the corner. It's hard to believe that the summer months are behind us and that we're already in the month of October. It's nice to enjoy the cooler weather that is upon us along with the yummy...
Read the full post
There's nothing more romantic than a summer wedding. The birds are singing and the sun is shining and everyone is in an effortless, festive mood. Elaborate floral decorations and colorful dresses are as integral to a summer wedding as...
Read the full post
Camping is a popular get-a-way option for families and friends. It's a fun experience that allows you to enjoy the fresh air, explore the limitless bounties of nature and serves as a simple reminder of life with limited or no technology; a...
Read the full post
Sometimes it's nice to add a different flare to what would be considered a "normal" dish or appetizers. It can be fun to experiment and try to add a twist into the mix. Spring rolls in particular are a great appetizer to serve up at a...
Read the full post
Colorful foods are very much in vogue this year making cold appetizers the ideal way to serve up some delicious food while still sticking to the trend. Cold appetizers are among the best things about summer parties and here are a few reasons why:...
Read the full post
Catering to a large event is hectic. Not only does the food have to be pushed out on time, but it needs to be perfectly cooked - in large quantities! Keeping guests waiting for food could lead to your client not picking your business to cater to...
Read the full post
What to Put on the Menu this July Fourth! With the fourth of July just around the corner, it's time to start planning that big cookout and fire up the grill. While everyone is shaking out their best red, white and blue outfits, take a...
Read the full post
The number of people eating gluten free foods is growing – whether they are doing it because they are gluten intolerant, suffer from celiac disease or are simply looking for healthier ways to eat. If you aren't on a gluten free diet...
Read the full post