Posted On Jan 9, 2018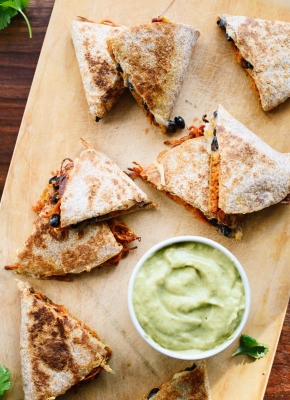 We found this mouth-watering recipe from Cookie + Kate. These hearty quesadillas are filled with spicy sweet potatoes, black beans, and melted cheese. Serve them with a creamy avocado dip to really take them over the top, so don't skip it! These are a great appetizer or busy weeknight dinner. Recipe yields 4 quesadillas (each made from 1 tortilla folded in half, for a visual). Also, Try our Black Bean Quiche for party & Event.
1 cup mild salsa verde, either homemade or store-bought

1 large ripe avocado, pitted and sliced into a few big pieces

Big handful of fresh cilantro (some stems are ok)

½ lime, juiced (about 1 tablespoon lime juice)

Quesadillas
1 medium-to-large sweet potato (about 12 ounces), peeled

1 to 2 tablespoons olive oil

1 teaspoon chili powder

½ teaspoon ground cumin

Salt
4 whole grain tortillas (about 8" in diameter)

3 cups (about 6 to 8 ounces) freshly grated cheddar or Monterey Jack cheese

1 cup cooked black beans (from one 15-ounce can), rinsed and drained


2 teaspoons refined avocado oil or other quality high-heat vegetable oil, for brushing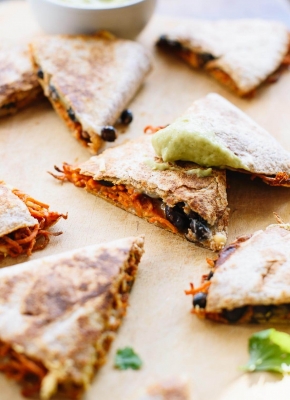 1. Make the avocado salsa verde: In a food processor or blender, combine the salsa verde, avocado, cilantro and about 1 tablespoon lime juice. Blend until the salsa until it is super creamy, stopping to scrape down the sides as necessary. Scoop it into a bowl for dipping.

2. If you have a spiralizer: Slice off the pointy ends of the sweet potatoes, then spiralize the sweet potatoes using blade A (the skinniest noodle option). Warm 1 tablespoon olive oil over medium heat until shimmering, then add the spiralized sweet potato, chili powder, cumin and a pinch of salt. Cook, stirring often until the noodles are tender and cooked through, about 8 to 10 minutes (I added another tablespoon oil to my cast iron skillet to prevent the noodles from sticking; non-stick skillets may not need any extra).

3. If you don't have a spiralizer: Slice your sweet potatoes into ¼″ cubes. In a large skillet, warm the olive oil over medium heat. Add the chopped sweet potatoes and toss to coat, then add the chili powder, cumin and a pinch salt. Stir to combine. Once the pan is sizzling, add a scant ¼ cup water, then cover the pan and reduce heat to low to avoid burning the contents. Cook, stirring occasionally until the sweet potato is tender and cooked through, about 10 minutes.

4. Make the quesadillas, one or two at a time: Heat a 10-inch skillet over medium heat. Warm one tortilla for about 30 seconds, flipping halfway. Flip once more, and sprinkle one-half of the tortilla with about ⅓ cup shredded cheese. Cover the cheese with ¼th of the cooked sweet potatoes and ¼ cup beans. Sprinkle with ⅓ cup cheese over the fillings and fold over the empty side of the tortilla to enclose the fillings.
5. Quickly brush the top side of the quesadilla with a light coating of oil, then flip it with a spatula. Let the underside of the quesadilla cook until golden and crispy, about 1 to 2 minutes. Brush the top side with a light coating of olive oil, then carefully flip it and cook until the underside is golden and crispy. Transfer it to a cutting board. Repeat with remaining quesadillas.

6. Slice each quesadilla into three even wedges using a sharp pizza cutter or chef's knife. Serve immediately, with avocado salsa verde on the side.
There's no single celebration that lends itself to a unique, customized and completely themed menu quite like Halloween. Between the trick-or-treating, costumer parties and carving out jack-o'-lanterns, time flies in the days...
Read the full post
Camping is a popular get-a-way option for families and friends. It's a fun experience that allows you to enjoy the fresh air, explore the limitless bounties of nature and serves as a simple reminder of life with limited or no technology; a...
Read the full post
It's hard to believe that we just celebrated Halloween and now we all have Thanksgiving on the brain. It may only be the beginning of November, but this month of giving thanks is going to fly by, so getting ahead on your turkey party planning...
Read the full post
Sometimes it's nice to add a different flare to what would be considered a "normal" dish or appetizers. It can be fun to experiment and try to add a twist into the mix. Spring rolls in particular are a great appetizer to serve up at a...
Read the full post
It seems like 2018 just started, but the reality is that we're already half-way through the year. It's crazy to think that we're already in the midst of the summer heat but with that comes all the fun. The Fourth of July is quickly...
Read the full post
Holiday season is right around the corner. It's hard to believe that the summer months are behind us and that we're already in the month of October. It's nice to enjoy the cooler weather that is upon us along with the yummy...
Read the full post
Whether you're having a small get-together with friends and family, catering a grand anniversary celebration or feeding a couple of hundred high-powered business professionals at your annual holiday party, AppetizersUSA has got your back. ...
Read the full post
Thanksgiving is right around the corner, which makes it the official start to the holidays. It makes you wonder where the year 2016 has gone, since it seems to have flown by. Now, here we are with Turkey Day quickly approaching and some of you are...
Read the full post
Autumn has officially begun and with that comes new gatherings and parties with a hint of crisp, fresh air. Along with that comes a change of what foods are prepared and what appetizers are served. It's no secret that pumpkin is the craze...
Read the full post