Posted On Feb 13, 2018
Spring surely brings a special kind of magic with it. The dreariness has passed; a few flowers are making a brave foray into the world and you find birds composing songs. There's a skip in everyone's step as the world looks fresh and new. The foods we eat reflect this too – light and hearty, colorful and zesty!
There are plenty of reasons to celebrate in spring, right from Mother's Day to Easter, and from spring weddings to graduations.
Here's a list of our favorite delicacies for your spring event that is sure to reflect spring in every bite!
10 Spring Party Appetizers for Your Menu
1. Panang Shrimp Spring Rolls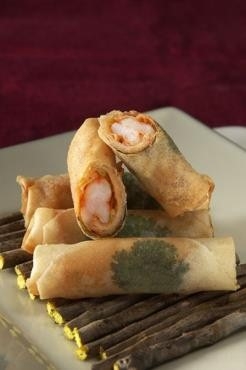 Seafood and spring go hand in hand. The crispiness of this spring roll is reminiscent of the air. The flavors of the shrimp in a spicy ground chili paste with hints of red curry accompanied by sautéed leeks and coconut cream, full of freshness. Your guests will crave for seconds!
2. Deviled Potatoes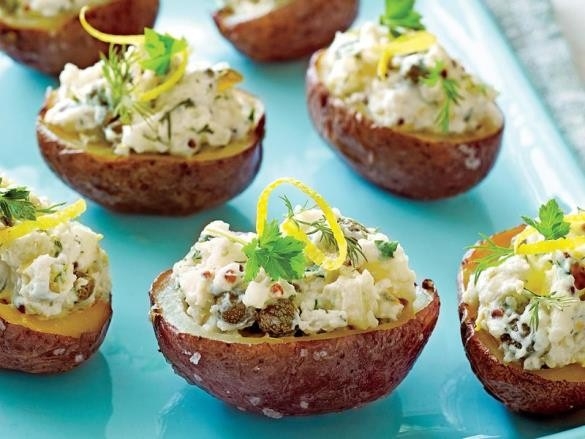 Make your guests fall in love with appetizers with these decadent Deviled Potatoes from myrecipes.com. Combine the classic flavors of deviled eggs and potato salad to make a delicious appetizer that is hard to forget. The potato pulp combined with sour cream, capers, parsley, dill, mustard and lemon zest guarantees that each bite bursts with flavor.
3. Baked Brie Bites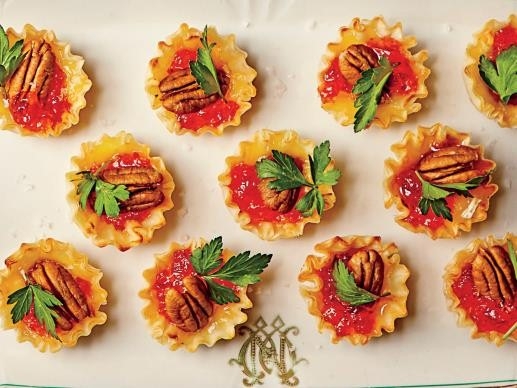 Nothing is more delicious than a bite of creamy, gooey brie full of herby flavors unless of course, it's these luscious baked brie bites. The flaky phyllo shells and toasted pecans add that layer of crunch which when complemented by the velvety brie will give your guests a mouthful of delight.
4. Lobster Cobbler Pot Pie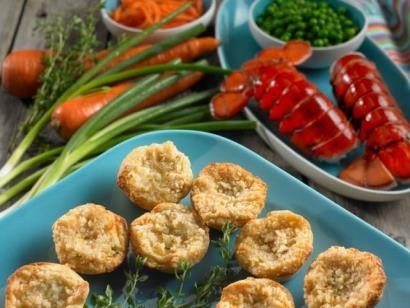 These Lobster Cobbler Pot Pies are perfect for a chilly spring evening soiree. The sweetness of the lobster in a savory tartlet shell and the warmth of the carrots, onions and creamy béchamel sauce make for an elegant dish that is just ever-so-slightly nostalgic about the good times you had. The best part - you simply have to bake them from frozen!
5. Moroccan Lamb Lollipops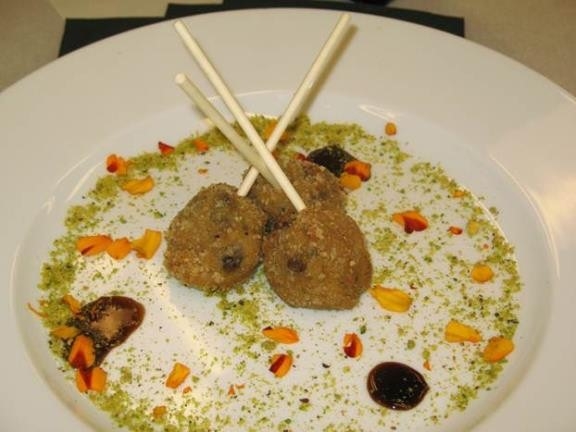 Middle Eastern cuisine is one of the biggest food trends this year. These Moroccan Lamb Lollipops not only perfect for your spring party but extremely fashionable too! The raisins add that light touch of sweetness that speaks of spring while the lamb mixed with mild curry spices adds an exotic touch.
6. Cantaloupe and Mozzarella with Prosciutto and Basil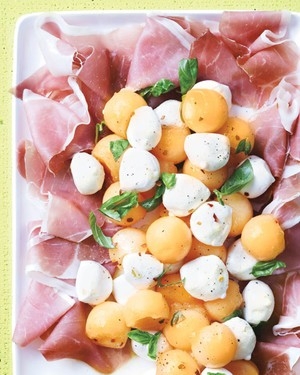 Source: MarthaStewart.com
This elegant no-cook dish works well as an antipasti platter. The melon shows off all delicate pastels of spring while the mozzarella adds a delightful sharpness. Serve with crusty artisanal bread slices for a filling appetizer.
7. Vegetable Wellington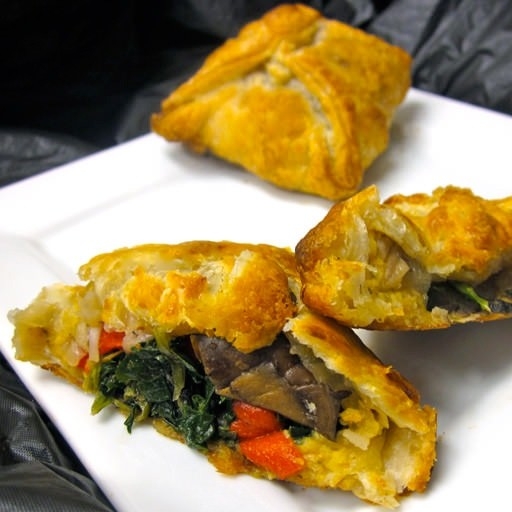 This appetizer is just right for your vegetarian guests. Buttery puff pastry filled with layers of hummus, portabella mushrooms, onion confit, roasted red peppers, and spinach make sure you get a riot of colors when opened! Your more discerning guests will be thrilled you thought of them while designing your special spring menu. What's more, all you need to do is simply bake and serve!
8. Caramel Apple in Beggar's Purse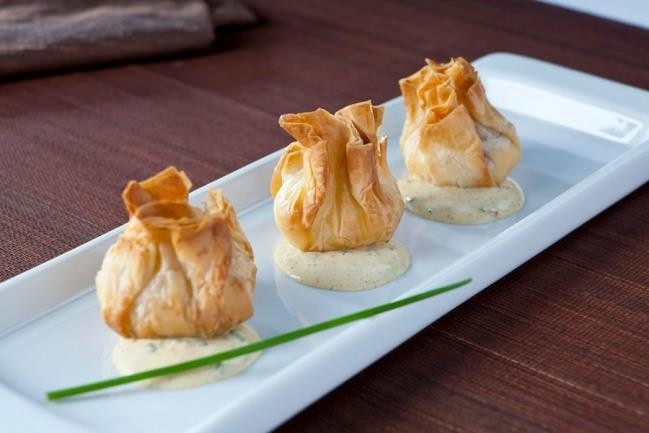 Caramel apples! Need we say more? These chic little appetizers are made up of apples, goat cheese, walnuts and caramel all neatly wrapped up in phyllo beggars' purses. These delightful bites are sure to be a hit with both grownups and children alike!
9. Artichoke-Parmesan Crostini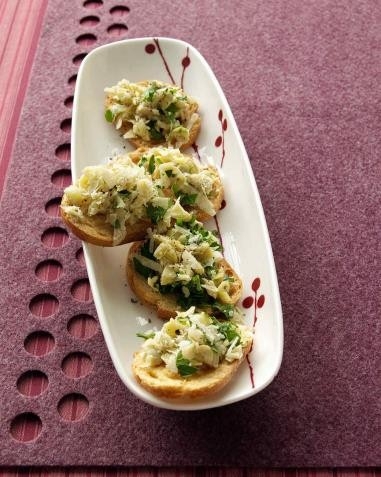 Source: Marthastewart.com
This appetizer combines delicate, marinated artichoke hearts and crumbly parmesan cheese on crunchy baguette slices. Colorful and easy to make, these little crostini slices are a brilliant crowd pleaser.
Tip: You can make a bunch of different toppings for the crostini using olive and eggplant tapenade, fresh tomatoes and herbs or anything else that takes your fancy for a more varied, yet easy to make the spread.
10. Cold Canapés Assortment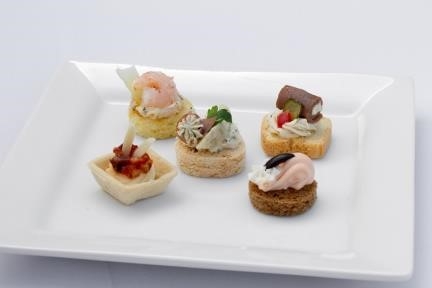 Planning a stylish do? Why not try our Assortment of Cold Canapés that pair really well with wine? They include delicious flavors like whipped brie with toasted almonds and fruit chutney in a tart shell, island seasoned shrimp on coconut cornbread with cilantro mousse and candied pineapple, roast beef roulade with whipped horseradish mousse on a petit toast square, whipped seafood mousse with black olive garnish on marbled rye, and salami cornets with herb cheese and an artichoke heart wedge. You really can't go wrong with these!
If cooking isn't your forte, or there is just too much to organize for your party, check out our online range of appetizers. Order online for gourmet dishes you can serve up at a moment's notice!
Holiday season! It's that time of the year when the fireplace crackles and friends and family gather around tables filled with food and good cheer. Cocktail parties, sumptuous feasts, and good times are just around the corner. With good...
Read the full post
The number of people eating gluten free foods is growing – whether they are doing it because they are gluten intolerant, suffer from celiac disease or are simply looking for healthier ways to eat. If you aren't on a gluten free diet...
Read the full post
There's no single celebration that lends itself to a unique, customized and completely themed menu quite like Halloween. Between the trick-or-treating, costumer parties and carving out jack-o'-lanterns, time flies in the days...
Read the full post
Memorial Day is fast approaching, along with the fun and exciting summer days and summer nights. With that comes the much anticipated BBQ's, pool parties and holiday celebrations. Traditional 'American-style' food is the go-to,...
Read the full post
Colorful foods are very much in vogue this year making cold appetizers the ideal way to serve up some delicious food while still sticking to the trend. Cold appetizers are among the best things about summer parties and here are a few reasons why:...
Read the full post
Pool parties are all about having fun in a carefree atmosphere. There are three things that guarantee to make them a true success – good company, refreshing drinks and unforgettable appetizers. Along with all those pina coladas and sweet and...
Read the full post
With all the major holiday revelries having zoomed past, we are still in the spirit and obviously still craving for more fun and food with family and friends. The weather too is in celebratory mode and since we need just the slightest bit to let...
Read the full post
We found this mouth-watering recipe from Cookie + Kate. These hearty quesadillas are filled with spicy sweet potatoes, black beans, and melted cheese. Serve them with a creamy avocado dip to really take them over the top, so don't skip...
Read the full post
Fall is that wonderful time of year when the leaves begin to change color from green to shades of yellow, red and orange and crisp autumn scents fill the air- because fall season has the best sights, sounds and smells. People from...
Read the full post