Posted On Mar 13, 2018
Sometimes it's nice to add a different flare to what would be considered a "normal" dish or appetizers. It can be fun to experiment and try to add a twist into the mix. Spring rolls in particular are a great appetizer to serve up at a party or gathering. They are a finger food that is easy to eat, simple to make and are always a hit with your guests.
This spring, let's spruce it up a bit. Instead of doing the normal fried wrap with awesome meats in it, why not opt for a lighter, fresher version? Wraps that hold some fruit and veggies will be a major bonus to those who attend your party. It will be even better for those who may be vegan or vegetarian, giving them a delicious option that they can enjoy as well.
We found this
Nectarine, Avocado & Spinach Spring Rolls
recipe from Lucie McAdams, that is a delicious addition to your spring roll appetizers that will leave you wondering why you've never served them before.
See below for the recipe and click
HERE
see her original blog post.
nectarine, avocado & spinach spring rolls
Ingredients
→ 1 tbsp grated fresh ginger
→ 2 medium ripe avocados, peeled and sliced
→ 4 medium nectarines, sliced
→ handful fresh basiland mint leaves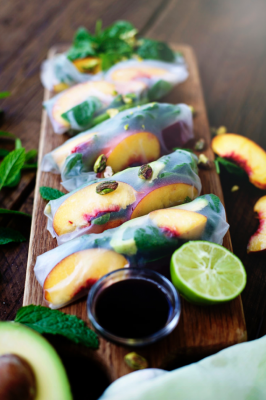 1. To make the sauce, blend together the tamarind paste, ginger, almond butter, maple syrup and soy sauce until smooth. Add a little more soy sauce to get a thinner consistency if necessary.
2. Place the avocado slices on a plate and squeeze fresh lime juice over them to stop them from going brown.
3. In a small bowl, mix the pistachio nuts with 1 tsp olive oil and a pinch of salt and set aside. In another bowl, combine the spinach leaves with the remaining olive oil and toss to coat the spinach.
4. Fill a large flat dish, such as a pie dish with warm salty water and soak the rice paper wrappers one at a time in the water until soft. As you remove each wrapper from the water, fill immediately with: 2-3 nectarine slices, a small handful of spinach, a few basil or mint leaves, a small spoonful of pistachios and a squeeze of lime juice. To roll the paper, fold the bottoms of the paper over the filling on both sides, then roll to close Repeat until all your filling is used and serve immediately with the dipping sauce.
There's no single celebration that lends itself to a unique, customized and completely themed menu quite like Halloween. Between the trick-or-treating, costumer parties and carving out jack-o'-lanterns, time flies in the days...
Read the full post
Pool parties are all about having fun in a carefree atmosphere. There are three things that guarantee to make them a true success – good company, refreshing drinks and unforgettable appetizers. Along with all those pina coladas and sweet and...
Read the full post
Camping is a popular get-a-way option for families and friends. It's a fun experience that allows you to enjoy the fresh air, explore the limitless bounties of nature and serves as a simple reminder of life with limited or no technology; a...
Read the full post
What to Put on the Menu this July Fourth! With the fourth of July just around the corner, it's time to start planning that big cookout and fire up the grill. While everyone is shaking out their best red, white and blue outfits, take a...
Read the full post
A Sunday noon cookout in your backyard is always a hit. The blue sky, bright sunlight, and a great group of friends and family spending the day together. The only thing that can make it more perfect is some delicious, smoky, lip-smacking...
Read the full post
We know it's a great feeling to have friends and family drop by for a meal or a quick chat. We also know how tiring it can get to whip up some food at the last minute, especially after a long day at work. Take a look at our top picks for some...
Read the full post
The holiday season is upon us and it is time to get cooking. Winter is the time for feasts. But these feasts, as delicious as they are, can take a lot of time to prepare. So take a bit of the burden off and order your appetizers online so you can...
Read the full post
It's hard to believe that we just celebrated Halloween and now we all have Thanksgiving on the brain. It may only be the beginning of November, but this month of giving thanks is going to fly by, so getting ahead on your turkey party planning...
Read the full post
It's heating up in Arizona, which means summer is right around the corner. With that comes lots of barbecues, pool parties, gatherings and fun. The first of which happens in May and it's the true celebration to kick-off the start of...
Read the full post