Posted On Oct 15, 2018
Bite size appetizers are scrumptious finger foods served as party-starters. Low-stress, and inexpensive these are great conversation starters. Planning to organize or host a wedding, a corporate event, a reunion, or a festival? We have your appealing appetizer party covered from the first bite to the last with these adorable mini appetizers and these practical tips to make it a hit!

Know your spread
Lay the groundwork for a diverse spread of party appetizers for your guest, depending on the occasion. Make sure you chalk in all these food categories:
1. Dips and Spreads: Not a category of appetizer, but vital as a pair food that is served along with appetizers like tapenades, relishes and so on.
2. Garden: Apt for health-conscious guests, these appetizers are made from fresh fruits or vegetables and can be cooked or served raw or as stuffing.
3. Snacks: Mainly savoury finger foods such as nuts, chips, popcorn or pretzels – all ready-to-eat appetizers.
4. Starch: Not for the faint-hearted, these are the yummiest and the most irresistible appetizers available - finger sandwiches, dumplings, pizza, bruschetta, rolls, crackers, breadsticks and all the cheesy gooey bites.
5. Protein: A dose of protein-rich food served as delectable bites - meatballs, fish, chicken wings, sushi, egg, cheese and tofu - and you are good to go.
6. Desserts: In bite-sizes these sinful dessert appetizers are perfect to soothe sweet cravings. Line up those cookies, candies, chocolates, or slivers of cake and we bet your guest will leave wanting for more.
Pro Tip: Putting in a little effort to check for guests' dietary restriction, goes a long way in making everyone feel thought-of and included. Go for an assorted appetizer spread with vegetarian, vegan and gluten-free options apart from the ones we mentioned above.
Know the portion
Wastage is never wise but neither is running out of food before the party is through. So, once you know what to serve it is equally important to learn how much to serve. Of course, the quantity will vary based on the number of guests. But, here is quick guide to plan your servings better:

Wastage is never wise but neither is running out of food before the party is through. So, once you know what to serve it is equally important to learn how much to serve. Of course, the quantity will vary based on the number of guests. But, here is quick guide to plan your servings better:
• For 10-12 guest - A 5 appetizer selection
• For approximately 25 guest - 9 appetizers make for the perfect serving
• For 50 and above, 13 or more appetizer selections are recommended
If you feel you might run out of food, we suggest you stock frozen appetizers and dry snacks that can be used if required.
Deciding the menu
Deciding the menu is a real task, but don't worry we have your back. We have picked out a selection of the best bite sized party appetizers, that don't have to be prepared. You can place the order, take the delivery, serve as instructed and enjoy with your guests.
1. ARANCINI WITH GOUDA RICEBALLS
These round-shaped Italian delicious balls are made from rice with a gooey gouda centre and coating of panko breading. Stock them in your refrigerator and fry or bake before serving to your guest.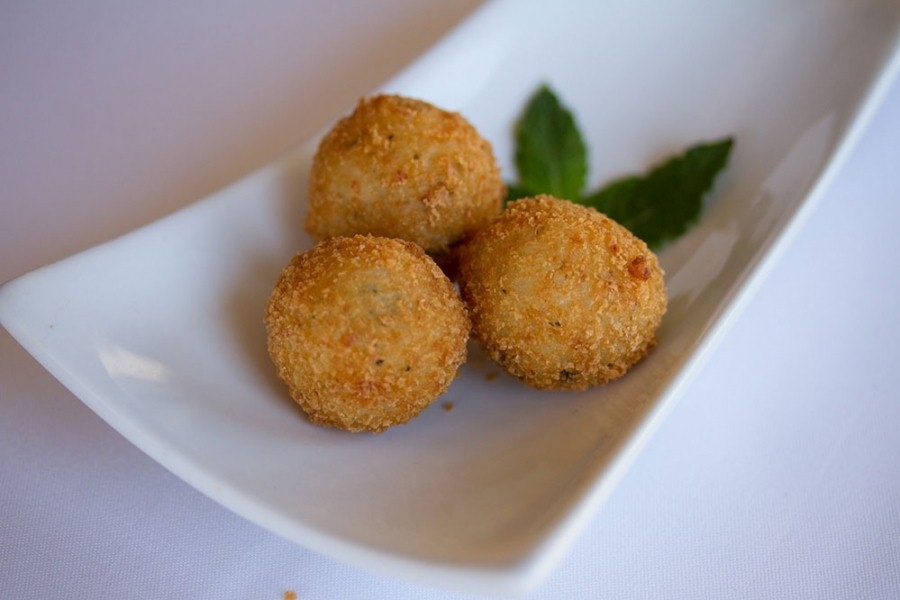 Crispy croquettes of creamy Manchego cheese and chopped olives for melt-in-mouth experience. You need to deep fry them until golden brown before serving to your guest.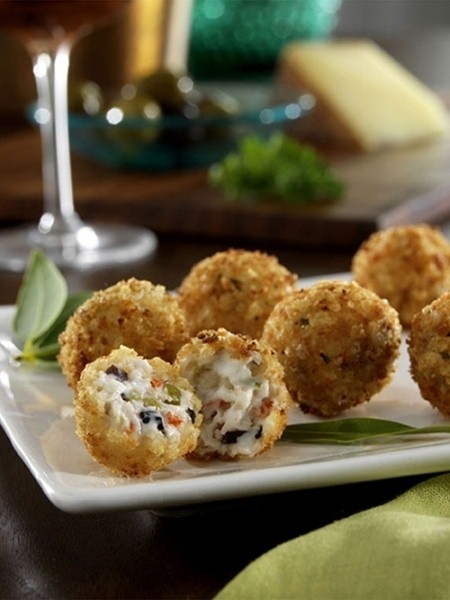 The irresistible crab cake delicacy packed with .75 oz of 100% premium lump crab cake. Defrost it for 4 to 6 hours then fry or sauté on medium to high heat with butter on each side; or you can bake it without parchment paper at 350-400 degrees for 12 to 15 minutes.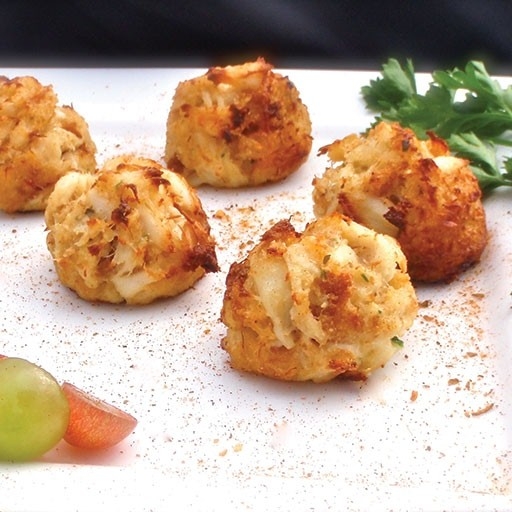 An instant hit with young and old alike for its assorted mix of flavours and mouth-watering taste - available in Raspberry Cream Cheese, Peanut Butter, Blondie, & Cream Cheese Zebra - each assortment contains 12 pieces each of 4 different flavors. Serving is simple. Defrost for 25 minutes and serve!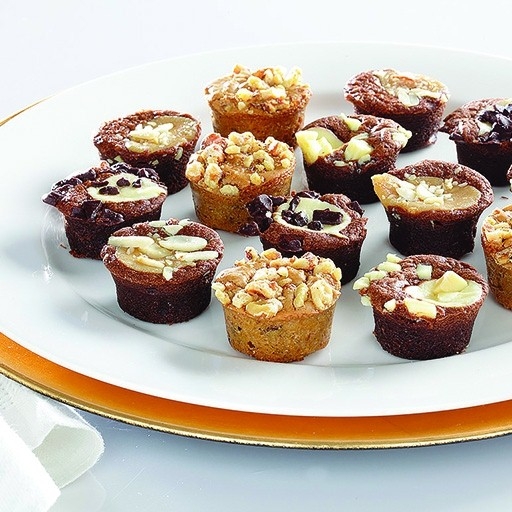 A moist chicken breast strip with a creamy fontina and sundried tomato blend filling and a coating of seasoned herb and breading. It can be baked at 350 degrees for 5 to 8 minutes or deep fried until golden brown.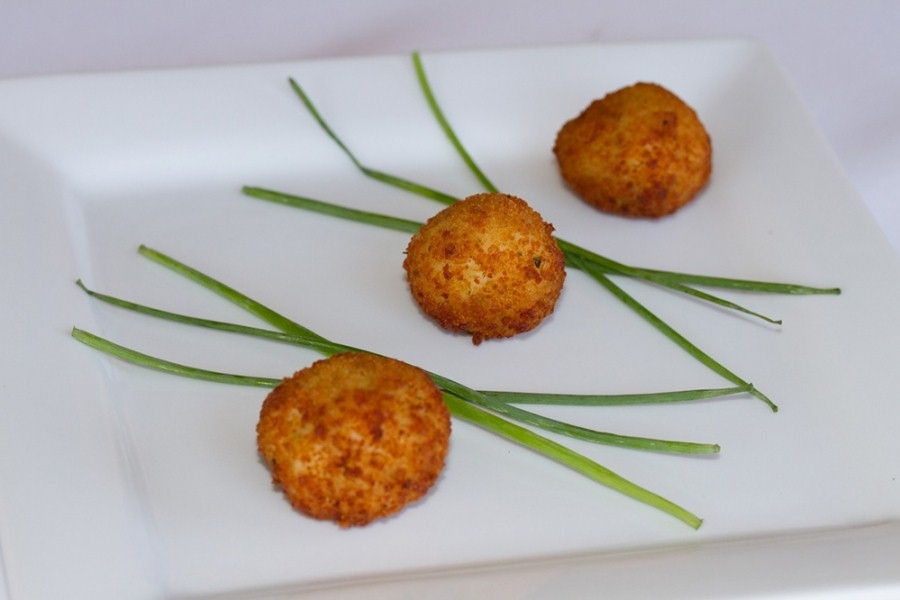 A delicate dish made from mini potato skins stuffed with cheddar, bacon & Idaho mash. Bake in oven at 325F for 5 to 10 minutes and flip if required. Do not microwave.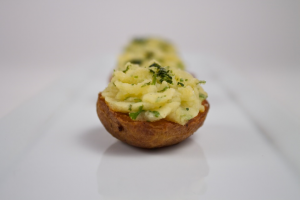 Savory bacon wrapped around crunchy waterchestnuts with a bamboo skewer in between. Bake it in parchment paper at 375 degrees for 12-18 minutes.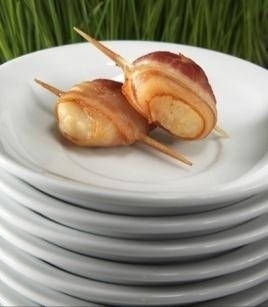 8. HIBACHI STYLE CHICKEN SKEWER
Juicy strips of chicken, marinated in Teriyaki, and then rolled around an array of red, yellow and green bell peppers, with scallions and a pinch of Monterey jack cheese, for a kick. Thaw and cook at 375 F in the oven for 8-15 minutes. Do not microwave.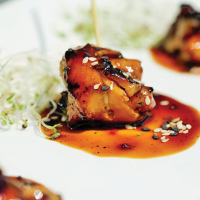 9. ARTISAN CORN & JALAPENO JACK CAKES
Handmade corn cakes mixed with jalapeños, Monterey jack cheese and fresh green onions. Deep fry for 2-3 minutes or bake in an oven at 350 degree for 4-10 minutes.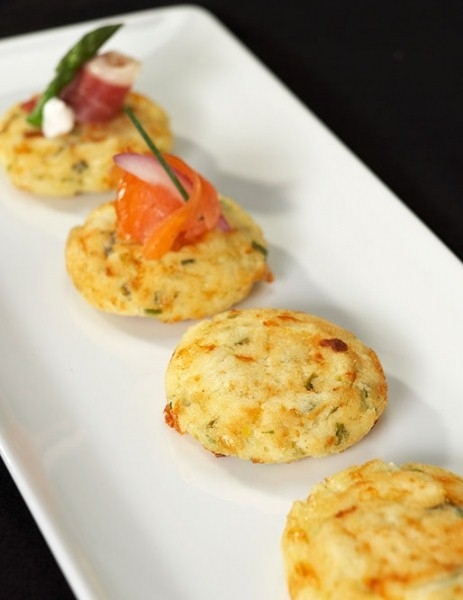 10. PISTACHIO CHICKEN PINWHEELS
A tender piece of chicken, encrusted with finely chopped pistachio nuts, wrapped around an asparagus spear tip and elegantly presented on a knotted skewer. Bake it on parchment paper at 375 degrees for 12-18 minutes.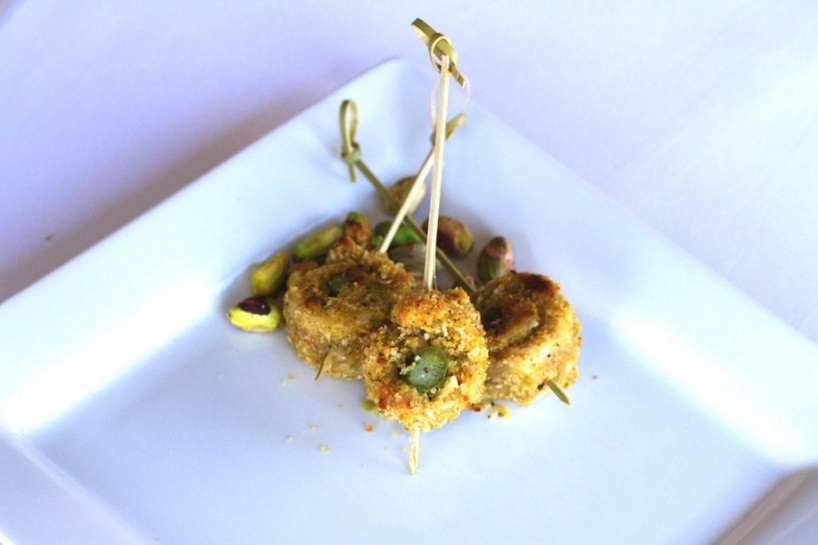 11. QUINOA AND ZUCCHINI FRITTER
Vegetarian and Gluten Free Quinoa & Zucchini Fritters made with crumbled pine nuts, feta cheese, lemon juice, fresh parsley and dill. Deep Fry at 350 degrees for 2-4 minutes and then bake at 350 degrees for 1-2 minutes.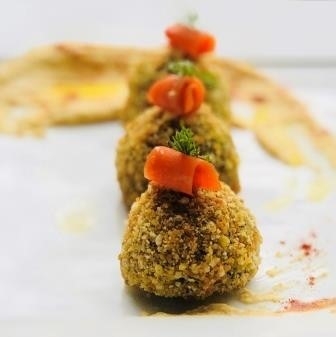 12. SPINACH GOAT CHEESE FLATBREAD
Crisp baby spinach paired with Goat cheese and topped with pizza sauce, layered onto a miniature flatbread. Defrost for 1 hour then bake it in oven for 5-10 minutes at 325 degrees.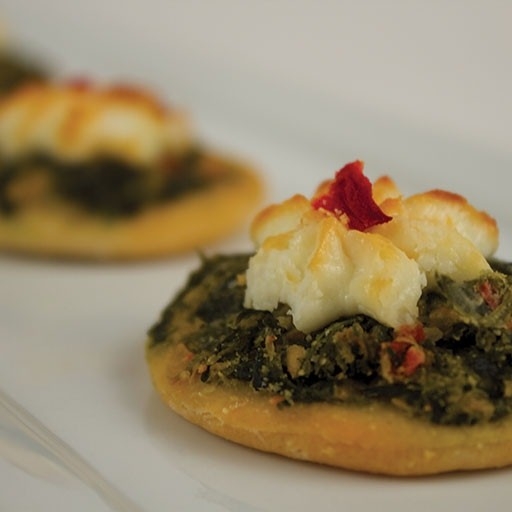 Note: Cooking times may vary based on the type of oven and the quantity of appetizer. Read the complete instructions before serving the food. Plan your time as per the requirement to heat, deep fry, bake or thaw so that you serve your guest at the planned timings.
We make organizing a party easier than a cake for party planners, event managers, wedding planners, or casino mangers – all you need to do is choose the right party finger food appetizers for a crowd along with dessert appetizers and place your order now!
There's so much to celebrate in summer – glorious weddings, sports, graduations or simply life in the sunshine! It's the perfect time to entertain friends and family outdoors with a barbeque by the pool or an elegant sit-down...
Read the full post
A yacht party is a great way to spend quality time, bonding with friends and family. The ocean, the sun, the breeze, the views of the coastline or cityscape, the waterways and the like provide an idyllic setting for celebrations. Now, add to...
Read the full post
Warm weather, finally! Gone are the days of having a select few friends over and exchanging tales by the fireside. It's time to throw that fancy summer party! Catering to crowds is not always easy though. So we've put together a few...
Read the full post
The number of people eating gluten free foods is growing – whether they are doing it because they are gluten intolerant, suffer from celiac disease or are simply looking for healthier ways to eat. If you aren't on a gluten free diet...
Read the full post
Summer's here! It's the time to kick back and relax and to throw barbeque and pool parties. It's also time to celebrate that warm weather and indulge in the summer's bounty full of fresh fruits and chilled wine. Throwing a...
Read the full post
A Sunday noon cookout in your backyard is always a hit. The blue sky, bright sunlight, and a great group of friends and family spending the day together. The only thing that can make it more perfect is some delicious, smoky, lip-smacking...
Read the full post
Graduations are times when memories are created and people are in a mood to celebrate. It is an exciting time for everyone involved with the young graduates looking forward eagerly to the next stage of their lives. Diplomas have been duly...
Read the full post
Nothing says elegance as much as a well laid out seafood platter – it's a feast for the eyes, the taste buds and the soul. Well-made seafood dishes remind people of holidays they've had, of warm balmy winds and clear blue skies or...
Read the full post
Sometimes it's nice to add a different flare to what would be considered a "normal" dish or appetizers. It can be fun to experiment and try to add a twist into the mix. Spring rolls in particular are a great appetizer to serve up at a...
Read the full post