Posted On Apr 17, 2018
There's so much to celebrate in summer – glorious weddings, sports, graduations or simply life in the sunshine! It's the perfect time to entertain friends and family outdoors with a barbeque by the pool or an elegant sit-down dinner on the patio.

The best part about summer is you can serve up some delicious cold appetizers that take away the hassle of cooking. Whether you prefer hot appetizers or cold finger foods, we have them all covered in this article along with some food ideas we know the kids will love, too!

String up those fairy lights and turn your garden into a magical wonderland with these easy-to-make, yet utterly delicious appetizers for your summer party.

1. Mediterranean Chicken Kabobs

Bring the warm breezes of the Mediterranean to your party with these luscious Chicken Kabobs coupled with tender roasted tomatoes and delectable figs. They are easy on so many different levels – easy to cook, easy to eat and definitely easy on the eyes!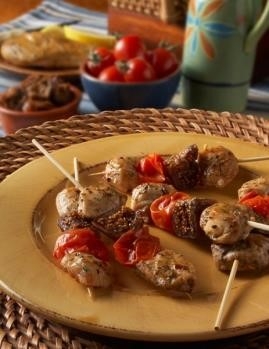 2. Smoked Salmon and Cucumber Apps

Combine Greek yoghurt, lemon juice, dried dill and paprika powder and season. Chill for a while in the refrigerator. Top circles of cucumber with some of the yogurt sauce, bits of smoked salmon and warm toasted walnuts. It goes well with champagne or your favorite sparkling wine and is great for your gluten-free guests as well!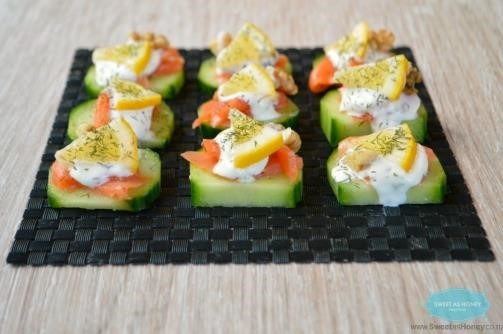 Source: https://www.sweetashoney.co/
3. Casino Shrimp

You really can't do summers without seafood. These elegant shrimp appetizers are served on a knotted stick, making cutlery unnecessary. The shrimp marinated in a spicy casino mix and wrapped with Applewood smoked bacon is sure to be a big hit with all your seafood-loving guests.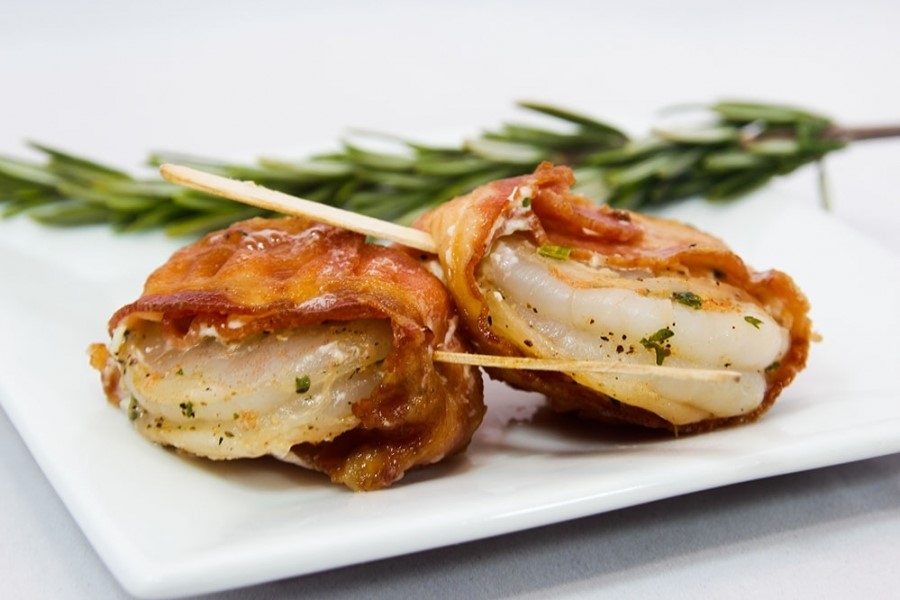 4. Crispy Parsnip Fries
Give the usual fries and dip a healthier and yummier twist with these crispy parsnip fries. Coat uncooked parsnips cut into fries with a mixture of olive oil, lemon juice, lemon zest, garlic powder and mint. Coat them with gluten free panko breadcrumbs and bake until crispy. They're delicious and perfect for all your vegan and gluten free guests. The kids will love them too!
Source: https://www.sweetashoney.co/

5. Brie and Raspberry with Almonds in Phyllo

Bring the flavors of summer to your buffet table with these delicious phyllo pastries filled with double cream brie cheese mixed with toasted almond flakes and topped with raspberry jam. Every bite brings delightful bursts of flavor. Simply follow the baking instructions provided and serve!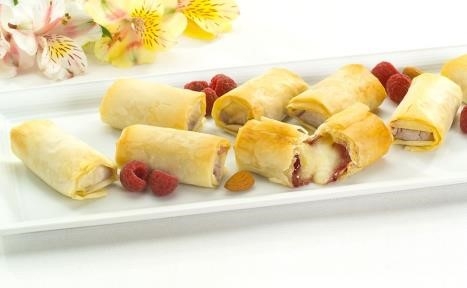 6. Cake Pop Assortment
These Cake Pops are ideal for your sweet-toothed guests! These fun desserts-on-a-stick feature an assortment of moist cake balls in different flavors of chocolate fudge, carrot, chocolate coffee and lemon, making sure they cater to every taste. In fact, you might find yourself asking your guests to not eat too many! All you have to do is defrost and serve.
7. Sirloin with Gorgonzola Wrapped in Bacon
Take sirloin steaks to the next level with this chic take on finger foods that won't look out of place at an elegant summer wedding. These delicious appetizers consist of juicy, fresh ground sirloin with gorgonzola wrapped in bacon which is then hand-threaded onto skewers – giving them that personal touch.
8. Goat Cheese Stuffed Apricots With Honey
You can't go wrong with fruits and cheese. This cold appetizer can be made in minutes. Simply pit apricot halves and replace the pits with small balls of goat's cheese. Top it off with a drizzle of honey and some toasted pecans for that added crunch. Absolutely scrumptious!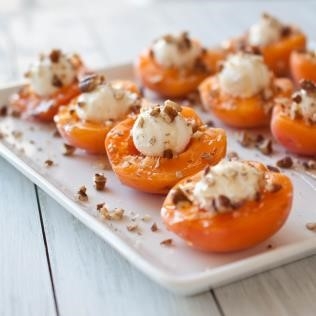 Source: http://domesticfits.com/
9. Italian Meatball Parmesan Skewer
This new take on an old favorite makes meatballs really easy to serve and eat. Our Italian seasoned meatballs are handmade and infused with classic marinara sauce. They are topped with provolone on a baguette slice, with a knotted skewer, making them really easy to eat. They are sure to keep your meat-loving guests coming back for more.
10. Water Chestnuts in Bacon
Water chestnuts are light, crunchy and refreshing, making them the perfect appetizer to serve at a summer party. We've wrapped water chestnuts in bacon to form a delicious savory, salty yet delightfully refreshing appetizer. They are served on knotted skewers to make them the ideal finger food appetizers to please a crowd.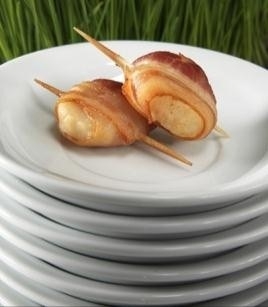 It doesn't matter if you are providing a catering service to a huge party or cooking up a storm for your friends and family. We, at Appetizers USA, are happy to handle some of that stress for you with our wide range of crowd-pleasing appetizers that are ideal for every occasion. We also offer a range of customizable products that allow you to add your own favorite toppings or that signature twist. Our frozen appetizers can be delivered to your doorstep with minimal notice. Take a look at our shop or feel free to contact us if you have any queries.
The number of people eating gluten free foods is growing – whether they are doing it because they are gluten intolerant, suffer from celiac disease or are simply looking for healthier ways to eat. If you aren't on a gluten free diet...
Read the full post
We know it's a great feeling to have friends and family drop by for a meal or a quick chat. We also know how tiring it can get to whip up some food at the last minute, especially after a long day at work. Take a look at our top picks for some...
Read the full post
Holiday season! It's that time of the year when the fireplace crackles and friends and family gather around tables filled with food and good cheer. Cocktail parties, sumptuous feasts, and good times are just around the corner. With good...
Read the full post
Bite size appetizers are scrumptious finger foods served as party-starters. Low-stress, and inexpensive these are great conversation starters. Planning to organize or host a wedding, a corporate event, a reunion, or a festival? We have your...
Read the full post
Graduations are times when memories are created and people are in a mood to celebrate. It is an exciting time for everyone involved with the young graduates looking forward eagerly to the next stage of their lives. Diplomas have been duly...
Read the full post
It's heating up in Arizona, which means summer is right around the corner. With that comes lots of barbecues, pool parties, gatherings and fun. The first of which happens in May and it's the true celebration to kick-off the start of...
Read the full post
Colorful foods are very much in vogue this year making cold appetizers the ideal way to serve up some delicious food while still sticking to the trend. Cold appetizers are among the best things about summer parties and here are a few reasons why:...
Read the full post
Sometimes it's nice to add a different flare to what would be considered a "normal" dish or appetizers. It can be fun to experiment and try to add a twist into the mix. Spring rolls in particular are a great appetizer to serve up at a...
Read the full post
Catering to a large event is hectic. Not only does the food have to be pushed out on time, but it needs to be perfectly cooked - in large quantities! Keeping guests waiting for food could lead to your client not picking your business to cater to...
Read the full post