Posted On Jul 20, 2018
Serving up appetizers doesn't have to be huge ordeal. Your finger foods don't have to be some grand presentation, in fact, sometimes keeping them simple and even teeny tiny can make them more appealing. Especially during these hot summer months, the last thing you want to do is create heavy, filling and dense foods to feed to your guests. There's nothing wrong with using less ingredients and keeping it simple, however, that doesn't mean they still can't look inviting.
We found these adorable and delicious Bite-Size Mini BLT Cups and they are sure to be a perfect hit to serve this summer, or anytime for that matter. Click below to see the recipe and enjoy these poolside this weekend.
BITE-Size Mini BLT Cups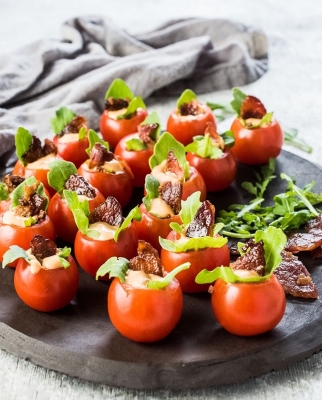 Get the recipe from TheEnlessMeal.com, here.


Graduations are times when memories are created and people are in a mood to celebrate. It is an exciting time for everyone involved with the young graduates looking forward eagerly to the next stage of their lives. Diplomas have been duly...
Read the full post
Spring is here and summer will be too before you know it. The flowers are out and the lawns have recovered from the harshness of winter. The warm weather brings with it the perfect opportunity to host a party outdoors. It's time to tell your...
Read the full post
Catering to a large event is hectic. Not only does the food have to be pushed out on time, but it needs to be perfectly cooked - in large quantities! Keeping guests waiting for food could lead to your client not picking your business to cater to...
Read the full post
Camping is a popular get-a-way option for families and friends. It's a fun experience that allows you to enjoy the fresh air, explore the limitless bounties of nature and serves as a simple reminder of life with limited or no technology; a...
Read the full post
From all of us here at AppetizersUSA, we just wanted to say THANK YOU to all of you who have supported us over the years. Wishing you and your loved ones a very HAPPY THANKSGIVING this year.
Read the full post
Nothing says elegance as much as a well laid out seafood platter – it's a feast for the eyes, the taste buds and the soul. Well-made seafood dishes remind people of holidays they've had, of warm balmy winds and clear blue skies or...
Read the full post
We found this mouth-watering recipe from Cookie + Kate. These hearty quesadillas are filled with spicy sweet potatoes, black beans, and melted cheese. Serve them with a creamy avocado dip to really take them over the top, so don't skip...
Read the full post
Spring surely brings a special kind of magic with it. The dreariness has passed; a few flowers are making a brave foray into the world and you find birds composing songs. There's a skip in everyone's step as the world looks fresh and...
Read the full post
TV show viewing parties, weddings, corporate events, high school reunions, wine festivals, personal parties… There is a lot going on. Off season doesn't mean your business needs to run dry. A lot of businesses these days have their...
Read the full post