Posted On Nov 13, 2017
Holiday season! It's that time of the year when the fireplace crackles and friends and family gather around tables filled with food and good cheer. Cocktail parties, sumptuous feasts, and good times are just around the corner.
With good times, come great responsibilities. If you are hosting a cocktail party, you need to make sure that your guests are amply supplied with the best appetizers and food throughout the night.
What's more, cocktails actually taste better when served as appetizer & cocktail pairing. The planning, the meal prep, the decorations, it can all seem overwhelming. It doesn't have to be though, which is why we've put together a list of eight cocktail appetizers that look chic and taste delicious!
French Onion Soup Boule
No one beats the French at elegance. Watch your guests crowd around these mini soup boules for some holiday warmth. The petite brioches act as smart containers for the caramelized onions and gruyere cheese, which adds a pleasant contrasting flavor. Pair this classic French comfort food with a textured Pinot Gris from Alsace, Oregon, or California.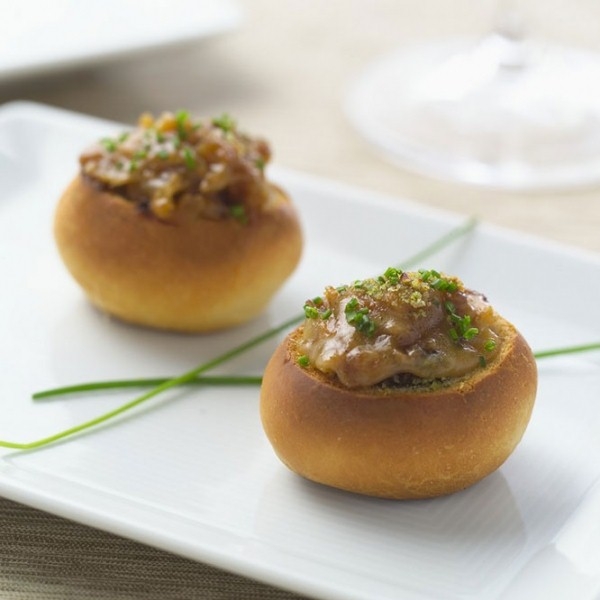 Roasted Yellow Pepper Bruschetta
Bruschetta in winter, you ask? This lovely appetizer, made with roasted red tomatoes and yellow peppers layered on French bread with Kalamata olive tapenade, adds a colorful touch to any table. This bruschetta is another win for wine buffs as it pairs delightfully with some refreshing Chardonnay. You could also try serving it with these Pomegranate-Mint Spritzers. Simply substitute the sparkling water with champagne in the recipe for a delicious champagne cocktail.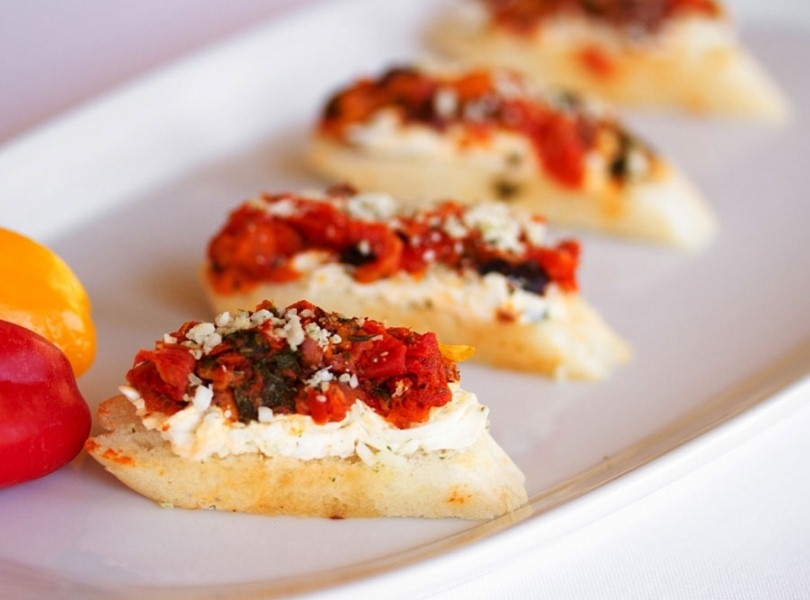 Crab Rangoon
This one is especially for guests who love world cuisine. But then again, everyone loves wontons! Bring the flavors of the east to your holiday table with our Crab Rangoon. Pair it with a Rangoon Ruby Cocktail and really impress your guests!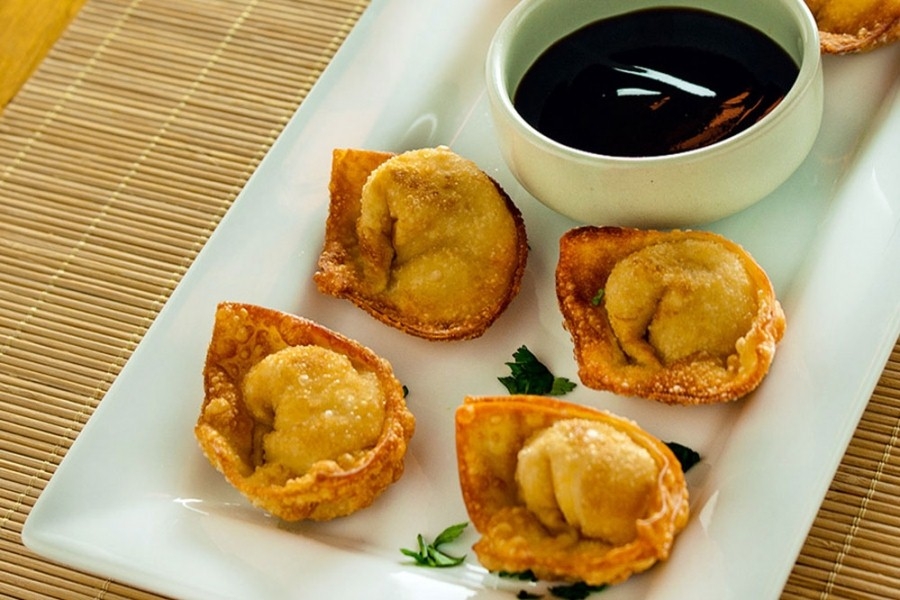 Beef Wellington
There is something about mini versions of food that brings out the playful side in people. Do away with the usual massive portions and try these mini Beef Wellingtons to add a unique touch to your party. You can even make mini "grown-up" meals for the kids at the party with little plates and cutlery. They'll love it! These neat Beef Wellingtons are made with USDA choice aged beef tenderloin and accented with mushroom duxelle. Serve with a Merlot or a whiskey-based cocktail, and your guests are bound to come back for more.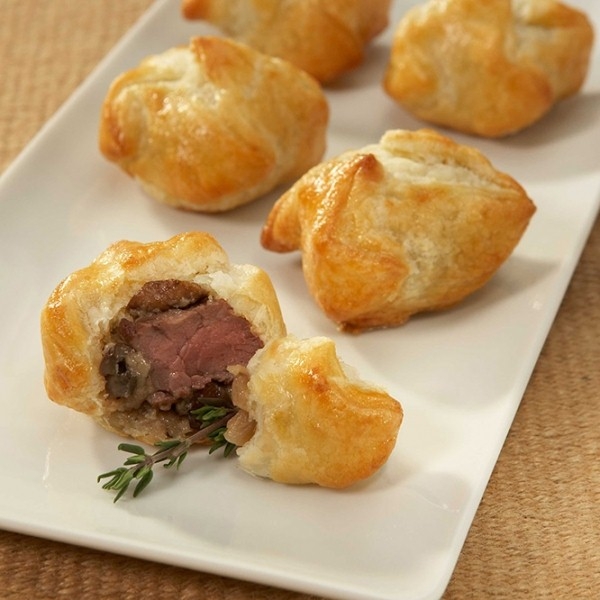 Casino Shrimp
Essential truth for life - you really can't have a cocktail party without shrimp!
This intensely flavored cocktail appetizer has delectable shrimps marinated in a spicy casino mix and wrapped in Applewood smoked bacon. These appetizers are presented on trendy knotted picks. Serve with a classic martini or a gin based cocktail of your choice.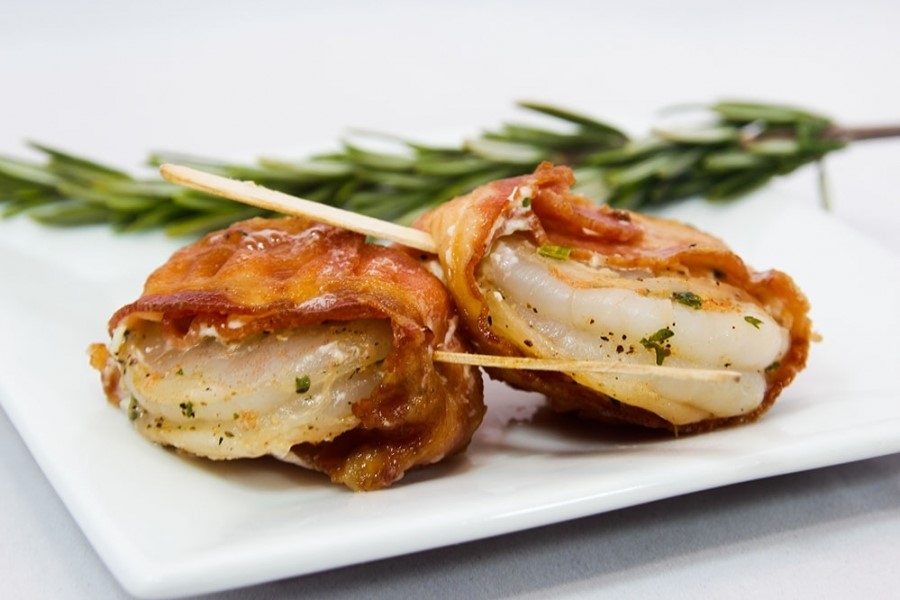 Macaroni And Cheese Poppers With No Ham
This one is perfect for vegetarian guests. Our take on a classic holiday favorite consists of bite-sized bits of

macaroni and cheese

coated with breadcrumbs. Combine this with a classic spicy Bloody Mary: Combine one part vodka with 2 parts tomato juice and then add the following ingredients to taste: lemon juice, horseradish, celery, salt, hot sauce, and Worcestershire sauce. Garnish with your favorite pickled veggies and serve with a smile.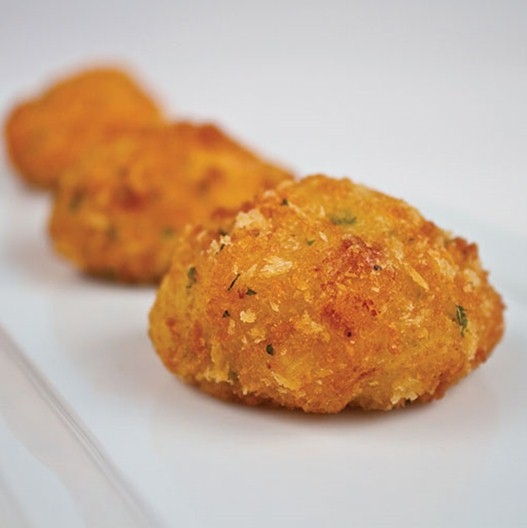 Pulled Pork in Cornbread
Bring the memories of this summer's barbeques to your holiday table with this Pulled Pork in Cornbread appetizers. The tender pulled pork in our tangy BBQ sauce goes well with bourbon-based cocktails. Try serving it with a John Collins or the rum-based Anejo Highball.
Sesame Chicken
If you thought we've forgotten the chicken fans, we haven't! These tender strips of chicken coated with sesame seeds and Japanese Panko breadcrumbs are alluring, to say the least! Sesame Chicken tenders brings a variety of flavors to the palette; it manages to be sweet and salty, crispy and spicy all at the same time. No wonder it pairs so well with the tropical flavors of the ever popular Mai Tai cocktail.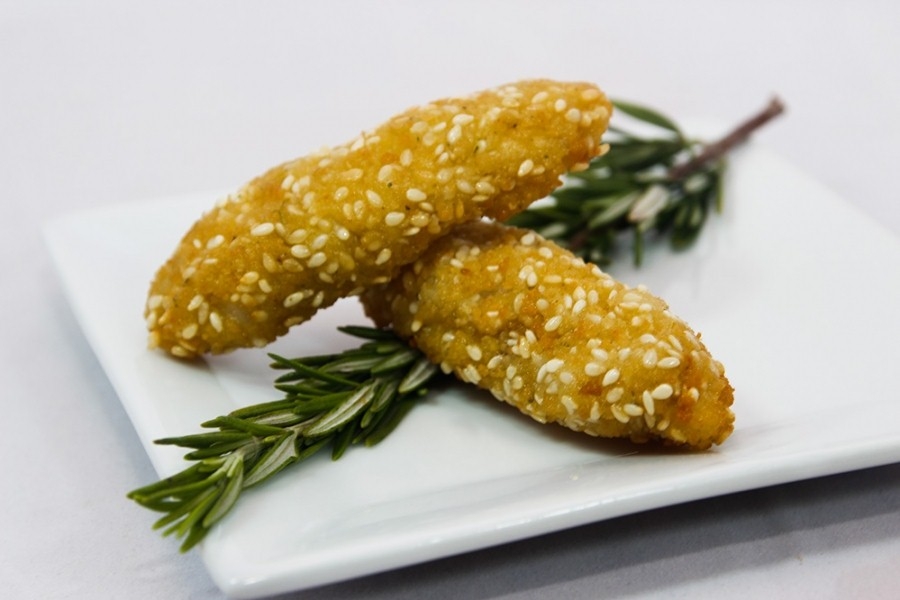 Bonus Dessert - Holiday Chocolate Petit Fours!
Your guests will love these Petit Fours. These tiny cakes drizzled with chocolate are sure to grace any table. The flavors of almond, orange, vanilla, and chocolate really bring in the holiday spirit! Pair these mini desserts with a fruity French Martini or Champagne for a sweet end to the night.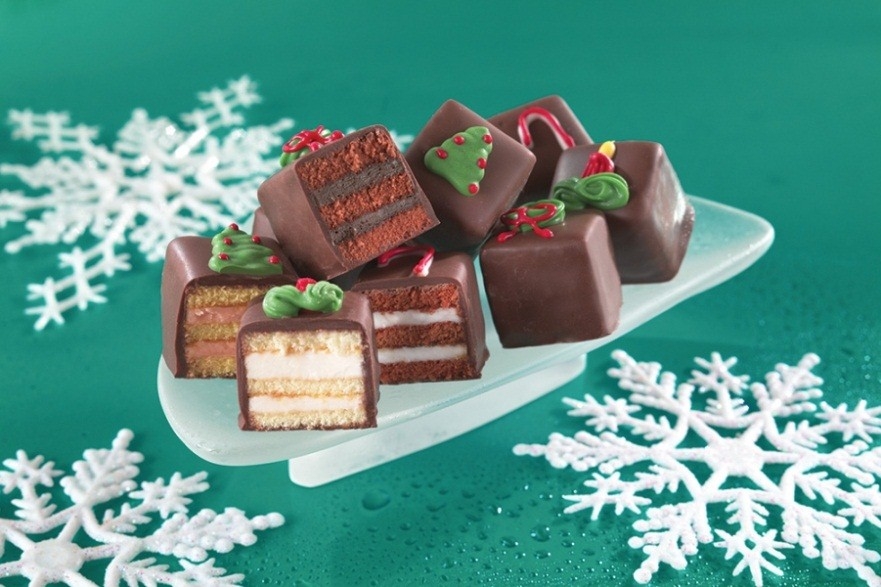 Let us know what your favorite appetizer and cocktail pairing are in the comments below. If you're looking for more appetizer ideas for your holiday table, check out some of our top holiday appetizers picks here.
Contact us to order appetizers for your holiday season celebrations – you can order from a wide range of party appetizers and take a well-deserved break, while we deliver your order at your doorstep.
Whether you're having a small get-together with friends and family, catering a grand anniversary celebration or feeding a couple of hundred high-powered business professionals at your annual holiday party, AppetizersUSA has got your...
Read the full post
A yacht party is a great way to spend quality time, bonding with friends and family. The ocean, the sun, the breeze, the views of the coastline or cityscape, the waterways and the like provide an idyllic setting for celebrations. Now,...
Read the full post
'Tis the season! Calling your friends over for Christmas dinner and wondering how to get everything done in time? Or, are you an event planner organizing an office party or a theme wedding? Fret not as AppetizersUSA will take care of...
Read the full post
There's nothing more romantic than a summer wedding. The birds are singing and the sun is shining and everyone is in an effortless, festive mood. Elaborate floral decorations and colorful dresses are as integral to a summer wedding as...
Read the full post
Warm weather, finally! Gone are the days of having a select few friends over and exchanging tales by the fireside. It's time to throw that fancy summer party! Catering to crowds is not always easy though. So we've put together...
Read the full post
Serving up holiday appetizers don't have to be a huge ordeal. Your finger foods don't have to be some grand presentation, in fact, sometimes keeping them simple and even teeny tiny can make them more appealing. Especially during these hot...
Read the full post
A Sunday noon cookout in your backyard is always a hit. The blue sky, bright sunlight, and a great group of friends and family spending the day together. The only thing that can make it more perfect is some delicious, smoky,...
Read the full post
You don't need to be Michelin starred chef to serve up some tantalizing appetizers that look like works of art at your next fete. The presentation is everything and using only the finest ingredients like gruyere, prosciutto and caviar...
Read the full post
Graduations are times when memories are created and people are in a mood to celebrate. It is an exciting time for everyone involved with the young graduates looking forward eagerly to the next stage of their lives. Diplomas have been...
Read the full post