Posted On Oct 18, 2016
It's nearing the end of October which means it's ghosts and goblins, brooms and witches time. It also means it's a time for pumpkins, lots and lots of pumpkins. Whether you're carving them with the kids or for some creative party decor, we've got some interestingly fun (and some mess free) pumpkin decorating ideas that you have to try this coming week!
Lantern Decals
An eerily grinning pumpkin may be classic, but why not give it a twist? Turn your pumpkin into a literal lantern using decals in the style of old oil lanterns. Simply stick them on to avoid the messy de-pulping process or go all in (and up to your elbows) to clean and carve out the space on the lantern decal where a candle's light can shine through. The result can be placed in any corner of your home or on the front step and will add a classy touch to your

Halloween decorations

.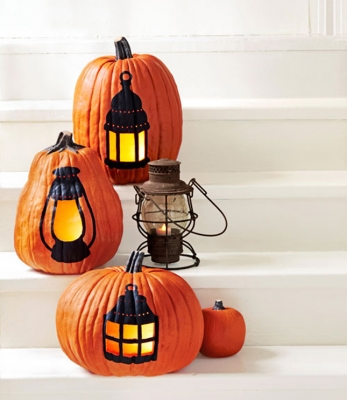 (Source:
www.brit.co/creative-pumpkin-carving-ideas/
)
Tack-ey Pumpkins
Not a fan of scooping and scraping out pumpkin goo? No problem! A can of spray paint and a box of thumb tacks can turn any gourd into a stylish centerpiece that will last as long as you need it to. Choose gold or silver thumb tacks or studs, pencil out a simple design and start tacking! It's convenient, It's simple and it's super chic, plus you can have it match any color scheme you want.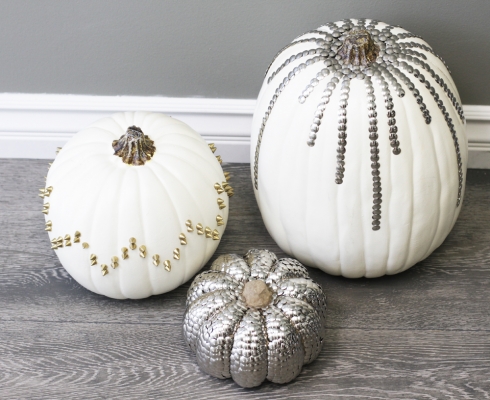 (Source:
www.lilyshop.com/thumb-tack-pumpkins
)
Sharpie Up
Let the kids get involved in the fun with this minimal mess, easy to do pumpkin decoration. Simply lay out an array of colored permanent markers and using your own imagination or a stencil, draw on the pumpkin to create famous cartoon characters, the classic jack-o-lantern grin or even intricate patterns. Here, your imagination is the only limit!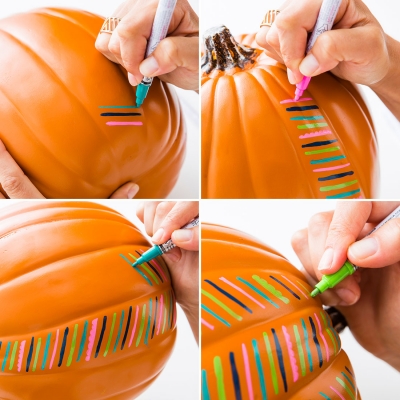 (Source:
www.brit.co/pumpkin-stack-tutorial/
)
Sugar Skull Pumpkin
One of the most creative Halloween pumpkins we've come across, this Day of the Dead inspired, sugar-skull carved pumpkin, is easier to create than it looks. You only have to carve out large holes for the eyes and nose and rest is candy! Gum for teeth, candy corn and jelly beans around the eyes, licorice laces to frame and a little paint to add the final touch. The best part is, you can snack on candy while you make it! Sounds delicious and looks fantastic, right?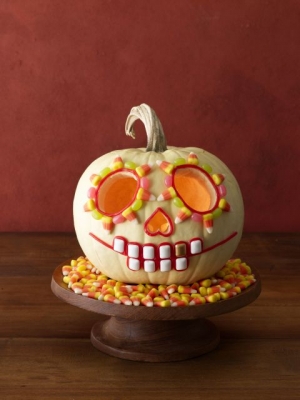 (source:
www.womansday.com/home/crafts-projects/g950/funny-pumpkin-carving-ideas/?slide=1
)
Leafy Pumpkins
What better way to celebrate fall and Halloween than by putting the two together? Leafy pumpkins are a great option for those who prefer craft over carving. Simply trace out leaves on red, orange and yellow tissue paper, cut out and glue onto the pumpkin. Make a bolder statement by using a white pumpkin. It may not be scary, but it will be nothing short of stunning! These make for a great alternative to center pieces for dinner parties as well.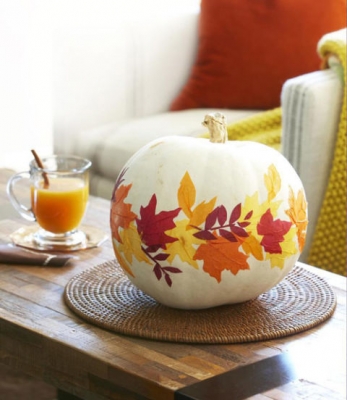 (source: www.goodhousekeeping.com/home/decorating-ideas/g240/natural-halloween-decorations/?slide=1)
Die-orama Pumpkin
Here's a pumpkin that will go with your
Halloween party decorations
perfectly. Clean the pumpkin and carve out the front to create the stage for a spooky scene. Spray paint black for a scarier effect. Then using small props, acrylic paint and some cardboard, create your eerie tableau. It could be a skeleton in a graveyard, a haunted house or a werewolf howling at the moon – the possibilities are endless!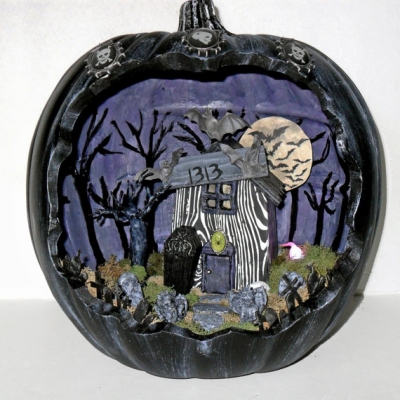 (source: https://www.etsy.com/listing/207457459/pumpkin-diorama-haunted-house-diorama)
Pumpkin decorations don't have to be tedious. Carved or not, complex or simple – there are a countless decorations for you to choose from!
Five Food Trends to Look Forward to in 2018 Just like fashion, food has its own style. Some foods are in and the others all but are forgotten. Food trends dictate much more than just the flavor of the week and include the culinary colors, styles,...
Read the full post
Whether you're planning your wedding, a fancy dinner party, or a simple BBQ, the dessert table is probably the most attractive section of the buffet, because who doesn't love delicious treats? Everyone looks forward to indulging a bit...
Read the full post
Instead of letting your hard boiled eggs go to waste from your morning Easter egg hunt, why not enjoy them with your Eater celebration instead? You can make something simple and easy that won't require a lot of effort and that you can do last...
Read the full post
Serving up appetizers doesn't have to be huge ordeal. Your finger foods don't have to be some grand presentation, in fact, sometimes keeping them simple and even teeny tiny can make them more appealing. Especially during these hot summer...
Read the full post
Autumn has officially begun and with that comes new gatherings and parties with a hint of crisp, fresh air. Along with that comes a change of what foods are prepared and what appetizers are served. It's no secret that pumpkin is the craze...
Read the full post
Seasons Greetings! Yup, it's finally time to say that. The air is crisp, the holiday music is jingling, the boots are worn,the shopping has begun, the lights are hanging, the hot chocolate is steaming, the cookies are baking and the parties...
Read the full post
It seems like 2018 just started, but the reality is that we're already half-way through the year. It's crazy to think that we're already in the midst of the summer heat but with that comes all the fun. The Fourth of July is quickly...
Read the full post
From all of us here at AppetizersUSA, we just wanted to say THANK YOU to all of you who have supported us over the years. Wishing you and your loved ones a very HAPPY THANKSGIVING this year.
Read the full post
It's time to celebrate! New Year's Eve is approaching and it's time to celebrate the end of one year and the beginning of another. Wow your guests on New Year's Eve with glitz, glitter and glamour, especially when it comes to...
Read the full post