Posted On Nov 1, 2016
It's hard to believe that we just celebrated Halloween and now we all have Thanksgiving on the brain. It may only be the beginning of November, but this month of giving thanks is going to fly by, so getting ahead on your turkey party planning is a must! If there's one day in the year when all thoughts of a diet are tossed out of the window; if there's one day in the year when food becomes the focus of our existence; if there's one day when you feel you haven't done justice to the meal if your pant buttons are not threatening to pop open – it's Thanksgiving. This holiday is known to be a large feast and although turkey is the centerpiece of any Thanksgiving dinner, the meal also includes an array of other delectable dishes.
Since there is always so much food to cook and pass around, cooking or bring dishes tends to be divided among family members and friends. Even if that's not the case, it's only polite to bring along a dish or two to your Thanksgiving potluck.

So, if roasting a turkey or baking a pie is not your cup of tea, it doesn't mean you cannot contribute to the meal. There's a whole menu of unique side dishes that you can prepare for the dinner or even for that Thanksgiving potluck for your office. Here are some thanksgiving potluck ideas from the best in the business to get the chef in you started:

brussels sprouts hash with crispy sage and walnuts

Let's face it, brussels sprouts don't usually win the title of "fastest disappearing food from the table" at a Thanksgiving dinner. But what about brussels sprouts with a twist? The earthiness of sage and the crunch of walnuts add the kind of depth to this dish that will keep people coming back for more. The best part? It can be whipped up on a stovetop, freeing the overworked oven for the mains.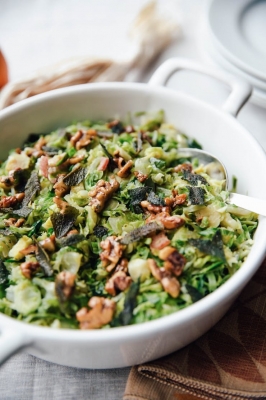 (Source: thekitchn.com)
sausage cheese balls

Who doesn't love cheese and sausage, especially when there's barbecue sauce to go with it? Add a mix of spices and you will have a burst of flavors in your mouth. Watch the meaty cheese balls do the disappearing act in front of your eyes and your guests simply unable to stop popping them into their mouths.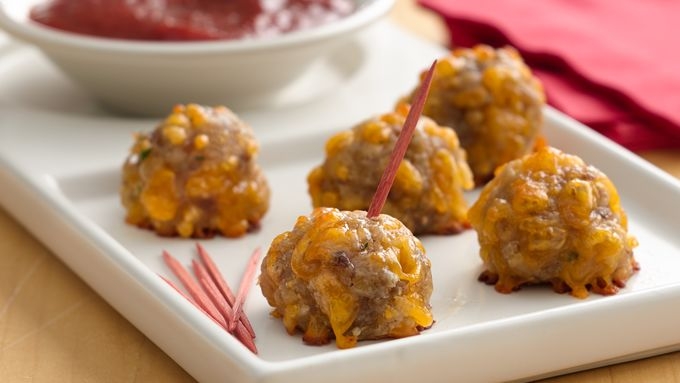 (Source: tablespoon.com)
sugared bacon-wrapped smokies

Smokies are among the most popular finger food at parties. Can you imagine what could happen when you take a dish that's already lip-smacking, yummy and add a layer of bacon lightly coated with sugar to it? The result, we can assure you, is phenomenal.
shrimp with spiced cocktail sauce

Shrimps are a classic favorite when it comes to appetizers. You simply cannot go wrong with shrimps served with a dipping sauce. For this Thanksgiving potluck, take your shrimp appetizer up a notch by serving it with a cocktail sauce that combines strong flavors like ginger, garlic, shallot, cumin, and mustard seeds.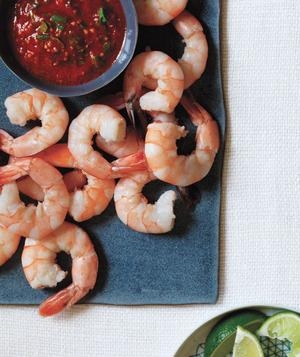 (Source: realsimple.com)
Cheese-stuffed grilled peppers

What do you get when you combine the crunchy texture of bell peppers with the soft gooeyness of cheese? Pure heaven, that's what! A very popular appetizer for barbecues, cheese stuffed grilled peppers can be a game winner at your Thanksgiving dinner as they stand out at a table full of heavy dishes. Plus, these are great for that game-day feel while you're cheering for that touchdown to happen before the meal.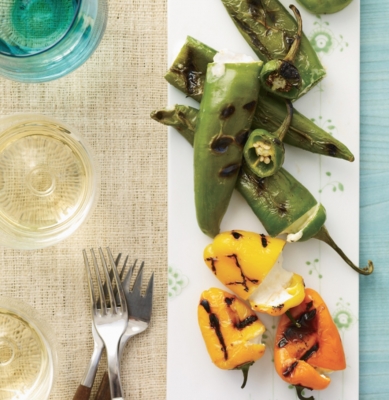 (Source: foodandwine.com)
provencal onion tart

Move over onion rings and creamed onion sauce, there's something more elegant in town! Truth be told, the humble onion does not get the respect it deserves in the kitchen or at the dinner table, even though it's one of those ingredients that adds an unmistakable flavor to any dish. However, this easy to put together onion tart will change that forever.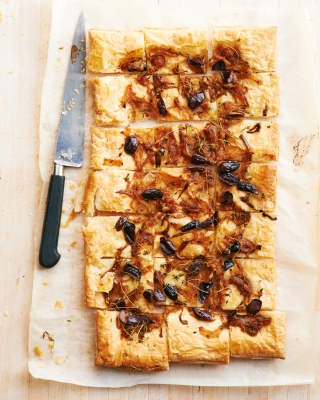 (Source: marthastewart.com)
turkey sage meatballs with cranberry glaze

You didn't think we would end our list of Thanksgiving potluck appetizers without cranberry now, did you? Actually, it's better than that – here's an appetizer that combines two Thanksgiving classics. Not only does this dish use cranberries, but its main ingredient is turkey. Now if you're thinking "who would want to eat turkey before, they…well, eat more turkey, just?" wait and watch. This is a real winner that will have the guests literally licking their fingers.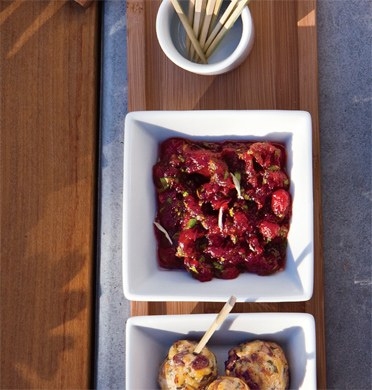 (Source: epicurious.com)
So go ahead and give a scrumptious start to your Thanksgiving dinner with these delicious potluck appetizers. If you need more information on other varieties of appetizers that would suit your party the best, get in touch with our team at AppetizersUSA. Let the fun and season of thanks, begin!

As most of you already know gluten free has been the talk of the food industry for quite a few years now. It became widely popular for being known as the "cool, new diet" trend for awhile, since people believed it was the fad of the...
Read the full post
Whether you're planning your wedding, a fancy dinner party, or a simple BBQ, the dessert table is probably the most attractive section of the buffet, because who doesn't love delicious treats? Everyone looks forward to indulging a bit...
Read the full post
The holidays are finally here and celebrating with friends, co-workers and family is what it's all about. Gathering together to make warm memories during these crisp chilly months and spreading love and joy is what makes our hearts full. ...
Read the full post
Five Food Trends to Look Forward to in 2018 Just like fashion, food has its own style. Some foods are in and the others all but are forgotten. Food trends dictate much more than just the flavor of the week and include the culinary colors, styles,...
Read the full post
It's nearing the end of October which means it's ghosts and goblins, brooms and witches time. It also means it's a time for pumpkins, lots and lots of pumpkins. Whether you're carving them with the kids or for some creative...
Read the full post
Instead of letting your hard boiled eggs go to waste from your morning Easter egg hunt, why not enjoy them with your Eater celebration instead? You can make something simple and easy that won't require a lot of effort and that you can do last...
Read the full post
Seasons Greetings! Yup, it's finally time to say that. The air is crisp, the holiday music is jingling, the boots are worn,the shopping has begun, the lights are hanging, the hot chocolate is steaming, the cookies are baking and the parties...
Read the full post
Serving up appetizers doesn't have to be huge ordeal. Your finger foods don't have to be some grand presentation, in fact, sometimes keeping them simple and even teeny tiny can make them more appealing. Especially during these hot summer...
Read the full post
Autumn has officially begun and with that comes new gatherings and parties with a hint of crisp, fresh air. Along with that comes a change of what foods are prepared and what appetizers are served. It's no secret that pumpkin is the craze...
Read the full post