Posted On Oct 15, 2018

Bite-size gourmet appetizers are scrumptious finger foods served as party-starters. Low-stress, and inexpensive these are great conversation starters. Planning to organize or host a wedding, a corporate event, a reunion, or a festival? We have your appealing appetizer party covered from the first bite to the last with these adorable mini appetizers and these practical tips to make it a hit!


Know your spread
Lay the groundwork for a diverse spread for your guest, of party appetizers depending on the occasion. Make sure you chalk in all these food categories:
1. Dips and Spreads: Not a category of appetizer, but vital as a pair food that is served along with appetizers like tapenades, relish and so on.
2. Garden: Apt for health-conscious guests, these appetizers are made from fresh fruits or vegetables and can be cooked or served raw or as stuffing.
3. Snacks: Mainly savory finger foods such as nuts, chips, popcorn or pretzels – all ready-to-eat appetizers.
4. Starch: Not for the faint-hearted, these are the yummiest and the most irresistible appetizers available - finger sandwiches, dumplings, pizza, bruschetta, rolls, crackers, breadsticks, and all the cheesy gooey bites.
5. Protein: A dose of protein-rich food served as delectable bites - meatballs, fish, chicken wings, sushi, egg, cheese and tofu - and you are good to go.
6. Desserts: In bite-sizes, these sinful dessert appetizers are perfect to soothe sweet cravings. Line up those cookies, candies, chocolates, or slivers of cake and we bet your guest will leave wanting for more.
Pro Tip: Putting in a little effort to check for guests' dietary restriction, goes a long way in making everyone feel thought-of and included. Go for an assorted appetizer spread with vegetarian, vegan and gluten-free options apart from the ones we mentioned above.
Know the portion
Wastage is never wise but neither is running out of food before the party is through. So, once you know what to serve it is equally important to learn how much to serve. Of course, the quantity will vary based on the number of guests. But, here is a quick guide to plan your servings better:

Wastage is never wise but neither is running out of food before the party is through. So, once you know what to serve it is equally important to learn how much to serve. Of course, the quantity will vary based on the number of guests. But, here is a quick guide to plan your servings better:
• For 10-12 guest - A 5 appetizer selection
• For approximately 25 guest - 9 appetizers make for the perfect serving
• For 50 and above, 13 or more appetizer selections are recommended
If you feel you might run out of food, we suggest you stock frozen appetizers and dry snacks that can be used if required.
Deciding the menu
Deciding the menu is a real task, but don't worry we have your back. We have picked out a selection of the best bite-sized party appetizers, that don't have to be prepared. You can place the order, take the delivery, serve as instructed and enjoy with your guests.

1. ARANCINI WITH GOUDA RICEBALLS

These round-shaped Italian delicious balls are made from rice with a gooey gouda center and coating of panko breading. Stock them in your refrigerator and fry or bake before serving to your guest.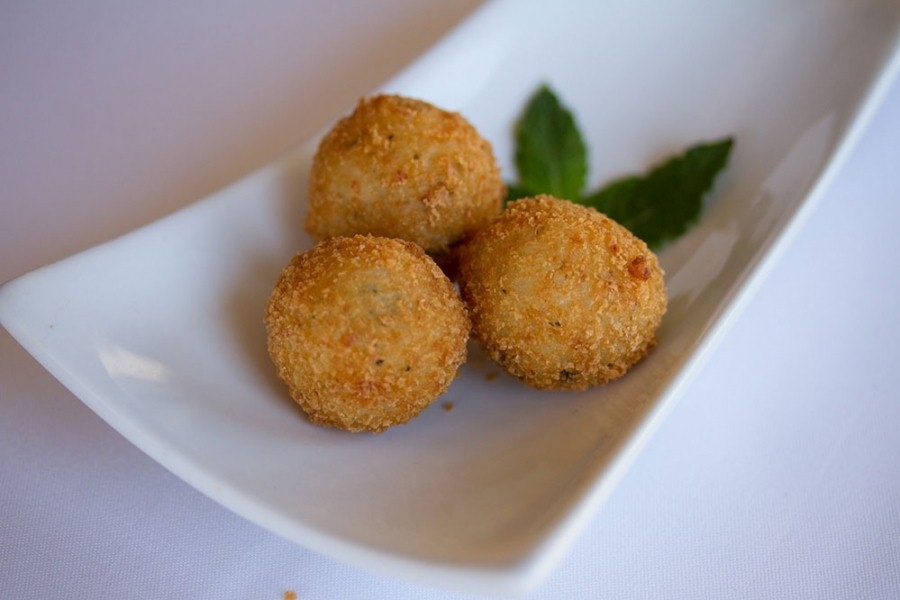 Crispy croquettes of creamy Manchego cheese and chopped olives for a melt-in-mouth experience. You need to deep fry them until golden brown before serving to your guest.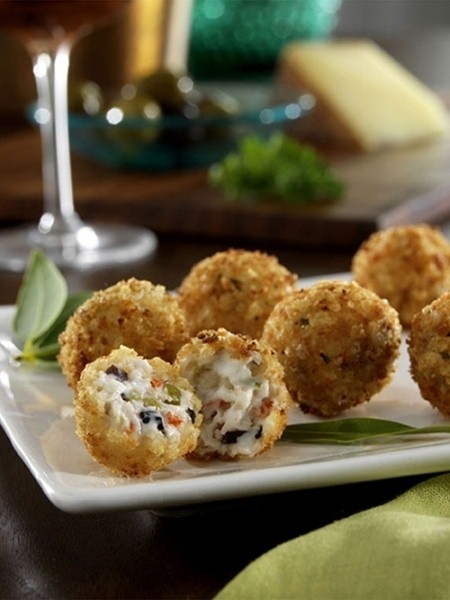 The irresistible crab cake delicacy packed with .75 oz of 100% premium lump crab cake. Defrost it for 4 to 6 hours then fry or sauté on medium to high heat with butter on each side, or you can bake it without parchment paper at 350-400 degrees for 12 to 15 minutes.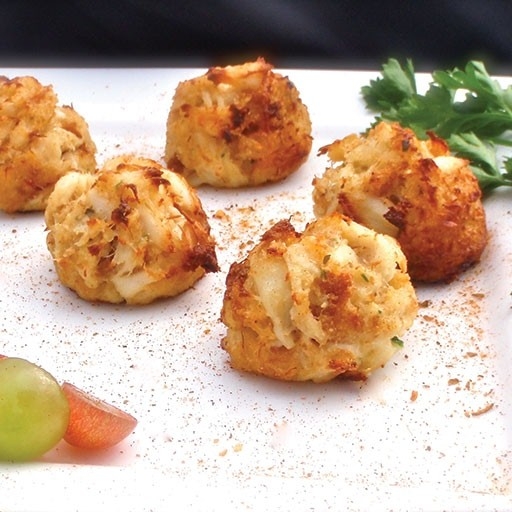 An instant hit with young and old alike for its assorted mix of flavors and mouth-watering taste - available in Raspberry Cream Cheese, Peanut Butter, Blondie, & Cream Cheese Zebra - each assortment contains 12 pieces each of 4 different flavors. Serving is simple. Defrost for 25 minutes and serve!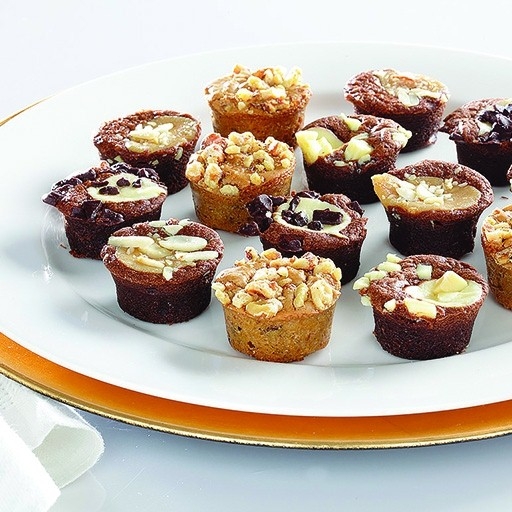 A moist chicken breast strip with a creamy fontina and sundried tomato blend filling and a coating of seasoned herb and breading. It can be baked at 350 degrees for 5 to 8 minutes or deep fried until golden brown.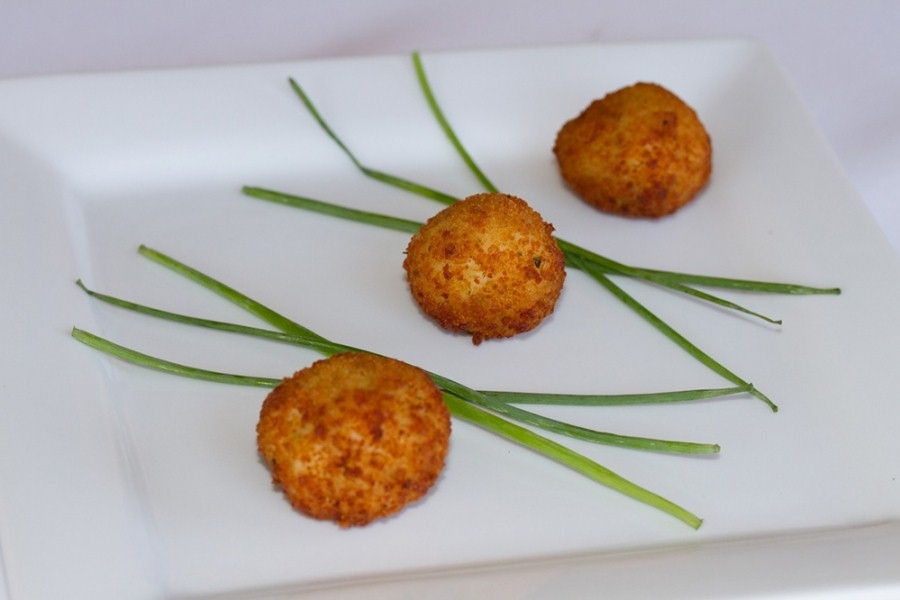 A delicate dish made from mini potato skins stuffed with cheddar, bacon & Idaho mash. Bake in oven at 325F for 5 to 10 minutes and flip if required. Do not microwave.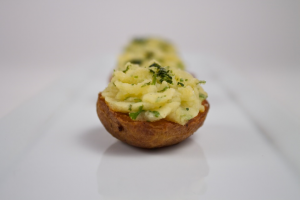 Savory bacon wrapped around crunchy water chestnuts with a bamboo skewer in between. Bake it in parchment paper at 375 degrees for 12-18 minutes.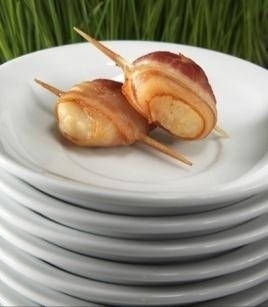 8. HIBACHI STYLE CHICKEN SKEWER

Juicy strips of chicken, marinated in Teriyaki, and then rolled around an array of red, yellow and green bell peppers, with scallions and a pinch of Monterey jack cheese, for a kick. Thaw and cook at 375 F in the oven for 8-15 minutes. Do not microwave.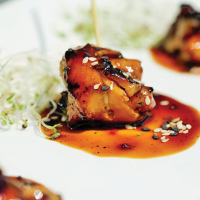 9. ARTISAN CORN & JALAPENO JACK CAKES

Handmade corn cakes mixed with jalapeños, Monterey jack cheese, and fresh green onions. Deep fry for 2-3 minutes or bake in an oven at 350 degrees for 4-10 minutes.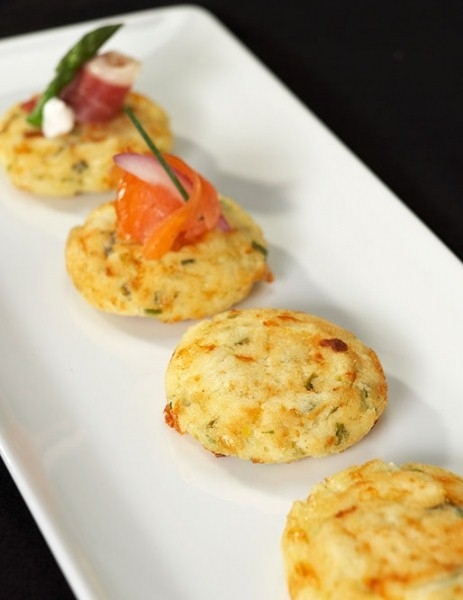 10. PISTACHIO CHICKEN PINWHEELS

A tender piece of chicken, encrusted with finely chopped pistachio nuts, wrapped around an asparagus spear tip and elegantly presented on a knotted skewer. Bake it on parchment paper at 375 degrees for 12-18 minutes.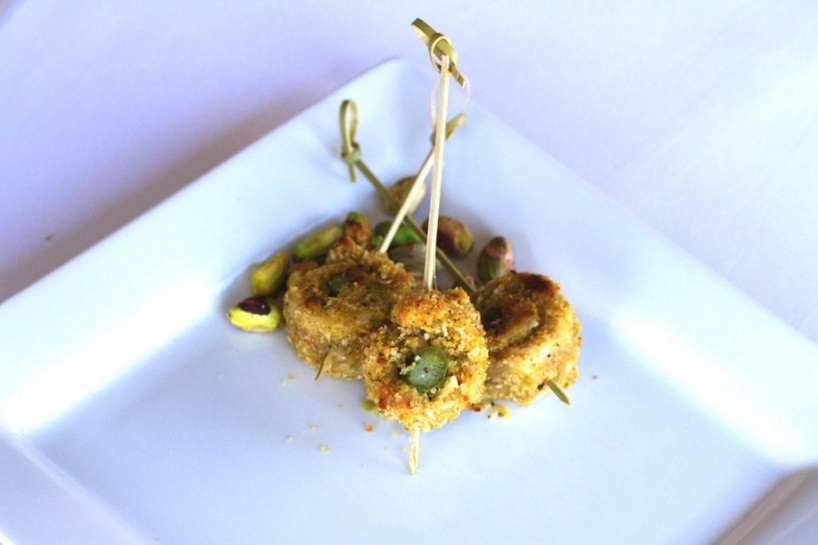 11. QUINOA AND ZUCCHINI FRITTER
Vegetarian and Gluten Free Quinoa & Zucchini Fritters made with crumbled pine nuts, feta cheese, lemon juice, fresh parsley and dill. Deep Fry at 350 degrees for 2-4 minutes and then bake at 350 degrees for 1-2 minutes.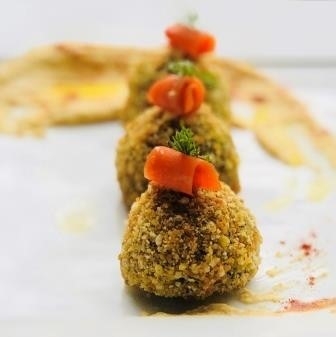 12. SPINACH GOAT CHEESE FLATBREAD

Crisp baby spinach paired with Goat cheese and topped with pizza sauce, layered onto a miniature flatbread. Defrost for 1 hour then bake it in the oven for 5-10 minutes at 325 degrees.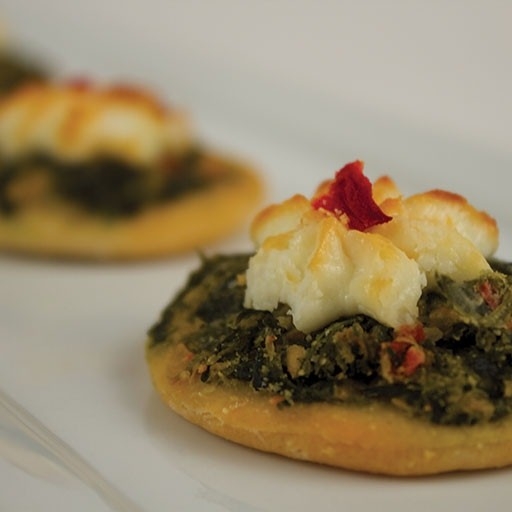 Note: Cooking times may vary based on the type of oven and the quantity of appetizer. Read the complete instructions before serving the food. Plan your time as per the requirement to heat, deep fry, bake or thaw so that you serve your guest at the planned timings.

We make organizing a party easier than a cake for party planners, event managers, wedding planners, or casino managers – all you need to do is choose the right party finger food appetizers for a crowd along with dessert appetizers and place your order now!

The number of people eating gluten-free foods is growing – whether they are doing it because they are gluten intolerant, suffer from celiac disease or are simply looking for healthier ways to eat. If you aren't on a...
Read the full post
Whether your 2017 New Year's Resolution is to lose weight and eat healthier, or if you simply lead a healthier lifestyle in general. It's hard to believe that the holiday season is here and gone. All...
Read the full post
You don't need to be Michelin starred chef to serve up some tantalizing appetizers that look like works of art at your next fete. The presentation is everything and using only the finest ingredients like gruyere, prosciutto and caviar...
Read the full post
There is nothing better than kick-starting a corporate dinner, or a family gathering with tempting frozen party appetizers that set the tone of style and delicious substance! Tasty appetizers are available in an amazing variety and are an...
Read the full post
Easter is a distinctive festival celebrated across the world with traditions that differ in each country according to local practice. In the United States Easter typically has family and friends gathering together for a traditional brunch...
Read the full post
Fall is that wonderful time of year when the leaves begin to change color from green to shades of yellow, red and orange and crisp autumn scents fill the air- because fall season has the best sights, sounds and smells. People from...
Read the full post
'Tis the season! Calling your friends over for Christmas dinner and wondering how to get everything done in time? Or, are you an event planner organizing an office party or a theme wedding? Fret not as AppetizersUSA will take care of...
Read the full post
Christmas is here! And so is the contagious feeling of cheer! The time is filled with fun, family, friends, get-togethers, presents and food, pine green (evergreen), snow white, and heart red rule everywhere! Christmas...
Read the full post
Summer is here and with a sky full of sun comes a parade of weddings and hopeful couples. Planning a wedding menu is just one of the many stressful things to sort out for a day that is life changing for many. But we know the recipe to success...
Read the full post