Posted On Sep 20, 2018
The number of people eating gluten-free foods is growing – whether they are doing it because they are gluten intolerant, suffer from celiac disease or are simply looking for healthier ways to eat. If you aren't on a gluten-free diet yourself, chances that someone at your party is are very high.
Not sure about your guests' dietary restrictions? You can always ask them to outline any when they RSVP. If that isn't possible, here are three good reasons why you should probably have at least one vegan, vegetarian and gluten-free option on your party menu:
· Your guests will be pleased that you made an effort
· Gluten-free doesn't have to be boring
· Everyone can eat it
Keep the gluten-free food you are serving up away from all other food to avoid the risk of cross-contamination. Use separate surfaces to prepare the food and make sure you store it separately. It might sound like a bit of effort but trust us, your gluten-free guests will be thrilled!
If you think about it, a lot of the food we eat and enjoy is naturally gluten-free. Gluten-free food can be elegant, flavorful and eaten by all. We've put together a list of our top gluten-free appetizers for your upcoming holiday party that all your guests will love!
Artisan corn & jalapeno jack cakes
These scrumptious corn cakes are mixed with jalapenos, fresh green onions, and Monterey Jack cheese to bring a great mix of flavors. Delicately shaped by artisans, they can be baked or deep fried just before serving. You can also add a gluten-free topping of your choice, like smoked salmon or bacon, for a more personal touch.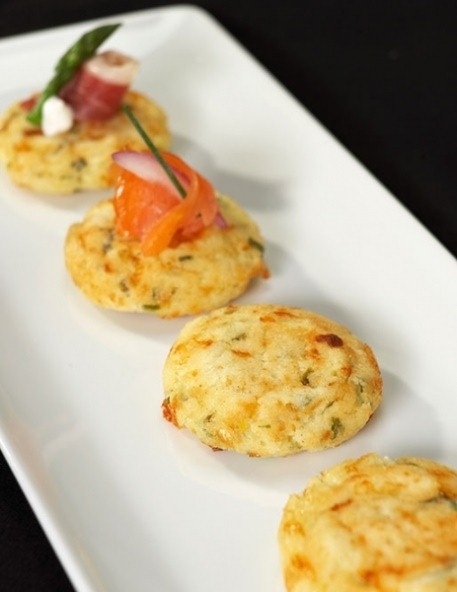 Baked

brie

with mushrooms & sage
This chic gluten-free appetizer is perfect for any party. Simply sauté chopped Portobello mushrooms in butter with some minced sage, shallots, salt, and red wine. Cut the top rind off of a wheel of brie, top with the mushrooms and bake in the oven for about 15 minutes. Serve with gluten-free crackers or bread.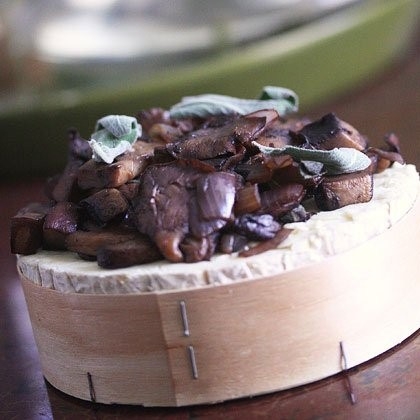 Source: https://www.shape.com/
Deviled eggs with lime & sriracha
Add some spice to your party by serving these deviled eggs with some fiery sriracha. Scoop the egg yolks out of halved hard-boiled eggs and mash them with mayonnaise and mustard. Add in lime juice, sriracha, and salt and scoop the mixture back into the eggs. Yum!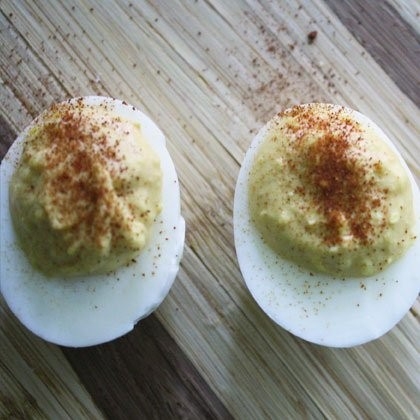 Source: https://www.shape.com/
Stuffed potato with bacon
You can't go wrong with these delicious little potato skins stuffed with cheddar, bacon and mashed potatoes. All you need to do is follow the instructions and bake them. Whether your guests need to stick to a gluten-free diet or not, we know they'll love them!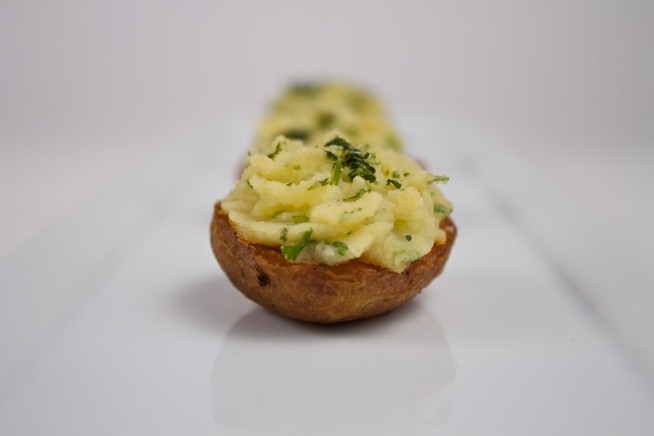 Source: https://www.shape.com/
Potato au gratin
Potato Au Gratin is a gluten-free and vegetarian appetizer. It consists of thinly sliced rustic potatoes, layered with a savory blend of heavy cream, rich butter, roasted garlic and a creamy mixture of gruyere and cheddar cheese. Absolutely delicious!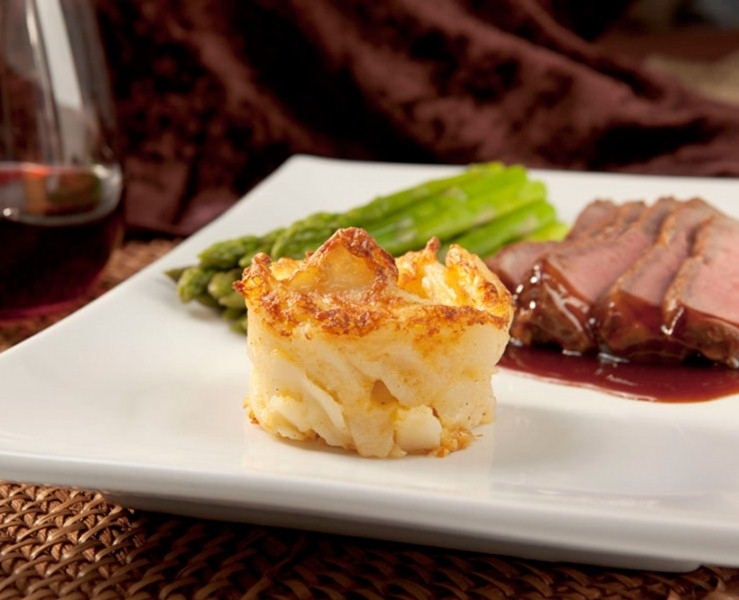 Gluten free sausage balls
Use gluten-free flour to make mini pork sausage balls flavored with ground black pepper, smoked Spanish paprika, cheddar cheese, and shallots. Serve them on toothpicks with your favorite (gluten-free) Italian dipping sauce!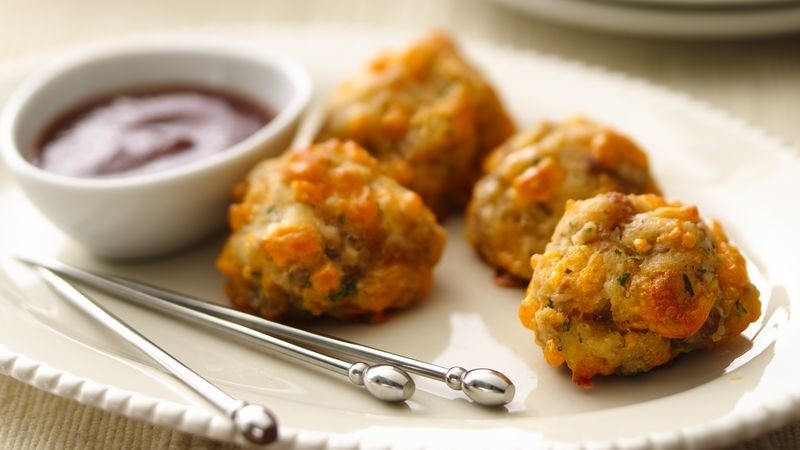 Source: https://www.bettycrocker.com/
Water chestnuts in bacon
These scrumptious appetizers will have your guests talking about them for weeks! The sweet and crunchy water chestnuts wrapped in bacon are sure to make your guests smile in delight and ask for more!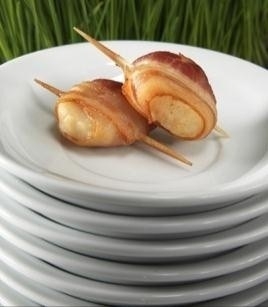 Tandoori chicken satay
Take your guests on a colorful culinary journey to India with our tandoori chicken satay made up of chicken tender seasoned with yogurt, tandoori paste, cayenne, cumin, coriander, nutmeg, cinnamon, and lemon juice, bringing a burst of flavor with every bite.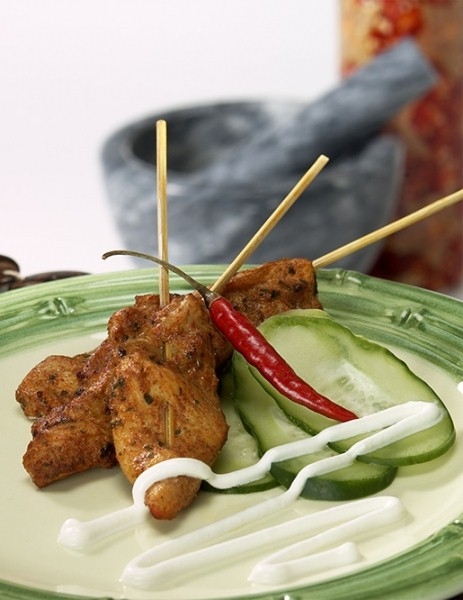 Chili lime salmon satay
If seafood is more your style, try these delectable satay skewers with Fresh Atlantic Salmon seasoned with Southwest spices and a touch of lime. Delicious and colorful, these skewers are definite crowd pleasers.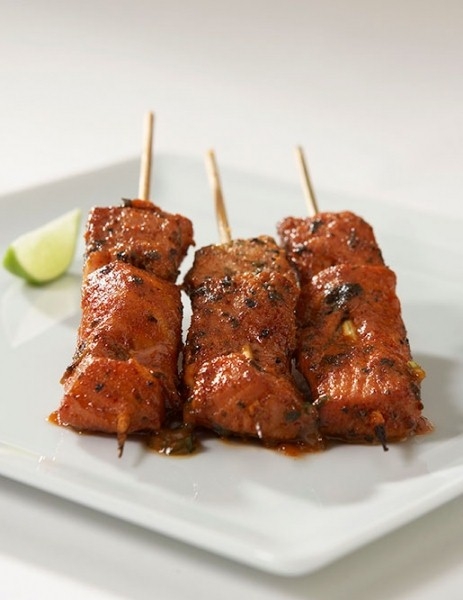 Chocolate mousse cup assortment
No, we haven't forgotten about dessert! Serve a gluten-free dessert that everyone will enjoy like this Assortment of Chocolate Mousse Cups. With options of white chocolate, dark chocolate, raspberry, and coffee mousses, there's something in there for even the pickiest of your guests.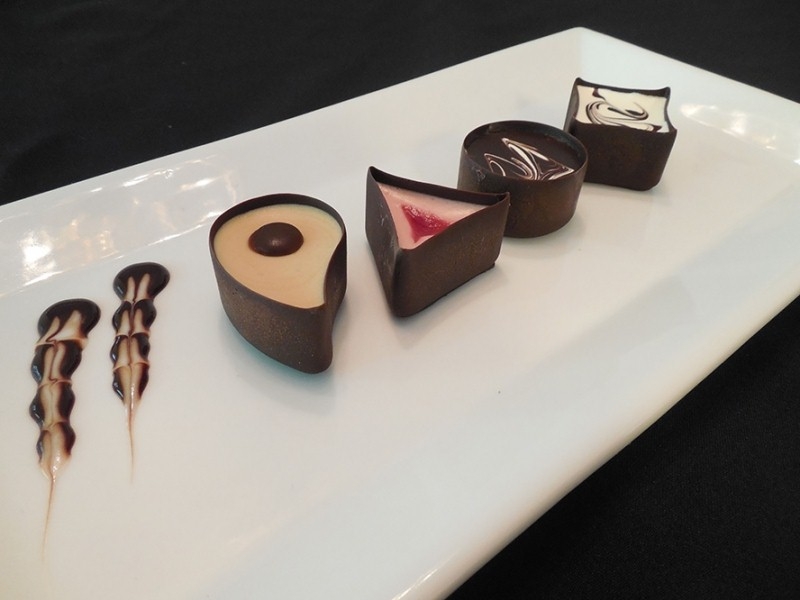 Our line of gluten-free appetizers has been certified and tested gluten free and is perfect for any occasion, whether large or small. Our appetizers are readily available and can be delivered with short notice. So do get in touch with us and let us take some of the stress of planning your party off your hands.
Fall is that wonderful time of year when the leaves begin to change color from green to shades of yellow, red and orange and crisp autumn scents fill the air- because fall season has the best sights, sounds and smells. People from...
Read the full post
No Thanksgiving is complete without the food that gets the dinner party started. Before everyone sits down to give thanks, the gathering of people mixing and mingling over cocktails and appetizers, maybe even watching football, is the way to...
Read the full post
The Autumn Equinox took place this week and that means that fall is officially upon us. With the cooler temps making their way, the leaves changing colors and pumpkin spice making its yearly comeback, it's time to start planning your parties...
Read the full post
Nothing says elegance as much as a well laid out seafood platter – it's a feast for the eyes, the taste buds, and the soul. Well-made seafood dishes remind people of holidays they've had, of warm balmy winds and clear blue...
Read the full post
Spring is a time to leave behind the mundane and catch up with friends and family. It is also a time to eat delicious fresh food at spring parties! So, are you too thinking of hosting a party? And is the menu planning taking just too much...
Read the full post
We found this mouth-watering recipe from Cookie + Kate(https://www.appetizersusa.com/delicious-sweet-potato-black-bean-quesadillas_376_8_b_57.htm#.XKcpudUzaUn). These hearty quesadillas are filled with spicy sweet...
Read the full post
It's nearing the end of October which means it's ghosts and goblins, brooms and witches time. It also means it's a time for pumpkins, lots and lots of pumpkins. Whether you're carving them with the kids or for some...
Read the full post
Spring surely brings a special kind of magic with it. The dreariness has passed; a few flowers are making a brave foray into the world and you find birds composing songs. There's a skip in everyone's step as the world looks fresh...
Read the full post
It's heating up in Arizona, which means summer is right around the corner. With that comes lots of barbecues, pool parties, gatherings, and fun. The first of which happens in May and it's the true celebration to...
Read the full post