Posted On Apr 26, 2018
Colorful foods are very much in vogue this year making cold appetizers the ideal way to serve up some delicious food while still sticking to the trend. Cold appetizers are among the best things about summer parties and here are a few reasons why:
· You can make cold appetizers way ahead of time so you're not tied down in the kitchen on the big day.
· A lot of appetizers served cold are really easy to make. In fact, a lot of them do not require you to be near a stove at all!
· There are plenty of vegetarian, vegan and meat options for

cold appetizers

. Even hardcore meat eaters will be happy to try the vegan options.
· You don't have to worry about keeping them hot.
· They keep your guests refreshed and cool.
· You can decorate them with fresh flowers and it doesn't look gauche.
· The lovely fresh ingredients used in cold appetizers look colorful, adding to the festivities.
And most importantly, cold appetizers taste absolutely delicious!
While everyone appreciates a well-arranged cheese and cold cuts platter, there is so much more you can do with cold appetizers. It's really important that your cold appetizers look and taste delicious and also pair well with your main course.
So here are our top tips that will make selecting and serving the best cold appetizers for your party really easy.
Tip 1
If the main course you're serving is rich and heavy, make sure that the appetizers you serve are light and refreshing and vice versa.
Tip 2
Make sure your appetizers have a variety of textures. For example, the crunch of a cracker goes really well with a creamy topping.
Tip 3
If you're having a big party, keep a cooler or two handles so you have room for all the food.
Tip 4
Use large deep trays or tubs filled with ice on your buffet table to keep trays of food cool.
Tip 5
Fill your serving trays at the last minute so your food stays fresh and cool.
Our Picks for the Best Cold Appetizers for Your Party this Summer
1. Roasted Red Pepper Hummus Swans
Talk about a grown up and chic version of animal crackers! These elegant Roasted Red Pepper Hummus Swans consist of smooth roasted red pepper hummus filled with Kalamata olive and sweet peppadew and savory feta cheese served in a delicious flatbread folded to look like a swan. All you need to do is defrost them in the refrigerator 90 minutes before serving!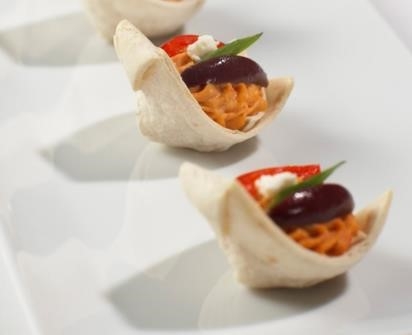 2. Pickled Shrimp and Cucumber Spears
This recipe simply requires you to marinade cooked shrimp and cucumbers in brine made from garlic, bay leaves, lemon zest and chilies overnight. You simply have to arrange them on a serving platter before serving. Delicious!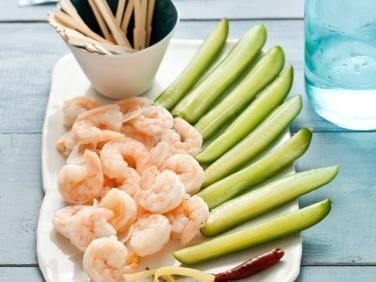 http://www.foodandwine.com/

These delicious flower-themed salmon appetizers are made up of rounds of dark sweet rye as a base topped with rosettes of open fire oak smoked salmon on a dill cream cheese mousse. They really taste as scrumptious as they look!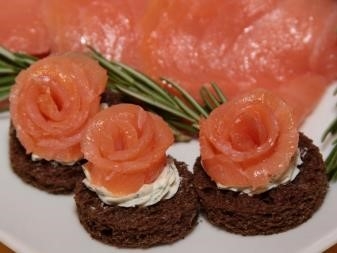 4.

Creamy Brie Canapés
Remember what we said about having a crunchy base when you have softer, richer toppings? These Creamy Brie Canapés embody just those principles with a sophisticated filling of creamy whipped brie with toasted almonds and fruit chutney in a light tart shell.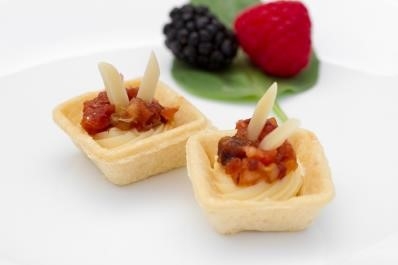 5.

Fennel, Apple and Avocado Crudo
This refreshing crudo consists of avocados, fennel and apple in a light grapefruit vinaigrette made with grapefruit zest and juice mixed with olive oil and dill. Top it off with some pink peppercorn-caper salt. Your guests will be pleased!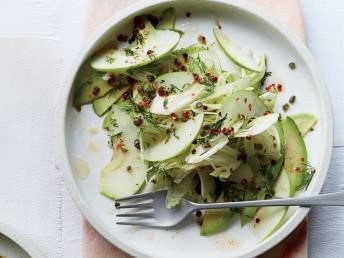 http://www.foodandwine.com/
6.

Cold Canapés Assortment
Offer your guests some variety with our assortment of Cold Canapés. From roast beef roulade with whipped horseradish mousse on a petit toast square, to salami cornets with herb cheese and an artichoke heart wedge, there are plenty of options to please even the most discerning of guests.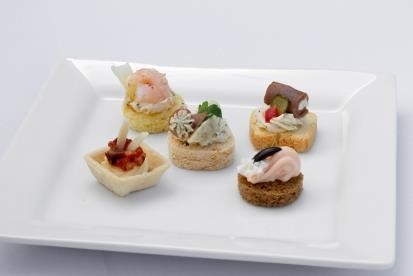 7.

Grilled Vegetable Spinach on Flatbread
Your vegetarian guests will be thrilled you thought of them with this delicious appetizer. This vibrant vegetarian appetizer consists of fire roasted vegetables, fresh asparagus, spinach pesto topped with a rosette of goat cheese.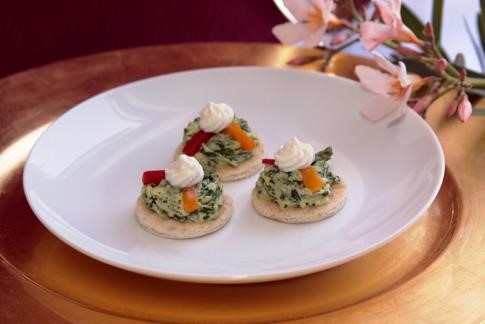 These Marinated Mushrooms can be made a couple of days ahead to allow the luscious flavors to simply seep in. Make a marinade of lemon juice, white wine vinegar and oregano and whisk in some extra virgin olive oil along with some salt and pepper. Marinate cremini mushrooms in this mixture and refrigerate in an airtight container. Serve with olives alongside your cheese platter. Yum!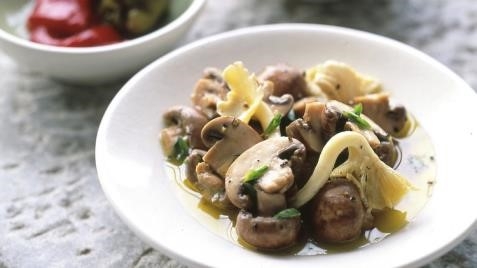 https://www.marthastewart.com/
Give your party a picnicky feel with creamy deviled eggs. Scoop out the yolks of hardboiled egg halves (halve them lengthwise) and fill the centers with a mixture mayonnaise, mustard, white wine vinegar, shallots, hot sauce and mashed in egg yolks. Serve cold.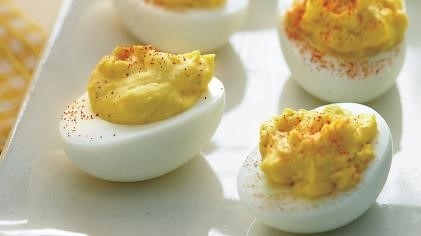 https://www.marthastewart.com/
10.

Tropical Cheesecake Assortment
Indulge your guests' sweet tooth with this Tropical Cheesecake Assortment full of flavor including blueberry, strawberry and key lime. All you have to do is follow the defrosting instructions before serving.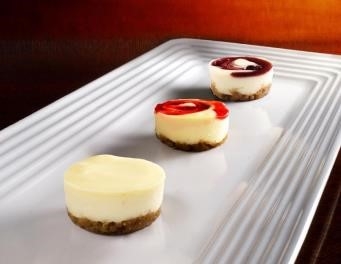 Cold appetizers are a great way to stay on top of your game and be prepared on the day of your party. Whether you're hosting just a few close friends or catering for the biggest summer event of the year, we at Appetizers USA can take a lot of the pressure off you with our delicious appetizers delivered right to your doorstep!
Take a look at our online store or feel free to Contact Us with any queries.
Throwing a smashing summer party involves a lot of planning on the part of the host. Quite honestly, you don't want to be all exhausted from planning and too tired to attend your own party! The only way to ensure you have some...
Read the full post
Fall is that wonderful time of year when the leaves begin to change color from green to shades of yellow, red and orange and crisp autumn scents fill the air- because fall season has the best sights, sounds and smells. People from...
Read the full post
The holiday season is right around the corner. It's hard to believe that the summer months are behind us and that we're already in the month of October. It's nice to enjoy the cooler weather that is upon us along with...
Read the full post
Spring is here and summer will be too before you know it. The flowers are out and the lawns have recovered from the harshness of winter. The warm weather brings with it the perfect opportunity to host a party outdoors. It's time...
Read the full post
Nothing says elegance as much as a well laid out seafood platter – it's a feast for the eyes, the taste buds, and the soul. Well-made seafood dishes remind people of holidays they've had, of warm balmy winds and clear blue...
Read the full post
Throwing a party, hosting an event or having a simple gathering of friends and family all require some thought and planning. You may be trying to figure out the best food to serve at dinner, which desserts will be a hit or even what the theme...
Read the full post
Top 5 show-stopping Gourmet Beef Appetizers for Any Celebration Be it a cocktail party, a wedding or an engagement party, or just a fun barbecue night to celebrate winter or spring, the perfect beef appetizers can really tantalize your taste...
Read the full post
Whether your 2017 New Year's Resolution is to lose weight and eat healthier, or if you simply lead a healthier lifestyle in general. It's hard to believe that the holiday season is here and gone. All...
Read the full post
It's heating up in Arizona, which means summer is right around the corner. With that comes lots of barbecues, pool parties, gatherings, and fun. The first of which happens in May and it's the true celebration to...
Read the full post