Posted On Mar 24, 2019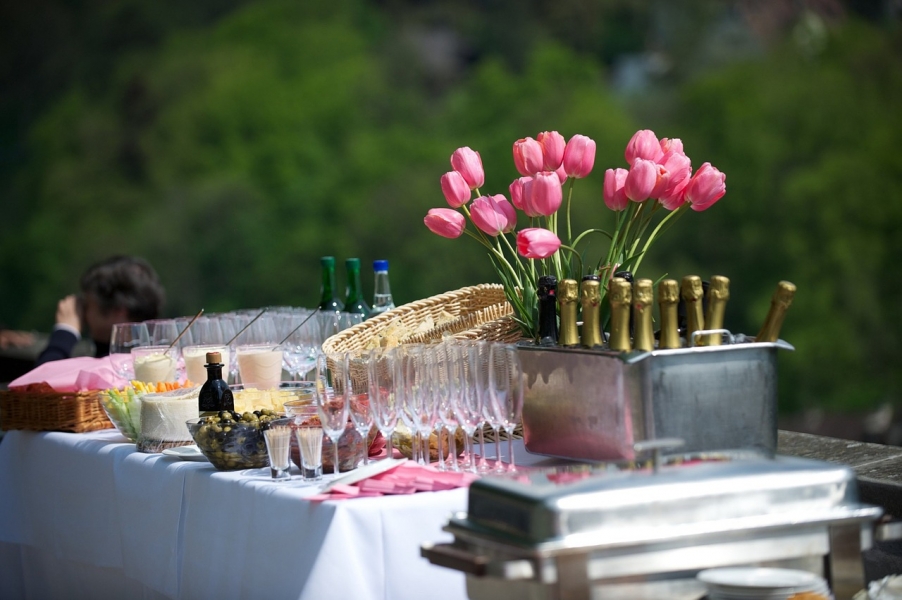 Spring is here and summer will be too before you know it. The flowers are out and the lawns have recovered from the harshness of winter. The warm weather brings with it the perfect opportunity to host a party outdoors. It's time to tell your favorite people to bring out their parasols, summer dresses, shorts, sandals, and flip flops and head over to your house to celebrate life (or any other occasion) with some chilled drinks and some scrumptious food!
Before you balk at the amount of planning a big party in the garden might bring, check out our easy tips for a fun-filled day under the open skies. The five main things you should be looking at are:
1. Invitations
2. Seating Arrangements
3. Decorations
4. Food
5. Keeping Cool and Bug-Free

And as a bonus, we've even put together a menu with some ideas that we're sure your guests will love.
Invitations
Sure you can just make a round of phone calls and invite people over, but there's no fun in that – especially since you'll have to hang around on the phone while they check their busy calendars when you have a party to plan. Download a free template for an invitation and let your loved ones know when you're expecting them. Let them know whether they should bring along a swimsuit and what time the grill will be on or if you're having a themed party, it's a great way to let them know about that too! Your guests will be thrilled by your attention to detail.
Seating arrangements
There are plenty of different ways to keep your party space elegant while making sure everyone has a place to park themselves while they sample your delicious offerings of spring and summer hors d'oeuvres. The simplest way is to have plenty of quilts on the lawn to give it a picnic-type feel. Don't forget to keep a few chairs out for your older guests though.
If you're running short on garden furniture, you can also rent chairs fairly easily (and cheaply!) from rental companies who are happy to transport them to and from for you as well. If you want to really wow your guests, add some spandex linen chair covers to them, which you can order from SculptwareOnline.com. You can also give your party an "indoors-outdoors" feel by bringing your furniture outdoors. Plenty of large umbrellas should keep your guests cool while they gorge on delicious summer party appetizers and refreshing cocktails.
Decorations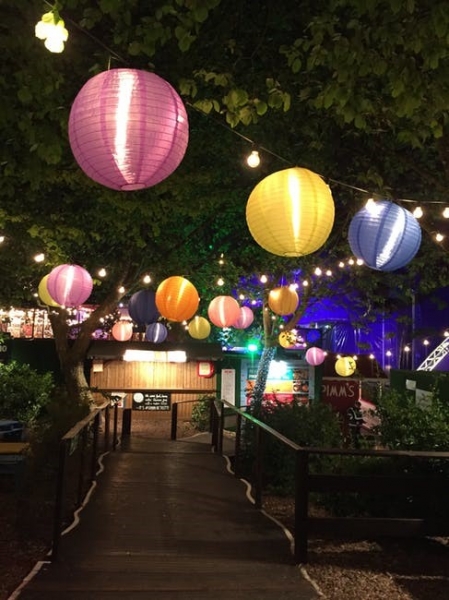 Mother Nature is pretty adept at making things look their best, we have to admit, but you can definitely give her a hand at making things a look bit more festive. Flowers floating in big bowls of water look colorful and refreshing while strings of paper globe lanterns or fairy lights will make the atmosphere come alive as the light falls. A stone-lined fire pit is ideal for chilly evenings and your guests will enjoy having sticks of marshmallows to roast.
Food
Yes, this one comes with an exclamation mark. Food can make or break a party but there's no need to stress about it. Plenty of recipes for the barbecue require you to marinade your meats well in advance or at least overnight allowing you to have the morning of your party to decorate. Let your guests know on the invitation when the grill will be on, that way you won't be stuck at the spit when you want to mingle. Another alternative is to designate a co-griller so you have enough free time on your hands to greet your guests.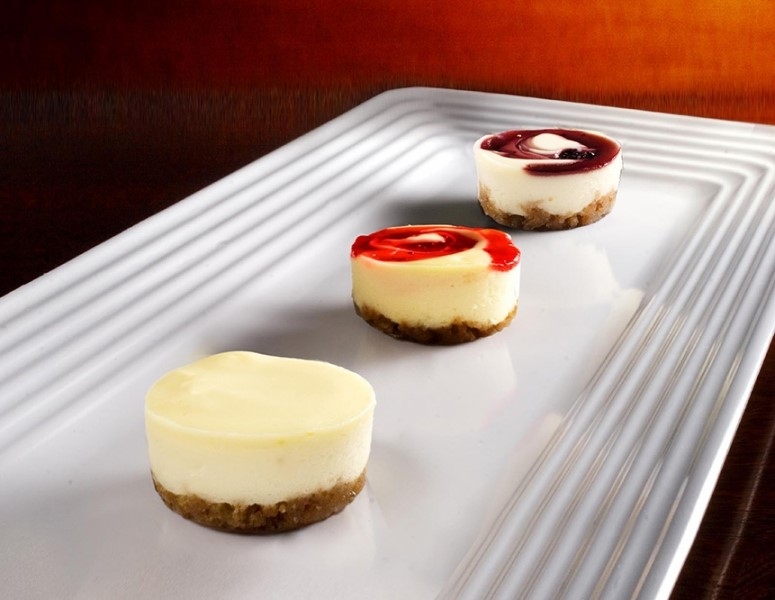 Tropical Cheesecake Assortment
Lay tables with an assortment of hot and cold party appetizers along with cool lemonade stations so your guests can help themselves when they want to. It'll keep the queue at the barbecue at bay as well.
Here is a quick menu guide to help you get started:
Cold Starter: Antipasto Kabob with Prosciutto
Hot Appetizers: Pork with BBQ Sauce Wrapped in Bacon
Mains: Rustica Three Cheese Macaroni or Texas BBQ Beef Brisket
Dessert: Tropical Cheesecake Assortment
keep your guests cool & party bug-free
It can get pretty hot during the peak hours of the day and keeping your guests cool will go a long way. Rolled towels in ice coolers allow your guests to refresh themselves when they feel like it. Hand-held or accordion fans double up as great party favors while providing your guests with some breeze. Electric fans at strategic points also help. Use ones with misters if the day promises to be particularly hot. They'll also help keep the critters at bay when evening falls. Empty kiddy pools or stagnant bodies of water a week in advance of your party to stop mosquitoes from breeding. Cover food with net coverings or mesh colanders to keep the creepy-crawlies away.
Once you have your invites sent out, decorations and seating planned, along with food and a strategy to keep your party bug-free, all you have to do is crank up the music and get ready to have a great time!
We've left the best for last- Appetizers USA can help take some of the hassles of planning a big party away with some of our best readily available high-quality party appetizers that can be shipped to your doorstep in no time at all! Get in touch with us for some crowd-pleasing appetizers now!
Five food trends to look forward this year Just like fashion, food has its own style. Some foods are in and the others all but are forgotten. Food trends dictate much more than just the flavor of the week and include the...
Read the full post
It seems like 2018 just started, but the reality is that we're already half-way through the year. It's crazy to think that we're already in the midst of the summer heat but with that comes all the fun. The Fourth of...
Read the full post
Summer—it's the perfect time to start a new life with your loved one. Singing birds and blossoming trees; it's like the whole world is celebrating with you. But we all know it's so much easier for things to go wrong...
Read the full post
The holidays are finally here and celebrating with friends, co-workers, and family is what it's all about. Gathering together to make warm memories during these crisp chilly months and spreading love and joy is what makes our...
Read the full post
TV show viewing parties, weddings, corporate events, high school reunions, wine festivals, personal parties…There is a lot going on. Off-season doesn't mean your business needs to run dry. A lot of businesses these days have...
Read the full post
Throwing a smashing summer party involves a lot of planning on the part of the host. Quite honestly, you don't want to be all exhausted from planning and too tired to attend your own party! The only way to ensure you have some...
Read the full post
Instead of letting your hard boiled eggs go to waste from your morning Easter egg hunt, why not enjoy them with your Easter celebration instead? You can make something simple and easy that won't require a lot of effort and that you...
Read the full post
We all want to give our new year the right start, but let's admit, it's getting expensive, tiring, and time-consuming to be a part of any concert, gala, club, or even a simple dining experience at your favorite restaurant. But, that...
Read the full post
We found this mouth-watering recipe from Cookie + Kate(https://www.appetizersusa.com/delicious-sweet-potato-black-bean-quesadillas_376_8_b_57.htm#.XKcpudUzaUn). These hearty quesadillas are filled with spicy sweet...
Read the full post