Posted On Jan 8, 2018
Five food trends to look forward this year
Just like fashion, food has its own style. Some foods are in and the others all but are forgotten. Food trends dictate much more than just the flavor of the week and include the culinary colors, styles, sights, and smell for the entire year. For instance, Kale was a big favorite in 2017 but experts have predicted that it is definitely on the way out.
Food trends, as surprising as the term may sound, are so important to the food industry that Whole Foods actually had a team of experts compiles a list of the food trends they expect to see hitting the markets this year. Yes, seriously, it happened!
We all know that shrimp cocktails are passé and we definitely don't want to seem gauche while throwing the soiree of year, so here's a list of five foods you can serve at your celebration or event in 2018 and stay at the cutting edge of food fashion!
Spoiler Alert: There are plenty of reasons to love the food experts in this list!
Tacos
Orange Taco Shells
Reason # 1: Tacos are finally in! You can finally feel free to stuff yourself with tacos for breakfast, lunch and dinner (and dessert too!) and look cool doing it. It's time to have Taco Mondays, Wednesdays, Thursdays, Fridays, Saturdays and Sundays in addition to Taco Tuesdays. Restaurants are experimenting with unique fillings and flavors, like seaweed taco shells and dessert tacos.
Serve your guests tacos with non-traditional fillings like vegan stuffing or Middle Eastern flavors for an exotic touch. Try our multi-colored mini taco shells with fillings you like or our Southwestern Shrimp Taco Bowls for something different!
Floral Flavors
Once the forte of culinary specialists, edible flowers are going mainstream with an array of uses in food. From edible petals in food to delicate infusions of beverages, they are here to take our taste buds by storm. Look out for lavender flavored beverages and rose infused desserts. Elderflower, a floral note that has been on the rise for a while now, is going to come into its own. This is definitely a trend that is going to be pleasing to the eye.
Plant-Based Foods
Being vegan or vegetarian is going to be much easier this coming year as plant-based foods come into the limelight. Plant-based meat substitutes are being taken to a whole new level with mind-blowing alternatives like "bleeding" vegan burgers being created using technology or sushi grade 'tuna' made from tomatoes. The popularity of dairy-free milk substitutes like nut milk is also on the rise, making it so much easier to find that particular brand of almond milk you really love!
Try serving our vegetarian and vegan appetizers at your table and see your guests really appreciate the effort you have taken!
The Middle East is Taking Over
Moroccan Lamb Lollipops
Well, only when it comes to food anyway. That's another reason to love the predictions. Most of us are fairly familiar with hummus, pita, and tahini by now and it's time for a whole host of Middle Eastern specialty foods and flavors to come into their own. Look out for an increase in cardamom, za'atar, and harissa flavored dishes along with halloumi, shakshuka, and lamb. Yum!
Try our Moroccan Lamb Lollipops to add that unusual touch to your dinner table.
Tip: Stuff taco shells with the Middle East inspired filling!
Mushrooms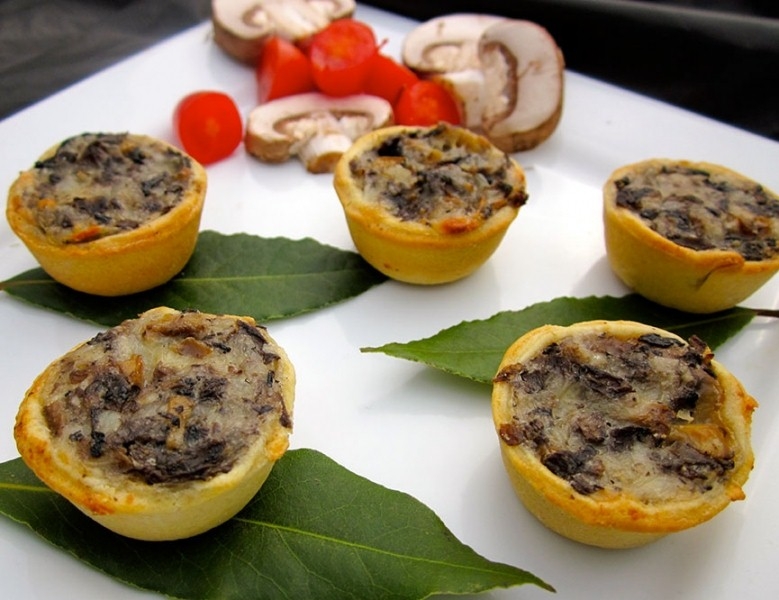 Mushroom Tarts
We did say that there are plenty of reasons to love the trending foods this year and it's time for the humble mushroom to shine. If any foodstuff needs its own star on the walk of fame, it is definitely the mushroom.
Functional mushrooms, normally used as dietary supplements like cordyceps, reishi and lions mane, for example, are making their way into bottled drinks, teas, coffees, and smoothies, apart from rich broths. There's no reason for alarm though, their flavors pair pretty well with cocoa, coffee and chocolate!
Some of our best party appetizers have mushrooms like our Mushroom Tarts filled with shiitake, oyster, Portobello, cremini and button mushrooms, so keep up and check out the whole range here.
Stay on top of 2018 food trends with AppetizersUSA! Get in touch with us to order appetizers online for any occasion.
Nothing says elegance as much as a well laid out seafood platter – it's a feast for the eyes, the taste buds, and the soul. Well-made seafood dishes remind people of holidays they've had, of warm balmy winds and clear blue...
Read the full post
In the days leading up to February 14th, it is hard to discount the love in the air as people prepare to celebrate Valentine's Day. In the USA, Valentine's Day is a big deal and you couldn't forget it, even if you tried. To...
Read the full post
TV show viewing parties, weddings, corporate events, high school reunions, wine festivals, personal parties…There is a lot going on. Off-season doesn't mean your business needs to run dry. A lot of businesses these days have...
Read the full post
What is Beef Wellington? Supposedly named after the Duke of Wellington, who defeated Napoleon and then went on to become prime minister of Britain, Beef Wellington, is quite the quintessential British gastronomic delight. History has it that...
Read the full post
It seems like 2018 just started, but the reality is that we're already half-way through the year. It's crazy to think that we're already in the midst of the summer heat but with that comes all the fun. The Fourth of...
Read the full post
The holidays are finally here and celebrating with friends, co-workers, and family is what it's all about. Gathering together to make warm memories during these crisp chilly months and spreading love and joy is what makes our...
Read the full post
Instead of letting your hard boiled eggs go to waste from your morning Easter egg hunt, why not enjoy them with your Easter celebration instead? You can make something simple and easy that won't require a lot of effort and that you...
Read the full post
We all want to give our new year the right start, but let's admit, it's getting expensive, tiring, and time-consuming to be a part of any concert, gala, club, or even a simple dining experience at your favorite restaurant. But, that...
Read the full post
Throwing a party, hosting an event or having a simple gathering of friends and family all require some thought and planning. You may be trying to figure out the best food to serve at dinner, which desserts will be a hit or even what the theme...
Read the full post