Posted On Nov 29, 2016
Seasons Greetings! Yup, it's finally time to say that. The air is crisp, the holiday music is jingling, the boots are worn, the shopping has begun, the lights are hanging, the hot chocolate is steaming, the cookies are baking and the parties are beginning! The merriest time of year is finally among us and while some of you plan months in advice your family gathering or corporate party, there are some that are still figuring out all the details. Either way, there are still plenty of touches you can add and cute and fun ideas to make it uniquely your own.
Decor. The Decor is key for setting the theme and ambiance, for adding glitz and glam, for showcasing your creativity and for creating elegance and fun for your guests to enjoy. One of our personal favorite areas to decorate is the table. The table setting is the eye-catching focal point before the appetizers, drinks, and the food is served. It's the placement in which all your guests gather at once and that's the place where you really want to wow them.
Luckily there are a ton of great ideas to decorate your holiday table in a festive and imaginative way this holiday season. Whether it's your whole office staff gathering together at a venue of your choice, an intimate group of close friends or big family gathering, give them the gift of a beautiful table setting to enjoy some food and memories at.
snowflake coasters
A little snow on the table to give your bubbly a little extra sparkle.
tree napkins
The kid's table will adore these.
Sculptware spandex linens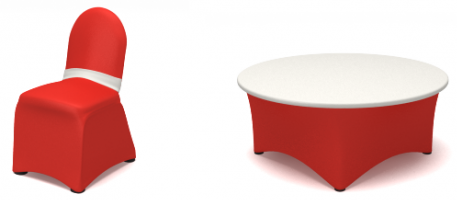 Source: www.sculptware.com
Cover your table and chairs with Sculptware to match your theme without the hassle of regular table cloths. Plus add a little sash to your chairs for an extra special touch.
Stocking napkins

Source: www.buzzfeed.com
Stuff your stockings with utensils. Cute and creative!
Snowman plate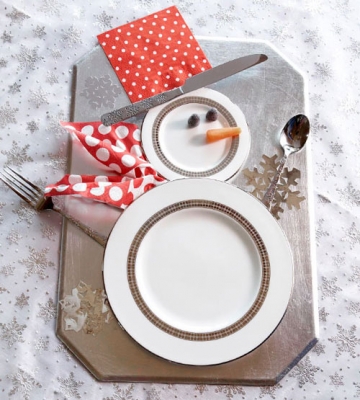 Source: www.eatwell101.com
Because it's too cute not to.
Music mat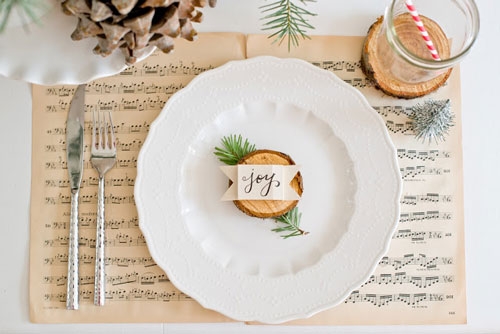 Source: www.eatwell101.com
The holidays are filled with music, why not showcase it as a unique placemat? Find the sheet music to your favorite holiday tune or give everyone a classic one of their own. Frosty the Snowman anyone?
Papercraft cards

Source: www.satsumadedesigns.com
This is perfect if you want if you to do buffet style but still want to create place settings.
Candy cane name tags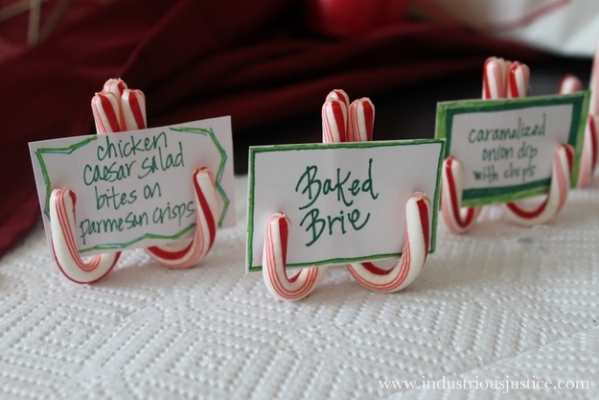 Source: www.buzzfeed.com
Labeling your food or your name tags has never looked so yummy.
Candy mint centerpieces

Source: www.buzzfeed.com
Simple, yet appropriately darling.
We all want to give our new year the right start, but let's admit, it's getting expensive, tiring, and time-consuming to be a part of any concert, gala, club, or even a simple dining experience at your favorite restaurant. But, that...
Read the full post
Throwing a party, hosting an event or having a simple gathering of friends and family all require some thought and planning. You may be trying to figure out the best food to serve at dinner, which desserts will be a hit or even what the theme...
Read the full post
In the days leading up to February 14th, it is hard to discount the love in the air as people prepare to celebrate Valentine's Day. In the USA, Valentine's Day is a big deal and you couldn't forget it, even if you tried. To...
Read the full post
From all of us here at AppetizersUSA, we just wanted to say THANK YOU to all of you who have supported us over the years. Wishing you and your loved ones a very HAPPY THANKSGIVING this year.
Read the full post
TV show viewing parties, weddings, corporate events, high school reunions, wine festivals, personal parties…There is a lot going on. Off-season doesn't mean your business needs to run dry. A lot of businesses these days have...
Read the full post
Whether you're having a small get-together with friends and family, catering a grand anniversary celebration or feeding a couple of hundred high-powered business professionals at your annual holiday party, AppetizersUSA has got your...
Read the full post
Whether you're planning your wedding, a fancy dinner party, or a simple BBQ, the dessert table is probably the most attractive section of the buffet, because who doesn't love delicious treats? Everyone looks forward to...
Read the full post
Christmas is here! And so is the contagious feeling of cheer! The time is filled with fun, family, friends, get-togethers, presents and food, pine green (evergreen), snow white, and heart red rule everywhere! Christmas...
Read the full post
Instead of letting your hard boiled eggs go to waste from your morning Easter egg hunt, why not enjoy them with your Easter celebration instead? You can make something simple and easy that won't require a lot of effort and that you...
Read the full post