Posted On Feb 13, 2018
Spring surely brings a special kind of magic with it. The dreariness has passed; a few flowers are making a brave foray into the world and you find birds composing songs. There's a skip in everyone's step as the world looks fresh and new. The foods we eat reflect this too – light and hearty, colorful and zesty!
There are plenty of reasons to celebrate in spring, right from Mother's Day to Easter, and from spring weddings to graduations.
Here's a list of our favorite delicacies for your spring event that is sure to reflect spring in every bite!
10 Spring Party Appetizers for Your Menu
Panang Shrimp Spring Rolls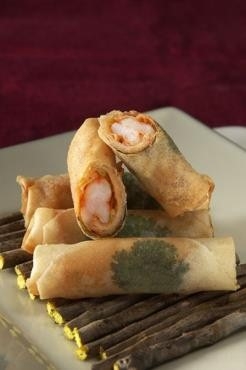 Seafood and spring go hand in hand. The crispiness of this spring roll is reminiscent of the air. The flavors of the shrimp in a spicy ground chili paste with hints of red curry accompanied by sautéed leeks and coconut cream, full of freshness. Your guests will crave for seconds!
Deviled Potatoes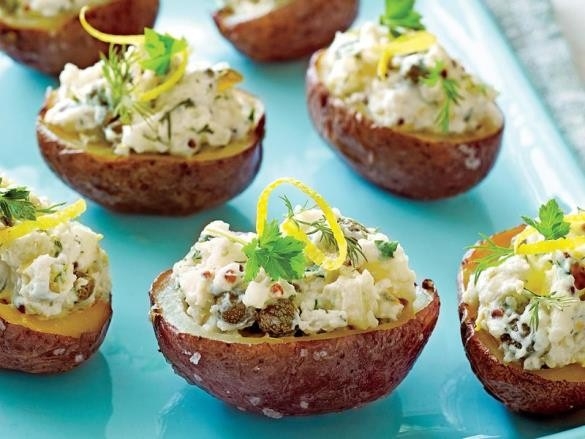 Make your guests fall in love with appetizers with these decadent Deviled Potatoes from myrecipes.com. Combine the classic flavors of deviled eggs and potato salad to make a delicious appetizer that is hard to forget. The potato pulp combined with sour cream, capers, parsley, dill, mustard and lemon zest guarantees that each bite bursts with flavor.
Baked Brie Bites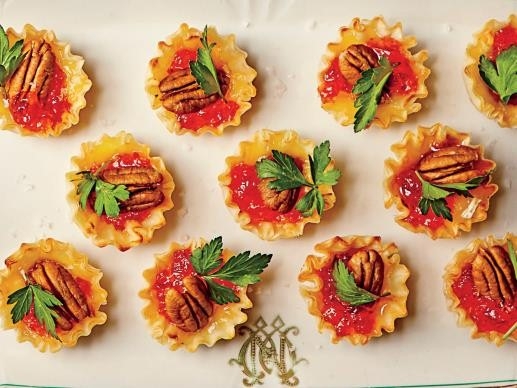 southernliving.com
Nothing is more delicious than a bite of creamy, gooey brie full of herby flavors unless of course, it's these luscious baked brie bites. The flaky phyllo shells and toasted pecans add that layer of crunch which when complemented by the velvety brie will give your guests a mouthful of delight.
Lobster Cobbler Pot Pie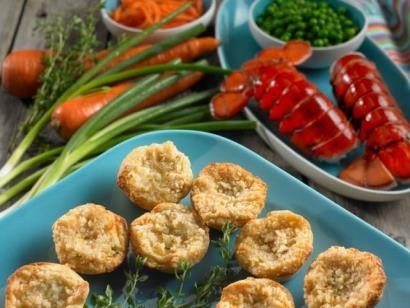 These Lobster Cobbler Pot Pies are perfect for a chilly spring evening soiree. The sweetness of the lobster in a savory tartlet shell and the warmth of the carrots, onions and creamy béchamel sauce make for an elegant dish that is just ever-so-slightly nostalgic about the good times you had. The best part - you simply have to bake them from frozen!
Moroccan Lamb Lollipops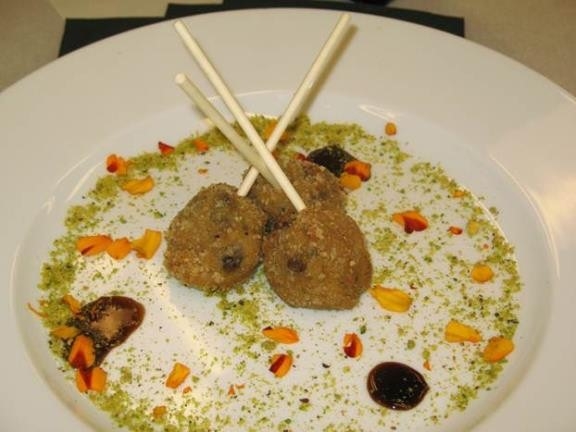 Middle Eastern cuisine is one of the biggest food trends this year. These Moroccan Lamb Lollipops not only perfect for your spring party but extremely fashionable too! The raisins add that light touch of sweetness that speaks of spring while the lamb mixed with mild curry spices adds an exotic touch.
Cantaloupe and Mozzarella with Prosciutto and Basil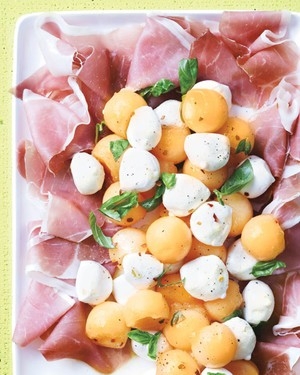 MarthaStewart.com
This elegant no-cook dish works well as an antipasti platter. The melon shows off all delicate pastels of spring while the mozzarella adds a delightful sharpness. Serve with crusty artisanal bread slices for a filling appetizer.
Vegetable Wellington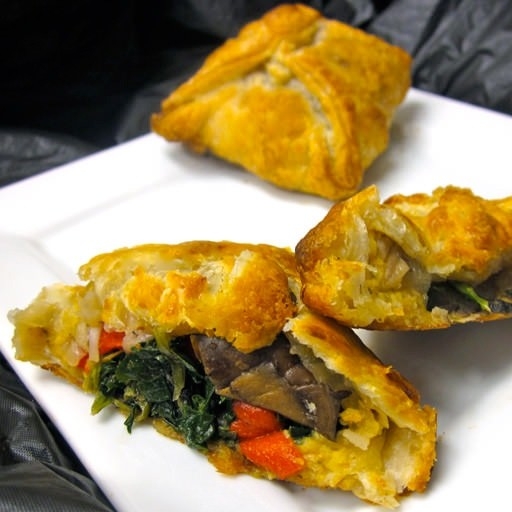 This appetizer is just right for your vegetarian guests. Buttery puff pastry filled with layers of hummus, portabella mushrooms, onion confit, roasted red peppers, and spinach make sure you get a riot of colors when opened! Your more discerning guests will be thrilled you thought of them while designing your special spring menu. What's more, all you need to do is simply bake and serve!
Caramel Apple in Beggar's Purse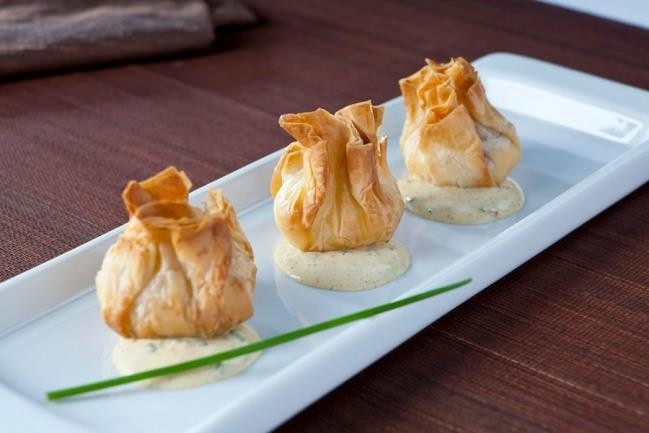 Caramel apples! Need we say more? These chic little appetizers are made up of apples, goat cheese, walnuts, and caramel all neatly wrapped up in phyllo beggars' purses. These delightful bites are sure to be a hit with both grownups and children alike!
Artichoke-Parmesan Crostini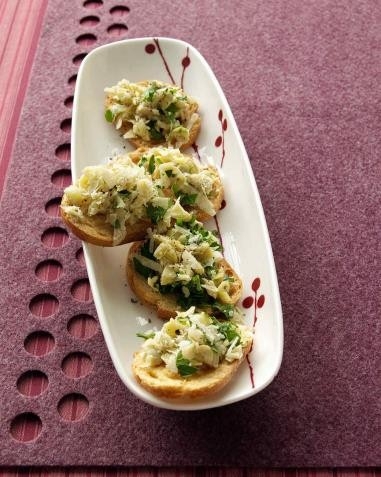 Marthastewart.com
This appetizer combines delicate, marinated artichoke hearts and crumbly parmesan cheese on crunchy baguette slices. Colorful and easy to make, these little crostini slices are a brilliant crowd pleaser.
Tip: You can make a bunch of different toppings for the crostini using olive and eggplant tapenade, fresh tomatoes and herbs or anything else that takes your fancy for a more varied, yet easy to make the spread.
Cold Canapés Assortment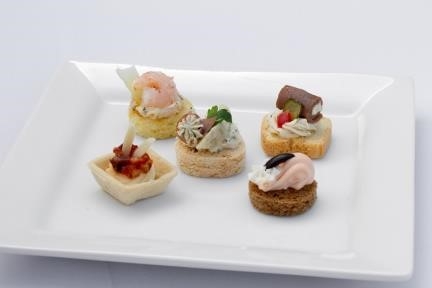 Planning a stylish do? Why not try our Assortment of Cold Canapés that pair really well with wine? They include delicious flavors like whipped brie with toasted almonds and fruit chutney in a tart shell, island seasoned shrimp on coconut cornbread with cilantro mousse and candied pineapple, roast beef roulade with whipped horseradish mousse on a petit toast square, whipped seafood mousse with black olive garnish on marbled rye, and salami cornets with herb cheese and an artichoke heart wedge. You really can't go wrong with these!
If cooking isn't your forte, or there is just too much to organize for your party, check out our online range of appetizers. Order online for gourmet dishes you can serve up at a moment's notice!
What is Beef Wellington? Supposedly named after the Duke of Wellington, who defeated Napoleon and then went on to become prime minister of Britain, Beef Wellington, is quite the quintessential British gastronomic delight. History has it that...
Read the full post
The holidays are finally here and celebrating with friends, co-workers, and family is what it's all about. Gathering together to make warm memories during these crisp chilly months and spreading love and joy is what makes our...
Read the full post
Spring is here and summer will be too before you know it. The flowers are out and the lawns have recovered from the harshness of winter. The warm weather brings with it the perfect opportunity to host a party outdoors. It's time...
Read the full post
Nothing says elegance as much as a well laid out seafood platter – it's a feast for the eyes, the taste buds, and the soul. Well-made seafood dishes remind people of holidays they've had, of warm balmy winds and clear blue...
Read the full post
From all of us here at AppetizersUSA, we just wanted to say THANK YOU to all of you who have supported us over the years. Wishing you and your loved ones a very HAPPY THANKSGIVING this year.
Read the full post
We all want to give our new year the right start, but let's admit, it's getting expensive, tiring, and time-consuming to be a part of any concert, gala, club, or even a simple dining experience at your favorite restaurant. But, that...
Read the full post
The holiday season is just about here and it is time to get cooking. Fall and winter are the time for feasts and as delicious as they are, they can take a lot of time to prepare. So take a bit of the burden off and order your appetizers...
Read the full post
Throwing a party, hosting an event or having a simple gathering of friends and family all require some thought and planning. You may be trying to figure out the best food to serve at dinner, which desserts will be a hit or even what the theme...
Read the full post
We found this mouth-watering recipe from Cookie + Kate(https://www.appetizersusa.com/delicious-sweet-potato-black-bean-quesadillas_376_8_b_57.htm#.XKcpudUzaUn). These hearty quesadillas are filled with spicy sweet...
Read the full post