Explore Our Sister Brand, Sculptware, Offering Purchase & Rental Solutions For Linens,
Lighting & More To Consumers, Caterers, Hospitality Professionals & More.
Visit
10 Sophisticated Appetizers & Elegant Easy to Make Finger Foods
You don't need to be Michelin starred chef to serve up some tantalizing appetizers that look like works of art at your next fete. The presentation is everything and using only the finest ingredients like gruyere, prosciutto and caviar adds an elegant touch.
Just because the appetizers sound fancy, it doesn't mean the preparation has to be! We've put together a list of some of our favorite appetizers that are sure to amaze your guests.
Smoked Salmon Pinwheels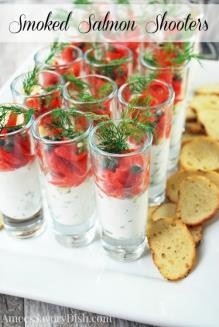 These easy to make smoked salmon pinwheels will really wow your guests. Use ingredients like cream cheese, dill weed, and red pepper to add flavor with red, orange and black caviar to add color and that extra touch of elegance.
Our smoked salmon pinwheels come in an assortment of flavors including whipped spinach mousse with red pepper and dill cream cheese, horseradish mousse with asparagus and ground mustard. Simply defrost them prior to the party and serve!
Bacon Wrapped Dates with Goats Cheese and Rosemary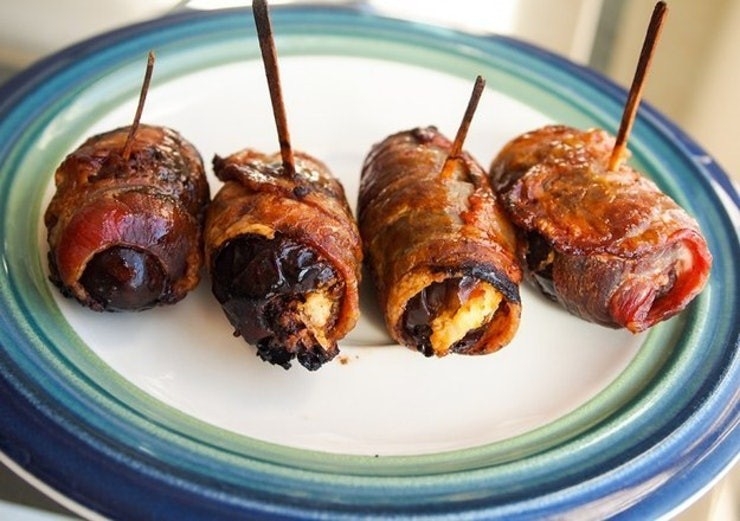 Stuff the dates with goat cheese and rosemary. Wrap in bacon and cook in the oven turning over once until the bacon is cooked. Then watch your guests' eyes widen in amazement as they bite into these delectable appetizers with the sweetness of the dates and the sharpness of the bacon.
Alternatively, try our Chorizo Stuffed Dates Wrapped in Applewood Smoked Bacon.
Baked Beetroot Chips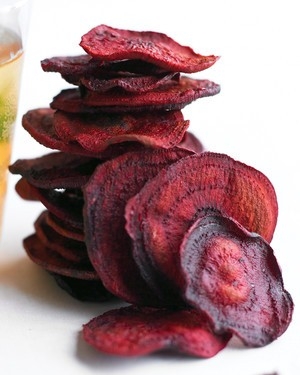 Give a classic party favorite touch of elegance with this recipe. These oven-baked beet chips are also healthy to boot. Try this with a variety of different root vegetables like parsnips, sweet potatoes, and carrots. Your vegan guests will really appreciate it!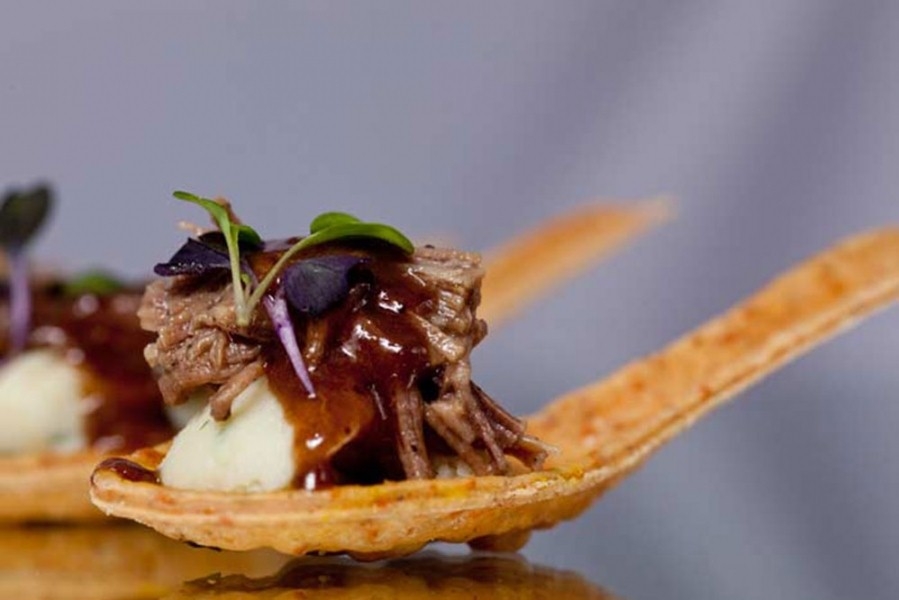 Edible spoons and serving cups are all the rage at the moment. They add an element of fun for adults and children alike. Use halved grapes, hollowed out cherry tomatoes or cucumber cups to serve a variety of fillings like blue cheese walnut, herbed goat cheese, and gazpacho. You can even use chocolate spoons to serve desserts!
Want to serve something meatier like grilled salmon or braised pork ribs? Try our Range of edible spoons.
Roasted Red Pepper Hummus Swans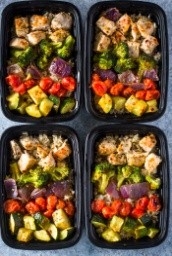 Nothing symbolizes elegance like the graceful, long-necked swan. Our Roasted Red Pepper Hummus Swans comprise of flatbread folded into the shape of a swan with a filling of smooth roasted red pepper hummus rosettes, kalamata olives, feta cheese, and sweet peppadew. Simply defrost prior to the party, serve and watch your guests' faces light up in delight!
Lobster Cobbler Pot Pie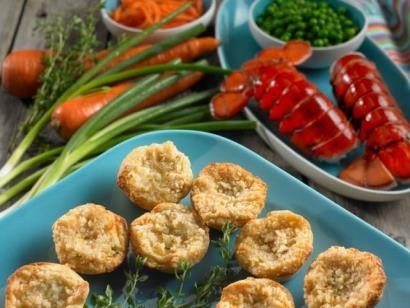 Potpies were favored by pastry cooks to serve to kings in Tudor England. The elegant pastry wrapped meats were served to show off their skills as chefs. These Lobster Cobbler Pot Pies are filled with chunks of lobster, carrots, and onions in a creamy béchamel sauce.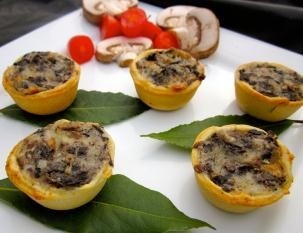 These individual tartlets can be made easily in a muffin pan. The cremini mushrooms with the sharp taste of gruyere bring lovely contrasting flavors. They look chic and professionally made. Their real simplicity can be your little secret.
Italian Meatball Parmesan Skewer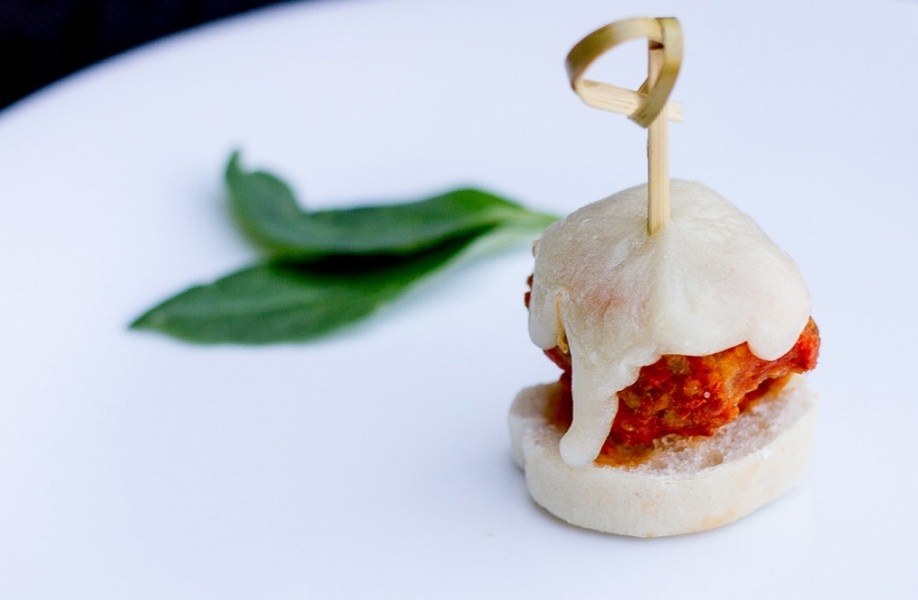 Yes, meatballs can be elegant too! Serve mini meatballs skewered on toothpicks with a tomato and parmesan dip. It'll leave your guests asking for more.
Alternatively, try our Italian Meatball Parmesan Skewers that simply need to be baked before serving.
Cheese Platter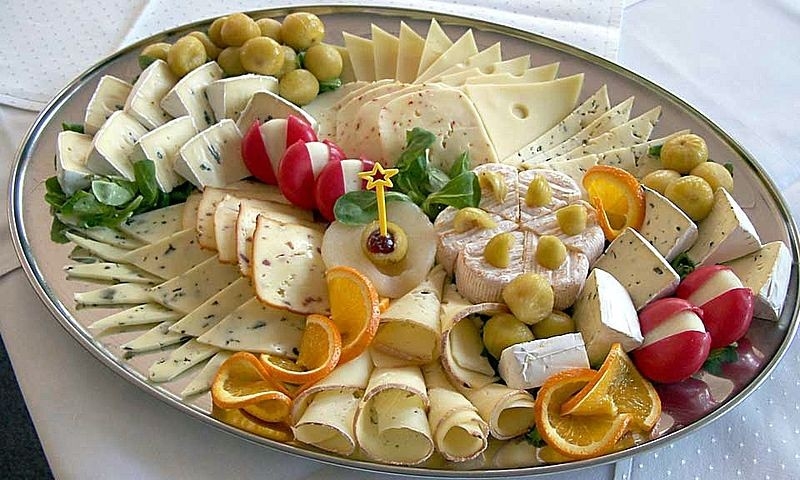 Wikimedia Commons
A well laid out cheese platter is always a pleasure to look at and even nicer to dig into. Fill your cheese platter with an assortment of cheeses like Camembert, Brie, Danish Blue, and soft Goat Cheeses. Try including as many locally produced cheeses as possible to make it even more environmentally friendly. Serve with crackers, olives, sundried tomatoes, berries, and artisanal bread. Your guests will just love pairing the different flavors with the wines you are offering.
An assortment of Chocolate Desserts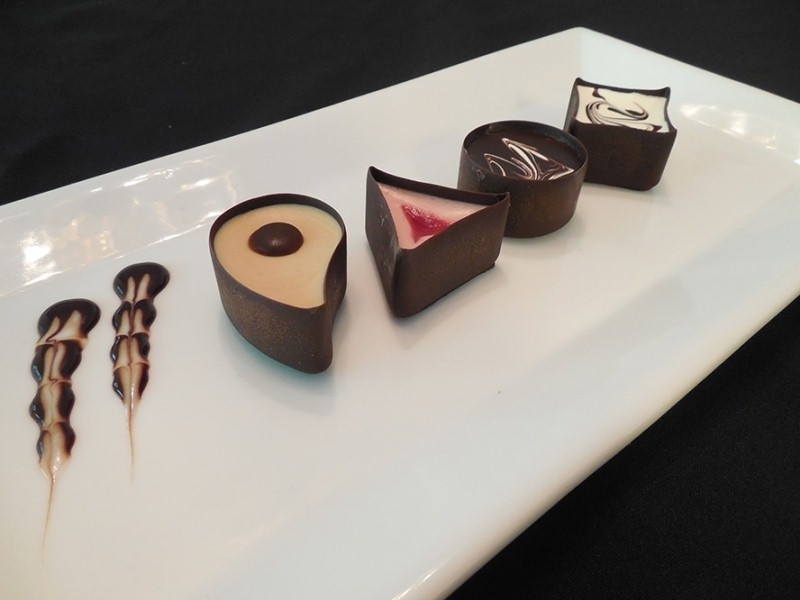 An assortment of mini chocolate desserts is sure to bring out the child in all your guests. Having a variety of different flavors from orange and strawberry to vanilla and dark is sure to please even the fussiest of guests. Make a large portion of chocolate mousse, separate it into batches and add different flavorings before leaving it to set to make the process easier.
If you don't fancy making them yourself, try our Chocolate Mousse Cup Assortment.
Whatever the occasion, Appetizers USA has something for you! Have a look at our website or feel free to contact us and we'll be happy to help.