Explore Our Sister Brand, Sculptware, Offering Purchase & Rental Solutions For Linens,
Lighting & More To Consumers, Caterers, Hospitality Professionals & More.
Visit
Posted On Mar 24, 2023
Appetizers are a huge part of every get-together. Whether planning a holiday party or an anniversary celebration, kick up your food game with these Arancini appetizer recipes. For those new to Italian cuisine, arancini are Risotto balls with a gooey cheese center. These Arancini appetizer recipes can be made ahead of time and then fried before the party. With the options from our menu, reduce your time spent in the kitchen and have these Arancini on hand in the freezer for whenever you need. Here is a list of some of our best arancini recipes that are easy to make and that your entire family will enjoy.
This recipe strays away from the traditional arancini filling, giving you a creamy gouda filling instead of mozzarella. These Italian rice balls are the perfect option for vegetarian appetizers and for anyone who loves cheese. They are coated with panko breadcrumbs for an extra crispy exterior, while the gouda cheese center is soft and gooey to give you a delicious bite. All you must do to prepare these appetizers is bake or fry them straight from the packet; when baking, rotate the tray 180 degrees for more even cooking. The cooking time depends on the kind of oven or fryer you use, but you can be sure that the appetizer is ready once they are deliciously golden brown.
Give your guests a twist on the traditional arancini fillings with these breaded paella arancini. A bite-sized version of surf and turf, you know that this appetizer is going to be a hit at your next dinner party. Combining the flavors of cured, smokey pork chorizo with shrimp and peas on a base of aromatic saffron-infused rice and spices, this arancini appetizer recipe is an authentic Spanish bite in a unique form. The breaded exterior adds an element of crunch while the interior bursts with flavor. Deep fry or bake these tasty treats from frozen till it reaches an internal temperature of 165ºF and the outside is perfectly golden brown. To bake, preheat the oven to 350ºF before arranging the frozen arancini on the tray. Rotate the tray midway through the baking process to ensure an even cook.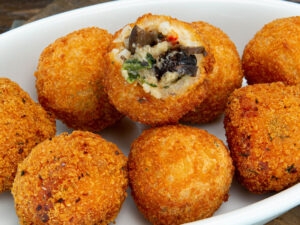 Garlicky oven-roasted portobello mushrooms, sharp provolone, and aged parmesan cheese give this hearty vegetarian arancini appetizer recipe a place of honor on our must-try list. The meatiness of the mushrooms makes this a favorite for vegetarians and meat lovers alike. Pair this with a chunky marinara sauce to add to the richness of the cheese and mushrooms, and we are sure your family will be asking for more. Deep fry at 350ºF from frozen straight from the packet till the internal temperature reaches 165ºF. Cook until the outside is golden brown and crispy. You can also choose to bake them for a healthy version, turning the tray 180º halfway through for a more even cook.
Get complex Italian flavors in a single bite with this arancini appetizer recipe. Made by combining seasoned Italian sausage, sautéed spinach, roasted red bell peppers, roasted garlic, and caramelized onions, you get everything from sweet to salty, spice to umami in these arborio rice balls. The deliciously blended arancini is then coated with breadcrumbs to give it that classic arancini crisp exterior with a soft and gooey center. Quick and easy to make, you can pop the pieces straight from the freezer onto a baking tray and bake at 350ºF till golden brown or use a deep fryer to get an extra crispy exterior. When baking, remember to turn the tray 180º approximately halfway through the baking process for a more even cook.
With several delicious arancini appetizer recipes to choose from, the hardest decision will be choosing which one to try first! In addition to our arancini variety at AppetizersUSA, we offer a wide variety of frozen finger foods, canapés, and appetizers that are perfect for any party. Order in advance for your next important event or keep a stock in your fridge for impromptu plans. All our products are suitable for all kinds of events, whether small intimate gatherings or big events. We also offer irresistible wholesale deals for caterers and event organizers, so get in touch with us today to find out how we can help you. Our products are hand-crafted and freshly frozen to maintain our high-quality standards, so if you order a tray with 25 to 50 pieces or a case with 100 to 200 pieces, you will find uniformity in structure and taste. Save yourself some time and a whole lot of effort and take a look at our extensive inventory to find the appetizers that appeal to you. Wholesalers can also mix and match items to create a customized order that perfectly meets your event's needs.