Explore Our Sister Brand, Sculptware, Offering Purchase & Rental Solutions For Linens,
Lighting & More To Consumers, Caterers, Hospitality Professionals & More.
Visit
5 Delicious Grilled Summer BBQ Appetizers & Finger Foods for Your Party
A Sunday noon cookout in your backyard is always a hit. The blue sky, bright sunlight, and a great group of friends and family spending the day together. The only thing that can make it more perfect is some delicious, smoky, lip-smacking barbequed food.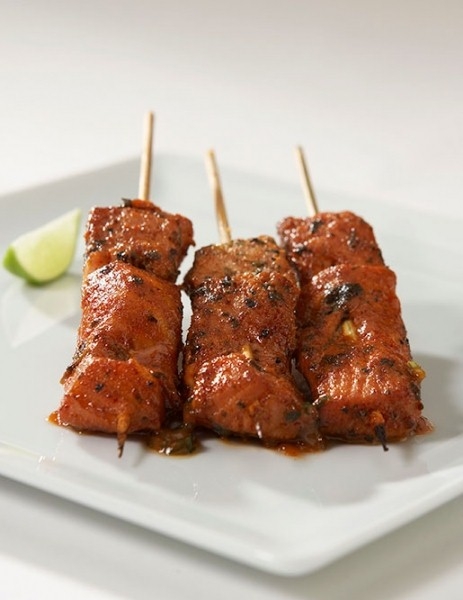 And while your dogs, burgers or slabs of meat are slowly cooking to perfection, why not use the rest of the grill to whip up some mouthwatering appetizers for your waiting guests? Of course, if you'd rather focus on the meal and leave the entrées to us, we've got you covered with our range of drool-worthy BBQ Appetizers.
If you want to prepare appetizers as well, and get your guests in the mood for the meat feast to come, here are some quick and easy recipes for a range of entrées you can prepare right there on the grill.
1. Grilled Shrimp: This shrimp recipe is quick and easy to cook, and will add a new dimension to your barbecue's menu.
You need raw jumbo shrimps that are deveined and in their shells, some extra virgin olive oil, lemons, and salt and pepper to season. Start by butterflying the shrimp – slicing through the length of the shrimp but leaving the shell intact.
Then gently brush the olive oil onto the shrimp, before seasoning it with pepper and salt based on your taste preferences. Then grill the shrimp for a couple of minutes on either side, you'll know the shrimp is ready when the shell turns pink from the heat. Squeeze some fresh lemon juice over the top of the shrimps once they are cooked, and serve. You can even try other recipes like shrimps with garlic and lemon, shown below.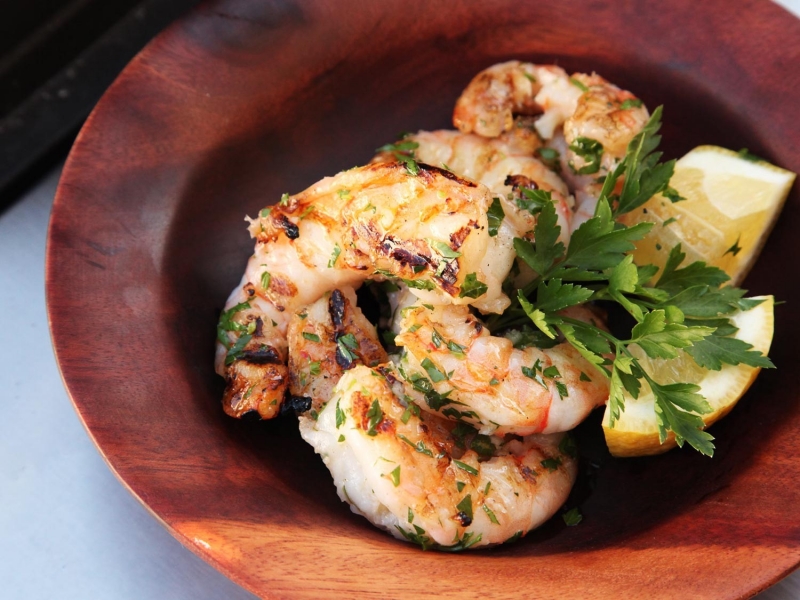 2. BBQ Quesadillas: Why not give your barbecue a bit of that Mexican touch with Quesadillas? To make them, you need some 6-inch tortillas, skinless chicken breasts, some barbecue sauce, chopped green pepper, chopped onion, and some cheddar cheese.
Slice the chicken into strips and toss some barbecue sauce with them. Place the chicken inside the tortillas, and then top with pepper, onion, and grated cheese. Cover with an additional tortilla and dab some oil on both sides. Then cook both sides on the grill till they turn a nice golden brown. Serve with a salsa dip for added zing.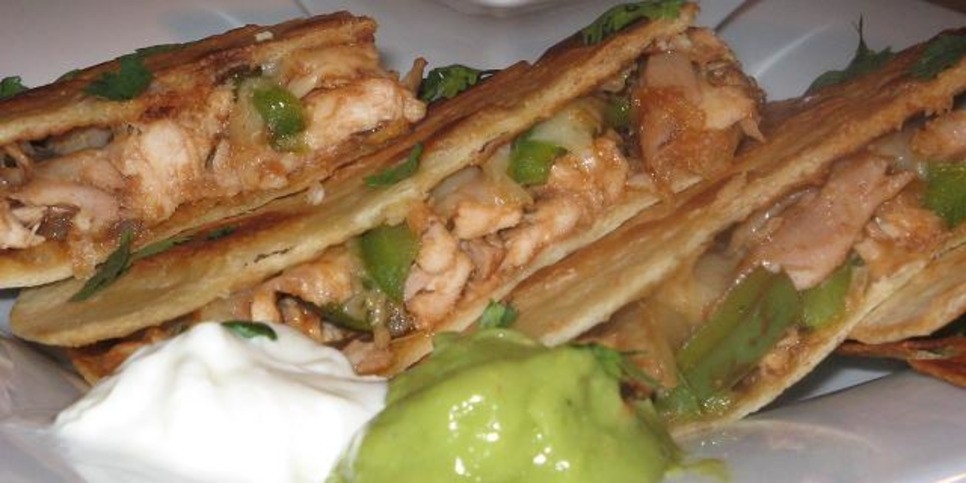 3. Jalapeno Pepper Poppers: To prepare this left-field take on a popular dish, you need large jalapeno peppers, cheddar cheese sticks, center-cut bacon strips, and some chili powder. Start by taking off half an inch off the top end of the jalapeno pepper, and also cutting out the sides.
Discard the stem bit from the middle that remains, keep the pieces you cut out. Smoothen the insides of the pepper's side pieces, and then fill the pepper with sliced cheese sticks. Use the sides and top from earlier to secure the peppers, and wrap them in bacon to keep the seal tight and prevent the cheese from leaking out. Also, wrap the rest of the pepper in bacon till covered.
Add some chili powder to the top of the wraps, place on the grill and cook for 15-20 minutes (ensure that the pieces are turned to cook evenly), or until the bacon turns crispy. Serve with a sweet creamy dipping sauce if needed.
4. Potato and Goat Cheese Napoleon: To make this flavor-packed starter, you need some scrubbed large red potatoes, some salt, balsamic vinegar, a clove of garlic, some Dijon mustard, basil leaves, olive oil, ground pepper, and of course, the goat's cheese. Start by boiling the potatoes in salted water for about 15 minutes, so that they are tender, yet aren't too soft. Let them cool and then chop into thick slices. Also blend some garlic, mustard, and basil with vinegar and oil until smoothened out. Add some salt and pepper to season.
Then brush the potato slices with oil, and also season with pepper and salt. Grill the slices for 2-3 minutes, or until they turn a light brown. Next layer three potato slices separated by two layers of goat's cheese. Put them back onto the grill and let it cook only until the cheese begins to melt. As soon as the cheese melts (typically inside a minute), take off the grill, and serve.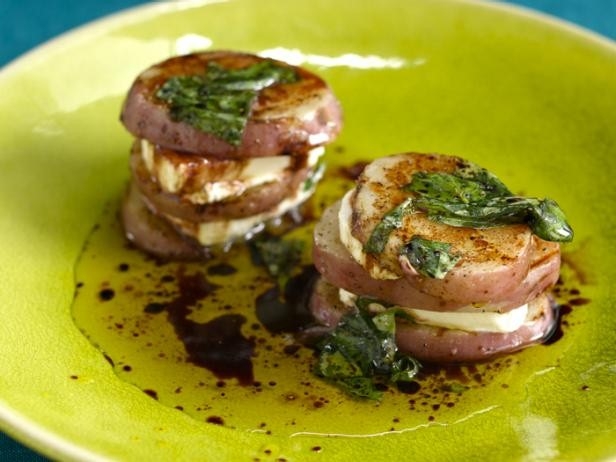 5. Veggie Kebabs: Skewering veggies and fruits for your vegan (or non-vegan) friends is a great way to provide a light and scrumptious appetizer. There isn't a set recipe because you can choose to slice anything from tomatoes to peppers, onion, and fruits such as pineapple, pear, apples, banana and more. Just gently spray some canola oil, affix the veggies and fruits onto a skewer and cook for a few minutes over the grille. These veggie kebabs smell heavenly and taste even better. Try our root vegetable kabob and delectable vegetarian appetizers to offer a diverse culinary spread at your BBQ party.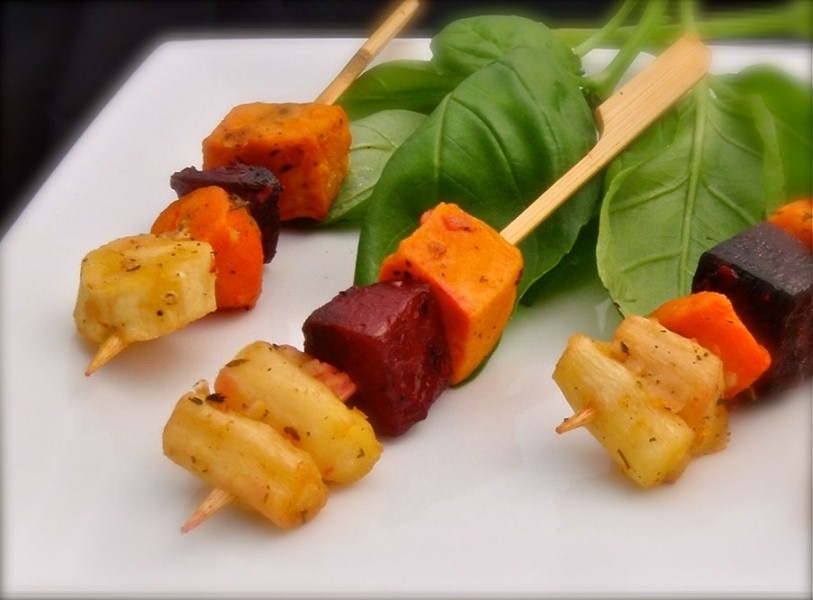 These appetizers will be a sure hit at your next barbecue party, and will leave all your guests praising your culinary skills, and asking for more! To order the best gourmet appetizers around, contact AppetizersUSA today.