Explore Our Sister Brand, Sculptware, Offering Purchase & Rental Solutions For Linens,
Lighting & More To Consumers, Caterers, Hospitality Professionals & More.
Visit
6 Lip-smacking Cocktail and Appetizer Pairings
Let's be honest, planning a party can be stressful. Between decorations, dinner, dessert, and drinks, there's a lot that needs to be taken care of. Even the most casual of parties has a lot that goes into them, but just because you're hosting a simple event doesn't mean you can't spruce it up a bit with a mouth-watering selection of hors d'oeuvres and appetizers with well-paired cocktails.
Here are some pairings to try that your guests will be craving well after your party is over.
Gin & Tonic with Cucumber

Shrimp

Crackers
Gin and tonic is a classic drink that is simple and easy to make. It's not only refreshing, but also cleanses the palate, making it the perfect summer drink. We recommend pairing this cocktail with cucumber crackers, lightly topped with shrimp or smoked salmon. Just like the drink, these crackers are light and refreshing, making these two the perfect summer pairing.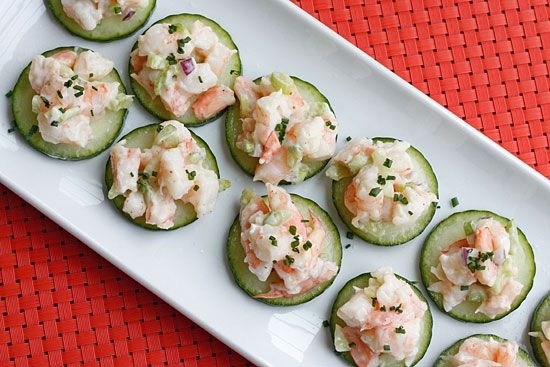 Margarita with Nacho Guac
Margaritas are always a hit at parties, especially when it's hot out. There is something about that sweet and salty mixture that just screams sun and summer and when it comes to these delicious drinks, nothing pairs better than a Mexican-style appetizer, like a classic refried bean dip. A simple nacho or tortilla chip, topped with lemon-sprinkled guacamole, give the punchy margarita a crunchy companion. Add a little twist to the mix and sweeten it up a bit by topping the guacamole with pomegranate seeds or pineapple. Yum! You can't go wrong with a margarita and guacamole, plus your vegetarian guests will be thanking you as well.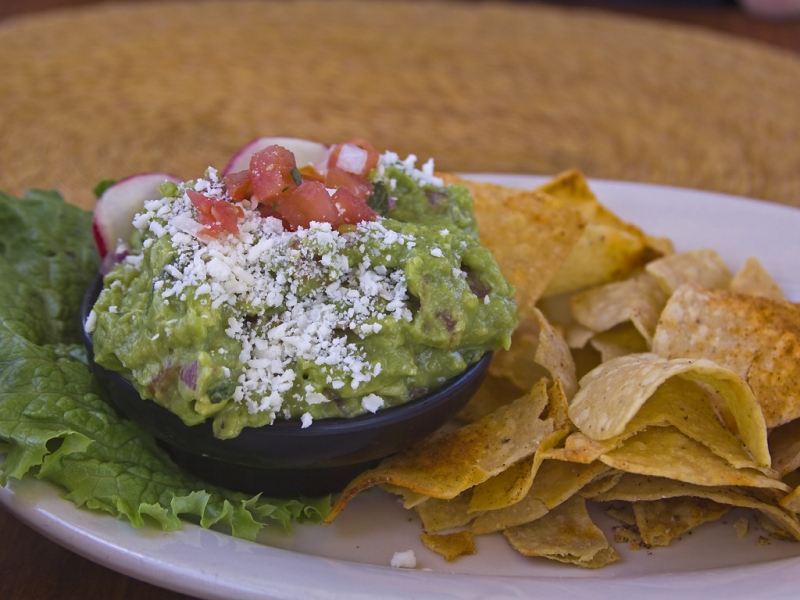 Source: Wikimedia Commons
Sangria with crab cakes
Sangria is the ultimate summer cocktail. It's fun and fruity with that extra kick, whether it's sweet from a white wine, or bold and crisp from a red, it's one drink you can't go wrong with.
Crab cakes
are great to pair with sangria because they help balance out the fruit and wine with a well-seasoned, flavorful texture. Plus, if you serve them hot, a cool sip of sangria will have never tasted better. Want to go the extra mile on these? Serve them with a yogurt and lemon topping sauce; something your guests wouldn't expect but will fall in love with.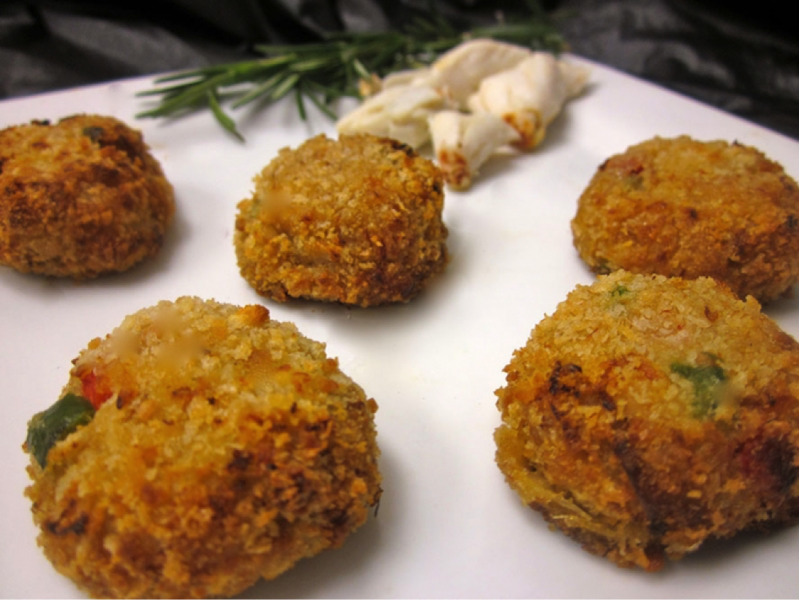 Mojito with bacon deviled eggs
You may think it's an odd combination, but the difference in

the taste

of a minty mojito and a bacon-topped deviled egg make it the perfect pair of opposing flavors. Mix in a little mustard with the mashed yolk to bring out more of the flavor, serve chilled and you've got a tasty, sizable-something to bite into, between sips of a mojito. Not too crazy about the classic mojito? A watermelon mojito pairs just as well.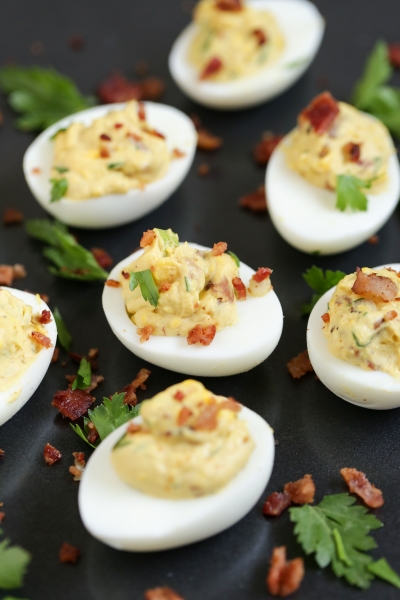 Source: Live Simply
Mimosa With a Cheese PLatter
Mimosas are delicious cocktails that deserve a place at any party, especially during those brunch hours. There are a ton of appetizers that pair perfectly with a mimosa, but our personal favorite is the simplicity of a cheese platter. Most parties are guaranteed to be serving up different styles and flavors of cheese, so there's no extra work or planning involved. The salty sharpness of cheese counters the sweetness of the mimosa, cleansing the palate so your guests can try more delicious appetizers, and while an array of cheeses alone may suffice, lay out some crackers for a little something extra to bite into.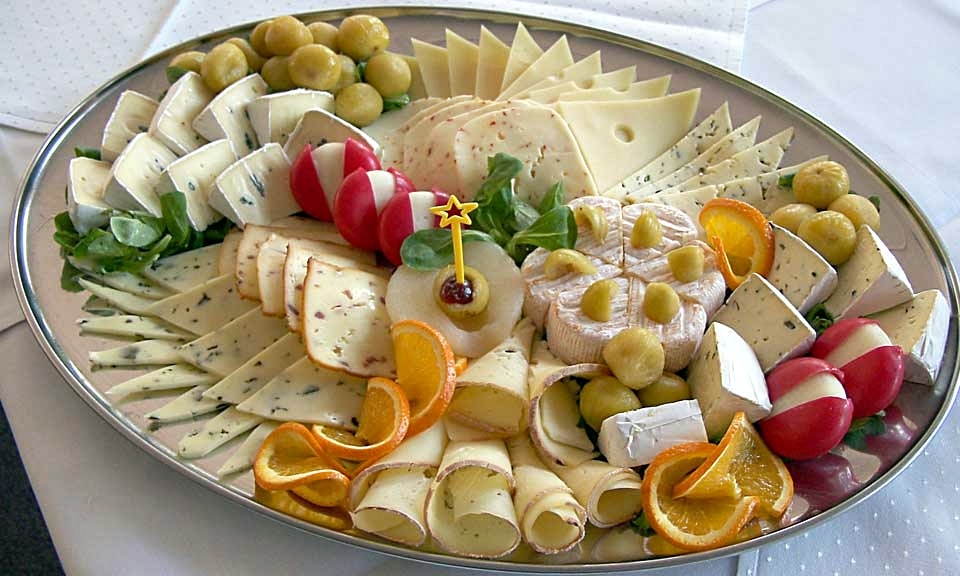 Source: Wikimedia Commons
Mai Tai with Coconut Chicken Bites
Even during summer, sometimes you just need some yummy fried foods to really make your party complete, especially a favorite, like our Coconut Chicken Bites. You'd think tender chicken pieces dipped in coconut batter and rolled in shredded coconut and bread crumbs would be enough to satisfy alone, but as with any appetizer, there's a drink that can make it taste even better. The citrus and rum combination of the Mai Tai provides a tangy flavor that the subtle sweetness of the coconut complements. Put these two enjoyable treats together, and you have a winner.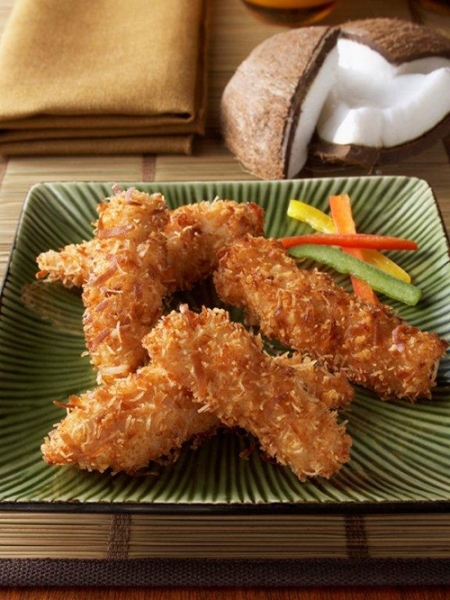 No matter the season, cocktail parties need scrumptious appetizers that keep bellies full and happy until dinnertime. From Mai Tai to mojito, there's always a drink that will give your appetizers an extra delicious edge.
We've left the best for last- AppetizersUSA can help take some of the hassles of planning a big party away with some of our best readily available high-quality cocktail party appetizers that can be shipped to your doorstep in no time at all! Get in touch with us for some crowd-pleasing appetizers now!