Explore Our Sister Brand, Sculptware, Offering Purchase & Rental Solutions For Linens,
Lighting & More To Consumers, Caterers, Hospitality Professionals & More.
Visit
9 Kabob Appetizers for Any Party
Kabobs are a favorite way to serve appetizers, and it's not hard to understand why. They are convenient to eat, can be made ahead of time, are easy to clean, and the best part, they taste amazing. The kabob appetizers from AppetizersUSA are a fuss-free way of giving your guests a delicious bite without having to go through multiple appetizer kabobs recipes to find the one that works best for you. These are also great backup plans to keep handy in your freezer for a relaxing night's dinner or when guests come over for an impromptu dinner party.
Here is a list of 10 kabob appetizers that we would serve our guests at a party.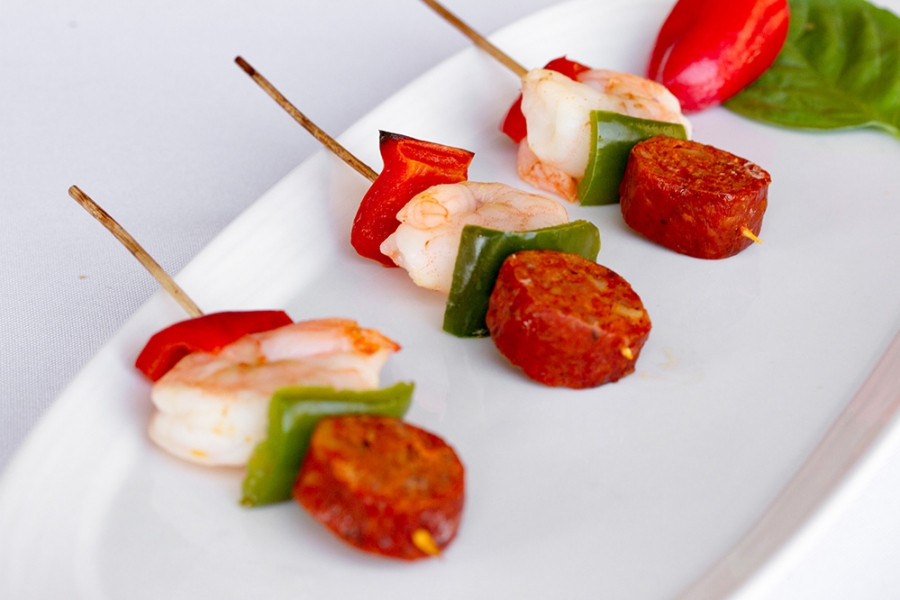 A delicious blend of spicy New Orleans-style Andouille sausage and paired with a large shrimp and crispy red and green peppers, this dish is not only pleasing to the eyes but is an easy way to add a bit of seafood to your menu. Our cold appetizer on a stick comes to you pre-skewered, saving you a lot of time. Just pop the skewers in the frozen state onto a pan lined with parchment paper and bake at 350-375 degrees for 8 to 10 minutes. Do this while putting up the finishing touches or even while guests start arriving. The aromas that will fill your home will be a bonus.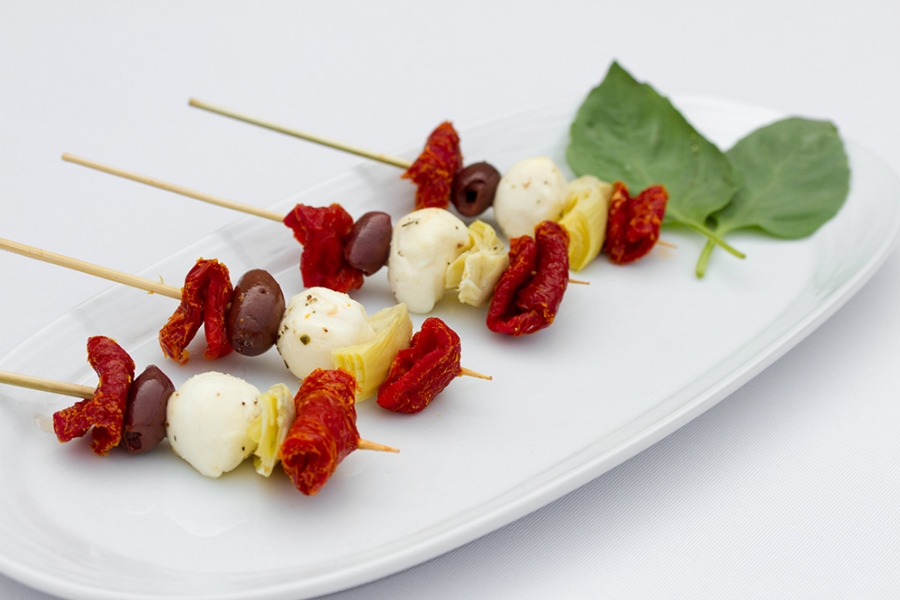 The perfect veggie delight, this is a thaw-and-serve cold kabob appetizer recipe that just needs to be thawed in the fridge the night before the party. This appetizer contains juicy fire-roasted tomatoes with their very own ball of fresh mozzarella. The addition of a piece of marinated artichoke heart with subtle flavors of Kalamata olives recreates the taste of an antipasto platter on a 6" skewer. Serve these appetizers straight out of the fridge as soon as your guests arrive.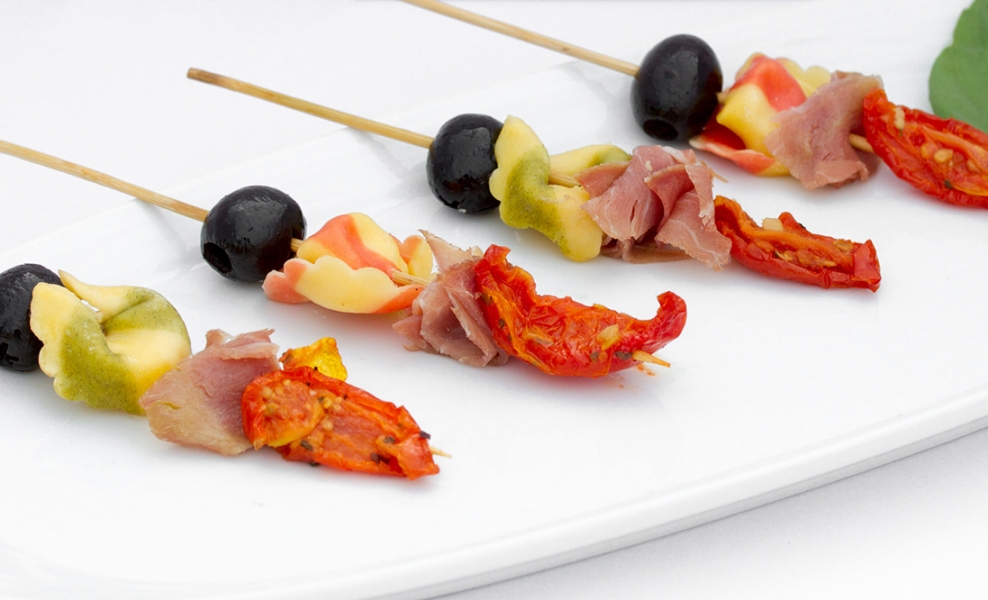 A combination of delicate flavors and vibrant colors, this appetizer brings sophistication to your party even when on the platter. The tricolor cheese tortellini and prosciutto ham add richness to the dish, while the marinated roasted tomatoes and olives add to the freshness and sharp contrast needed to ensure your guests experience a burst of flavor with every bite. This is another cold appetizer on a stick; however, you can always warm it a little to coax out even more flavor from each hand-threaded skewer.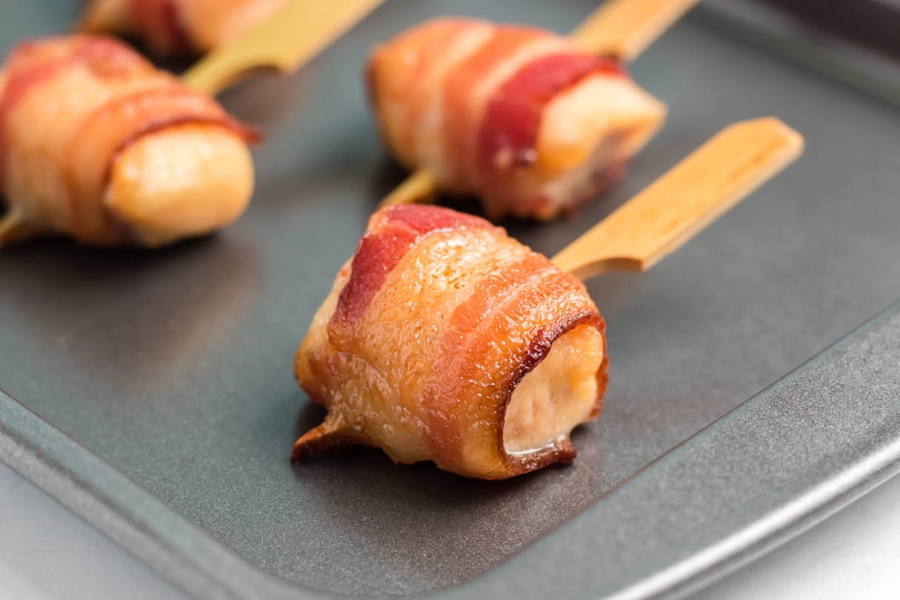 This one-bite wonder is a protein-rich adaptation of the classic finger food pigs in a blanket, where in this case, the pigs are the blanket. This appetizer kabob recipe is a harmonious combination of applewood smoked bacon wrapped around a piece of chipotle spices marinated chicken. With sharp cheddar for contrast and a hint of spice from the jalapeños, this recipe is the perfect choice for food on a stick for parties. Bake them in a frozen state at 375 degrees for 8 to 12 minutes and enjoy your tasty snack with your guests.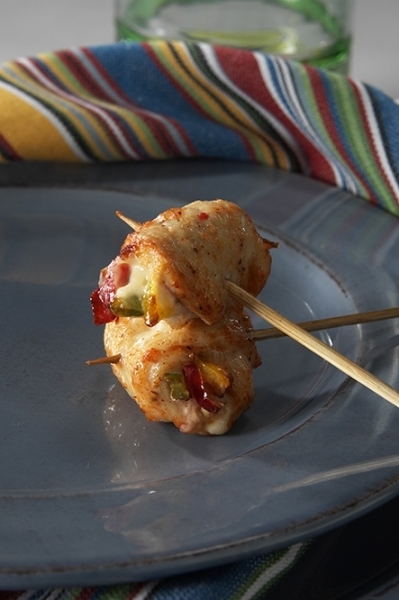 Spicy marinated tender chicken stuffed with bright green and red peppers in melted pepper jack cheese creates a delicious pinwheel of flavors and colors perfect for your next party. Bake up this flavorful bite and impress your guests with a zesty kick. This item will soon be your new favorite for house parties and is a great snack to add to your menu if you are hosting a party at your cafe or restaurant.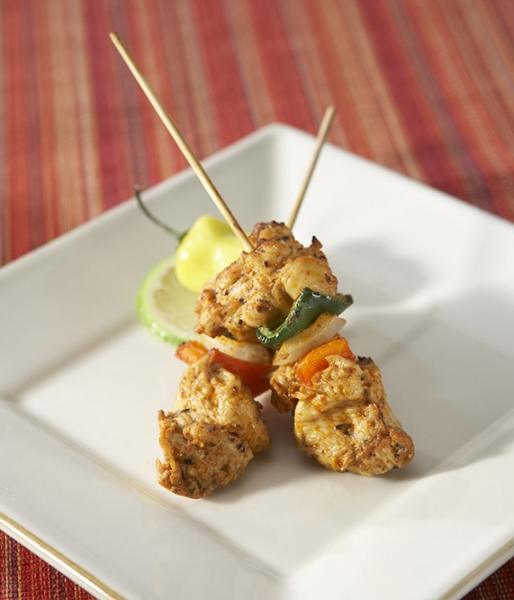 The spicy hit of chili blended with the zesty notes of lime with just a little bit of cilantro to round out the flavor makes up the marinade for this appetizer kabob recipe. A filling bite, each skewer consists of two pieces of marinated chicken separated by cubes of onions, poblanos, and red peppers. Ensure that all the chicken pieces are cooked by rotating the pan midway through cooking then serve warm for an appetizer ready to steal the show.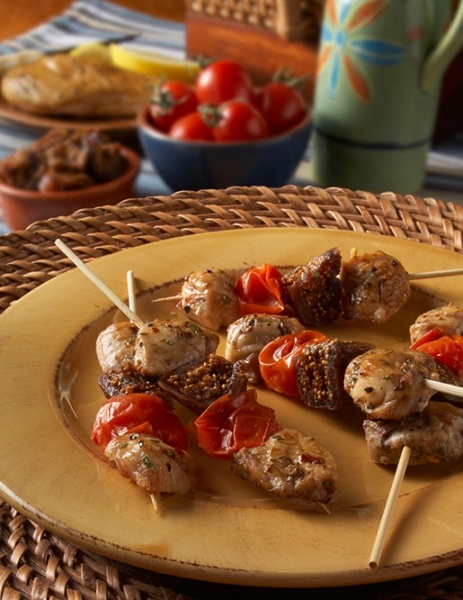 Love Mediterranean flavors but don't know how to recreate them in your kitchen? Then this appetizer is for you. Tender marinated white meat chicken gives you a taste of the harmonious Mediterranean spice mix used, while roasted tomatoes and delicious figs add sweetness to the dish creating a balanced dish that is sure to be a party favorite. Bake this dish at 400 degrees for 14 to 18 minutes in an electric oven or 375 degrees for 12 to 16 minutes in a gas oven. Don't forget to rotate the tray halfway through to ensure even cooking.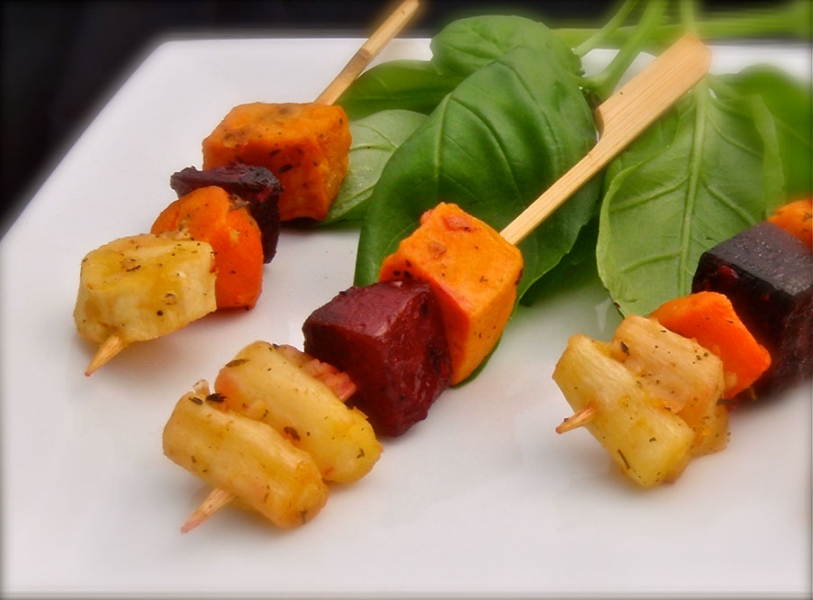 Looking for a vegan appetizer for your friends? This root vegetable kabob gives you the earthy taste of ruby red beets, caramelized carrots, golden sweet potatoes, and silky white parsnips. Delicately seasoned with fragrant herbs like rosemary and thyme bring out the natural flavors of the vegetables, rounding out the dish with a touch of sea salt for taste. This is a simple appetizer recipe that can be made ahead of time so you can enjoy the company of your guests. Just place the frozen skewers on a parchment-lined baking pan and bake at 400 degrees for 14 to 18 minutes in an electric oven or at 375 degrees for 12 to 16 minutes in a gas oven.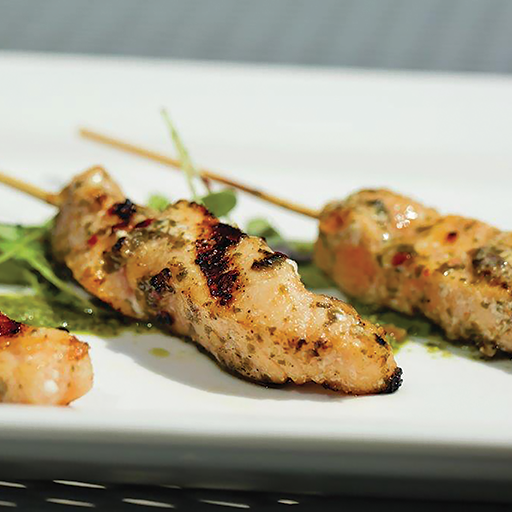 No list of party food is ever complete without a satay recipe. The richness of Atlantic salmon seasoned with a cilantro and lime mix gives you the umami taste that is quintessentially associated with Southeast Asian street food. Pair this with peanut sauce to complete the dish with nutty flavors. Just pop these frozen skewers onto a baking pan lined with parchment paper and bake at 350 degrees for 12 to 18 minutes and elevate your party menu with ease.
With so many different options to choose from, we are sure you will never run out of options when looking for easy-to-make, tasty, and healthy kabob appetizers every time you party. We take pride in the fact that we give our customers delicious, gourmet hors d'oeuvres, premium entrées, and decadent desserts, whether they are from the food service industry or retail clients. Our prompt service complements the quality and consistency you get with every packet of frozen appetizers from AppetizerUSA. Get freshly prepared handcrafted frozen appetizers that reach you within a couple of days after you place the order. Contact our team today for more details and if you are interested in our wholesale offers.