Explore Our Sister Brand, Sculptware, Offering Purchase & Rental Solutions For Linens,
Lighting & More To Consumers, Caterers, Hospitality Professionals & More.
Visit
Best Outdoor Summer Wedding Appetizers
Summer is here and with a sky full of sun comes a parade of weddings and hopeful couples.
Planning a wedding menu is just one of the many stressful things to sort out for a day that is life
changing for many. But we know the recipe to success and one ingredient you can't afford to
forget is – throw in some delicious, memorable summer Appetizers & hors d'oeuvres!
Here are a few summer wedding appetizers that will cause a stampede around the buffet table
Grilled Shrimp (with Tomatoes)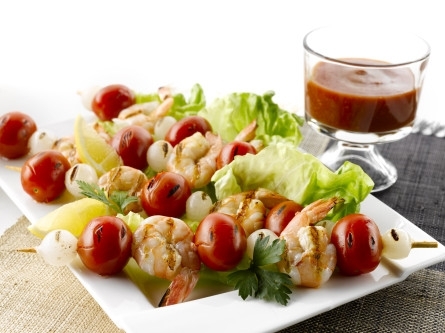 Keep things light and refreshing with a colorful array of
grilled shrimp surrounded by freshly cut heirloom
tomatoes. Shrimp is a classic summer appetizer and will
pair with almost any cocktail you serve. Give this app an
extra vibrant crunch by adding green and yellow bell
peppers to the mix. Garnish and season for an attractive
display and even your vegetarian guests will find it hard to
resist it.
2. Mini Salad Skewers

Any appetizer on a toothpick is an automatic hit as guests can pick and eat without making a
mess. Waiters carrying a tray of Caprese salad skewers will
have to contend with all wedding tables frantically waving
them over throughout the celebrations. Put your own twist on
this popular oil drizzled tomato, basil and mozzarella bite by
adding grilled chicken or infusing the olive oil with chili for a
pleasant, taste bud tingling kick.
3. Sorbet Cups
Outdoor weddings in the summer could get hot, so keep your guests cool with mini sorbet cups.
Lemon, grapefruit, berry, orange – there are countless citrus and fruity flavors to choose from.
Use colorful plastic sorbet cups to serve or go natural with the hollowed out fruits themselves.
You can bring them out after dinner as a pre-desert desert or serve them throughout the
afternoon as a refresher for your guests.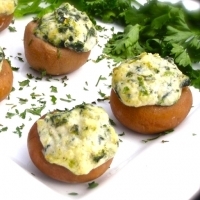 You just can't go wrong with cheese filled, creamy, stuffed mushroom
caps. Go with a totally vegetarian option to delight your more health
conscious guests or make new friends for life by serving with crunchy,
bacon bits. But no one's saying you can't do both!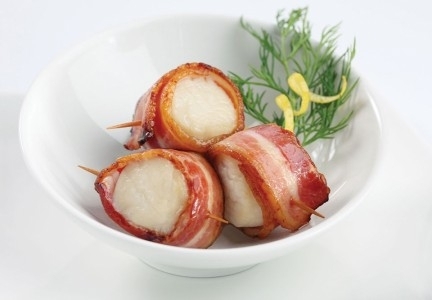 If you're looking for more bacon in your menu (and who
isn't), then bacon wrapped scallops are the way to go.
The Caprese skewers may have waiters running in circles
to reach all hungry guests, but bacon wrapped scallops,
with their crispy exterior and soft, seafood interior, will
cause every waiter in possession of a tray with these
appetizers on it to be mobbed.
6. Mini Twice Baked Potatoes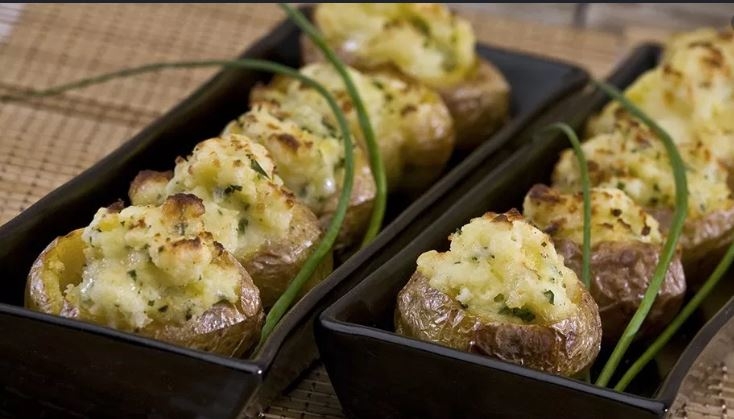 Yes, we all love chicken satay skewers, but a bite sized potato
covered in warm cheese and drizzled with sour cream and
bacon bits is a substitute that won't receive any complaints.
Seasoned and served with these toppings or hollowed out and
stuffed, baked potatoes will be a delicious appetizer that can be
eaten before or even with dinner.
7. Melon Ball Cups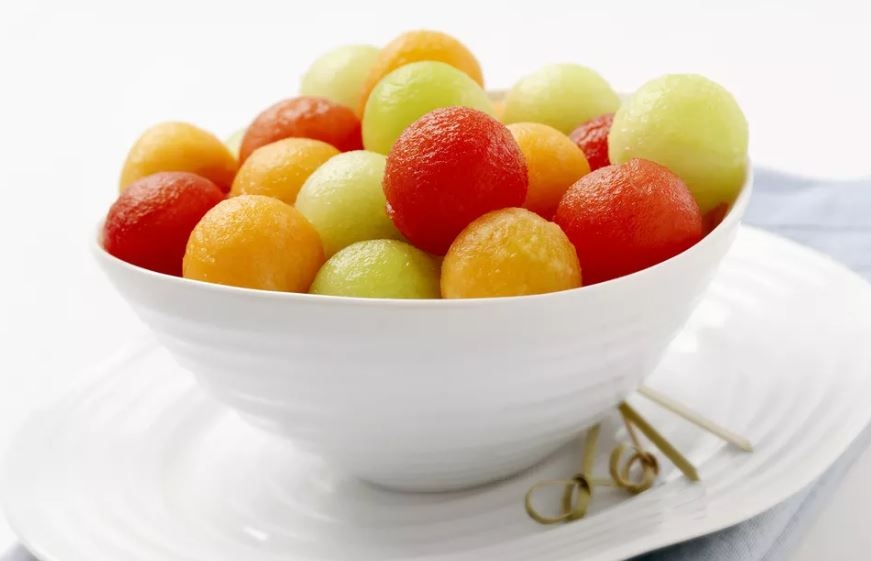 What could be cuter and more delicious than a cup of
cantaloupe, honeydew and watermelon in the form of bite
sized spheres? Serve before or after dinner as a refreshing
contrast to other meat and vegetable appetizers. If you're
thinking, 'that's basically just a fruit cup,' put a tangy twist to it
by soaking the melon balls in flavored vodka beforehand.