Explore Our Sister Brand, Sculptware, Offering Purchase & Rental Solutions For Linens,
Lighting & More To Consumers, Caterers, Hospitality Professionals & More.
Visit
Crunchy Taco Cups Recipe
Tacos! We all love them, we all crave them. They even have their very own day of the week with a hashtag included - #Taco Tuesday. Besides pizza, hamburgers and hot dogs, tacos seem to also be another American staple food that are simply irresistible, especially when they have that added crunch to them.
If you have ever attended a party where tacos were served, chances are they were whipped up as the main dish, or least in part of the dinner festivities that are included. Now, what about adding a little twist to dish? Instead of making tacos the meal, how about making them as an appetizer? We found a great recipe on the blog, Kelvin & Amanda, and we couldn't share this mouth-water, Crunchy Taco Cups that they created. Baked in a muffin pan (brilliant idea) these soft and melty, yet crunchy layered appetizer will leave you wondering why you ever made tacos any other way.
Here is the recipe below and click on the link to read more about these irresistible Crunchy Taco Cups!
Crunchy taco cups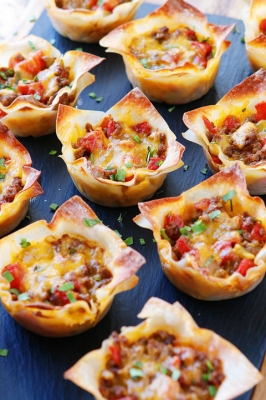 Yield: 12 Cups (About 3-4 Servings)

Ingredients:
1 lb lean ground beef, browned and drained

1 envelope (3 tablespoons) taco seasoning

1 (10-oz) can Ro-Tel Diced Tomatoes and Green Chiles

1 1/2 cups sharp cheddar cheese, shredded (or Mexican blend)

24 wonton wrappers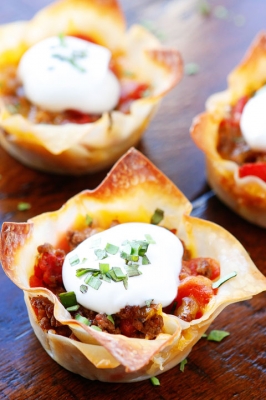 Directions:

Preheat oven to 375 degrees F. Generously coats a standard size muffin tin with nonstick cooking spray.

Combine cooked beef, taco seasoning, and tomatoes in a bowl and stir to combine. Line each cup of a prepared muffin tin with a wonton wrapper. Add 1.5 tablespoons taco mixture. Top with 1 tablespoon of cheese. Press down and add another layer of a wonton wrapper, taco mixture, and a final layer of cheese.

Bake at 375 for 11-13 minutes until cups are heated through and edges are golden.

Get the full recipe here:Kevin And Amanda