Explore Our Sister Brand, Sculptware, Offering Purchase & Rental Solutions For Linens,
Lighting & More To Consumers, Caterers, Hospitality Professionals & More.
Visit
Delicious Canapes Appetizers to Add to Your Menu
Whether you plan your party menu weeks in advance or are more of a last-minute planner, we have a list of delicious appetizers for you. Canapés are one of the most common appetizers at any party as they are easy to eat and, most importantly, quick to make. But what if we told you that we have managed to reduce this prep time even further with our fresh frozen appetizers? Made with premium quality ingredients and packed to ensure that they stay frozen till they reach you, our appetizers are perfect for those who don't have the time to follow an elaborate canapé appetizer recipe yet want to feed their guests tasty food. With most of the prep already done for you, all that needs to be done is open the packet and pop it in the oven. Our list of delicious canapé appetizers will be the perfect addition to your next party menu.
Cold Canapés Assortment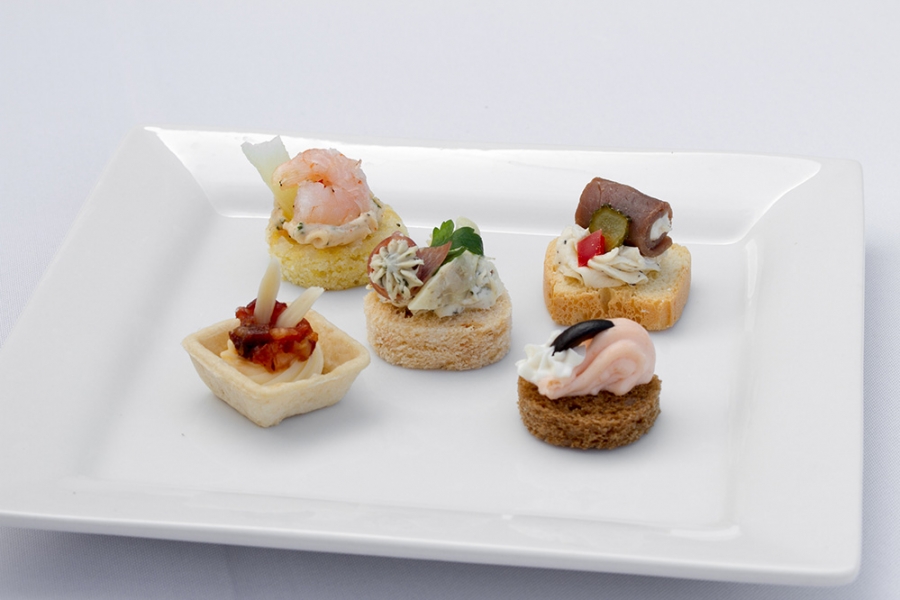 Spice up your party menu with this assortment of cold canapés; with various flavors, this assortment will meet every guest's approval no matter how picky they are. With 5 mouthwatering flavors, feast on sweet and savory treats with island seasoned shrimp on coconut cornbread topped with a candied pineapple and cilantro mousse, brie with toasted almonds and fruit chutney in a tart shell, a decadent seafood mouse on marbled rye with a garnish of black olive, roasted beef roulade on a petit toast square topped with a whipped horseradish mousse, and last but not the least salami cornets with herbed cheese and an artichoke heart wedge. This assortment has something for everyone.
Creamy Brie Canapés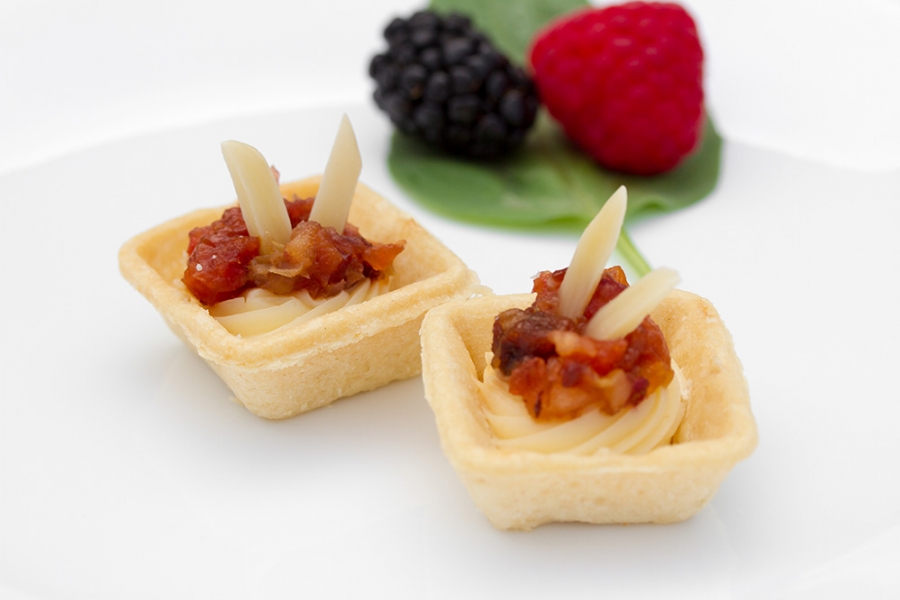 You have probably seen some combination of these ingredients as they work very well together to create simple canapés appetizers. This tasty canapé is a whole cheese board in a bite, and enjoy a swirl of creamy brie topped with fruit chutney and roasted almonds neatly packed in a tart shell. These creamy brie canapés are the perfect vegetarian option for a finger food party or a gallery opening. Just remove the canapés from the freezer and place them in the fridge 90 minutes before you need to serve them, or unwrap and plate the canapés and keep them out to defrost for 30 to 45 minutes and enjoy your party while your guests enjoy your appetizers.
Island Shrimp Canapés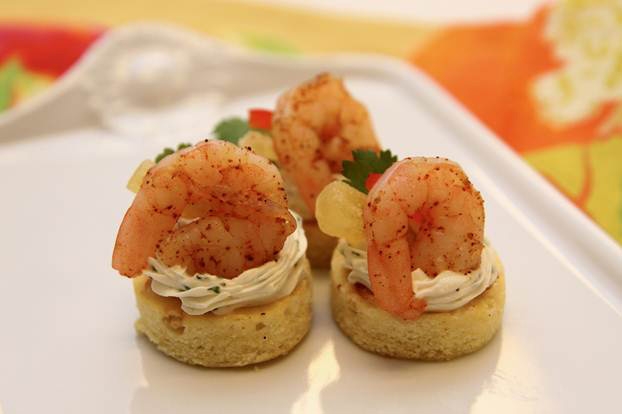 Perfectly seasoned shrimp sitting on a bed of coconut cornbread and cilantro mousse is the perfect combination for anyone seeking tropical vibes for their party. The candied pineapple adds a touch of sweetness to the mix, creating a dish that will make you want to head to the nearest beach. The ideal combination to be enjoyed in spring, summer, or whenever the craving hits, these canapés are sure to please your guests. Enjoy them with your friends when watching the game, or serve them at your next big social gathering for an easy treat that doesn't need you to do much more than defrost the packet and plate them up. Mix up your favorite tropical cocktail to pair with these island shrimp canapés
Smoked Salmon Roses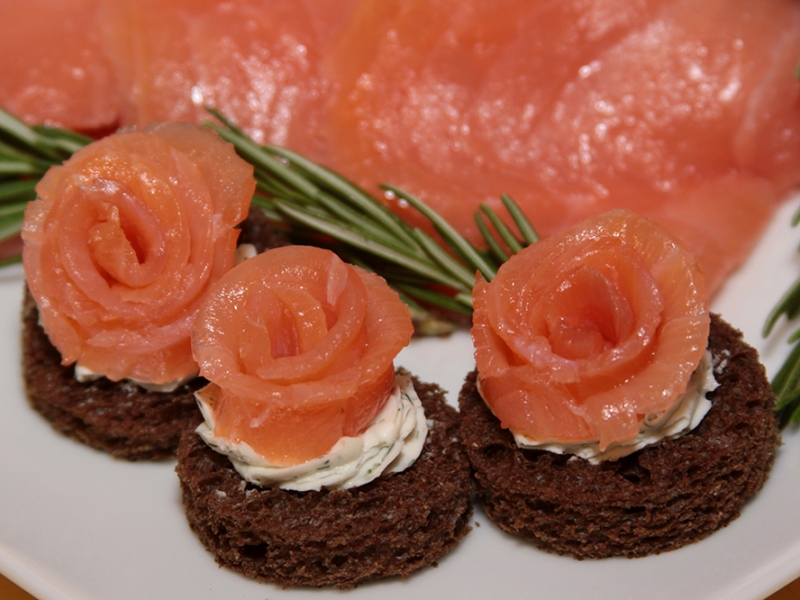 Are you looking for a fancy canapé appetizer recipe? This one is sure to impress your guests and keep them wondering how you found the time to create delicate, open-fire smoked salmon roses with so much perfection. These smoked salmon roses are placed on a bed of dill cream cheese mousse on rounds of sweet dark rye. This combination of refreshing flavors and ingredients is perfect for summer parties. These light and tasty snacks are also a great way of starting a dinner party as they will not fill your guests up so much that they won't enjoy the dinner and dessert you have planned.
While there are two methods of defrosting all of these cold canapés, it is best to defrost them in the fridge as that prohibits the growth of bacteria that may cause spoilage if left unattended for too long.
AppetizerUSA is one of the foremost names in frozen appetizers that helps you serve delicious food to your friends and family with ease. You can find a wide assortment of products on our website that are less than 2 days away from you. These are perfect for keeping handy in your freezer when you crave a tasty snack or if you are prone to hosting impromptu dinner parties with your friends and you want to serve delicious appetizers. Once you have placed your order, you will receive it within 2 days with standard delivery and within 24 hours if you choose the express option. The order is packed in an insulated cooler with dry ice so that it remains frozen until it reaches you. Once you have received your order, it is best to take it out of the box and place it in the freezer.
We also take wholesale orders for commercial kitchens, caterers, food service, and hospitality. Contact us today to find out about our special prices for wholesale customers.