Explore Our Sister Brand, Sculptware, Offering Purchase & Rental Solutions For Linens,
Lighting & More To Consumers, Caterers, Hospitality Professionals & More.
Visit
Eye-catching Pumpkin Decorations for Your Halloween Party
It's nearing the end of October which means it's ghosts and goblins, brooms and witches time. It also means it's a time for pumpkins, lots and lots of pumpkins. Whether you're carving them with the kids or for some creative party decor, we've got some interestingly fun (and some mess-free) pumpkin decorating ideas that you have to try this coming week!

Lantern Decals
An eerily grinning pumpkin may be classic, but why not give it a twist? Turn your pumpkin into a literal lantern using decals in the style of old oil lanterns. Simply stick them on to avoid the messy de-pulping process or go all in (and up to your elbows) to clean and carve out space on the lantern decal where a candle's light can shine through. The result can be placed in any corner of your home or on the front step and will add a classy touch to your Halloween decorations.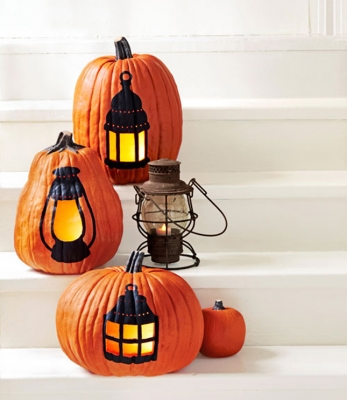 Source: BRIT + CO
Tack-ey Pumpkins
Not a fan of scooping and scraping out pumpkin goo? No problem! A can of spray paint and a box of thumb tacks can turn any gourd into a stylish centerpiece that will last as long as you need it to. Choose gold or silver thumb tacks or studs, pencil out a simple design and start tacking! It's convenient, It's simple and it's super chic, plus you can have it match any color scheme you want.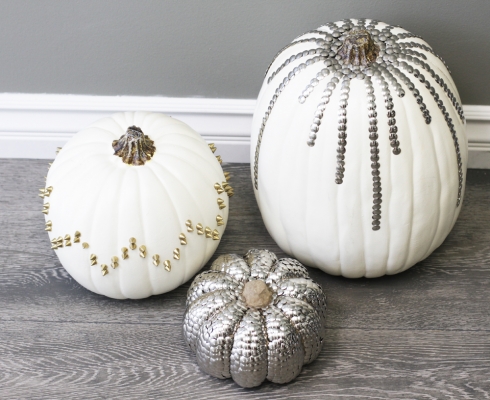 Sharpie Up
Let the kids get involved in the fun with this minimal mess, easy to do pumpkin decoration. Simply lay out an array of colored permanent markers and using your own imagination or a stencil, draw on the pumpkin to create famous cartoon characters, the classic jack-o-lantern grin or even intricate patterns. Here, your imagination is the only limit!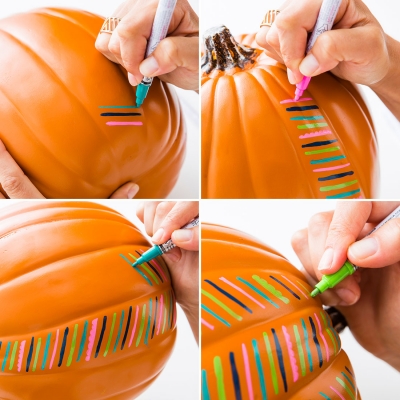 Source: BRIT + CO
Sugar Skull Pumpkin
One of the most creative Halloween pumpkins we've come across, this Day of the Dead inspired, a sugar-skull carved pumpkin, is easier to create than it looks. You only have to carve out large holes for the eyes and nose and rest is candy! Gum for teeth, candy corn and jelly beans around the eyes, licorice laces to frame and a little paint to add the final touch. The best part is, you can snack on candy while you make it! Sounds delicious and looks fantastic, right?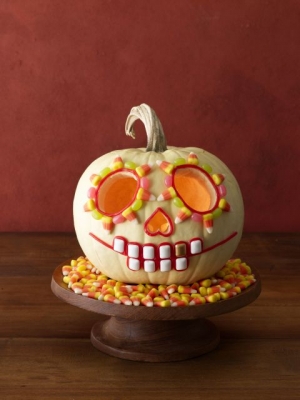 Source: Womans Day
Leafy Pumpkins
What better way to celebrate fall and Halloween than by putting the two together? Leafy pumpkins are a great option for those who prefer craft over the carving. Simply trace out leaves on red, orange and yellow tissue paper, cut out and glue onto the pumpkin. Make a bolder statement by using a white pumpkin. It may not be scary, but it will be nothing short of stunning! These make for a great alternative to centerpieces for dinner parties as well.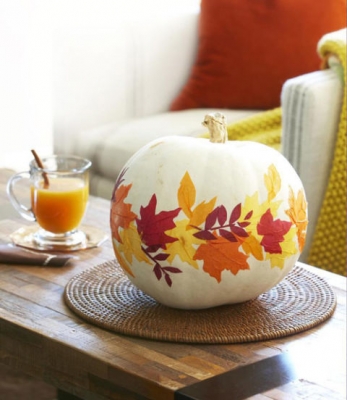 Source: Good House Keeping
Die-

orama

Pumpkin
Here's a pumpkin that will go with your Halloween party decorations perfectly. Clean the pumpkin and carve out the front to create the stage for a spooky scene. Spray paint black for a scarier effect. Then using small props, acrylic paint and some cardboard, create your eerie tableau. It could be a skeleton in a graveyard, a haunted house or a werewolf howling at the moon – the possibilities are endless!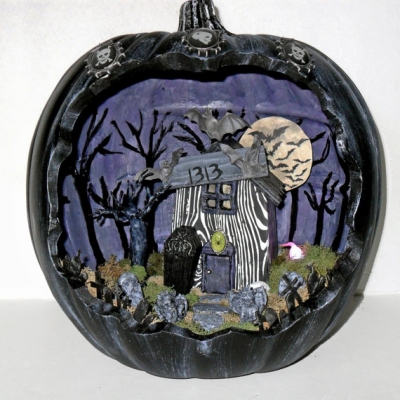 Source: Etsy
Pumpkin decorations don't have to be tedious. Carved or not, complex or simple – there are countless decorations for you to choose from!