Explore Our Sister Brand, Sculptware, Offering Purchase & Rental Solutions For Linens,
Lighting & More To Consumers, Caterers, Hospitality Professionals & More.
Visit
Holiday Table Setting Ideas
Seasons Greetings! Yup, it's finally time to say that. The air is crisp, the holiday music is jingling, the boots are worn,the shopping has begun, the lights are hanging, the hot chocolate is steaming, the cookies are baking and the parties are beginning! The merriest time of year is finally among us and while some of you plan months in advice your family gathering or corporate party, there are some that are still figuring out all the details. Either way, there are still plenty of touches you can add and cute and fun ideas to make it uniquely your own.
Decor. Decor is key for setting the theme and ambiance, for adding glitz and glam, for showcasing your creativity and for creating elegance and fun for your guests to enjoy. One of our personal favorite areas to decorate is the table. Table setting is the eye-catching focal point before the appetizers, drinks and food is served. It's the placement in which all your guests gather at once and thats the place where you really want to wow them.
Luckily there are a ton of great ideas to decorate your holiday table in a festive and imaginative way this holiday season. Whether it's your whole office staff gathering together at a venue of your choice, an intimate group of close friends or big family gathering, give them the gift of a beautiful table setting to enjoy some food and memories at.
snowflake coasters
A little snow on the table to give your bubbly a little extra sparkle.
tree napkins
The kids table will adore these.
sculptware spandex linens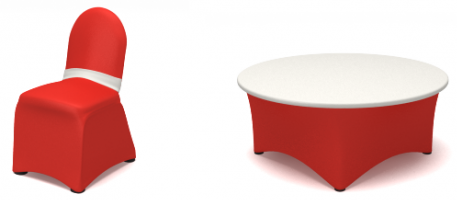 Cover your table and chairs with Sculptware to match your theme without the hassle of regular table cloths. Plus add a little sash to your chairs for an extra special touch. Source: www.sculptware.com
stocking napkins

Stuff your stockings with utensils. Cute and creative! Source: www.buzzfeed.com
snowman plate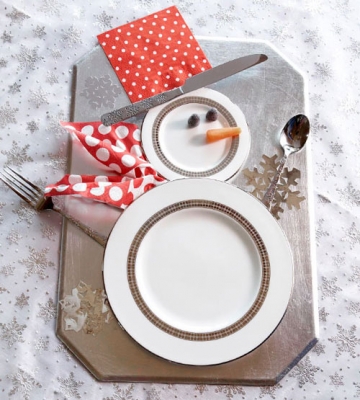 Because it's too cute not to. Source: www.eatwell101.com
music mat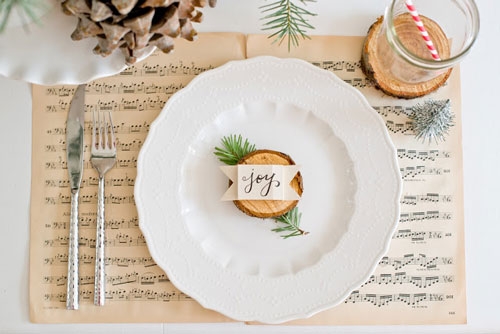 The holidays are filled with music, why not showcase it as a unique placemat? Find the sheet music to your favorite holiday tune or give everyone a classic one of their own. Frosty the Snowman anyone? Source: www.eatwell101.com
paper craft cards

This is perfect if you want if you to do buffet style but still want to create place settings. Source: www.satsumadedesigns.com
candy cane name tags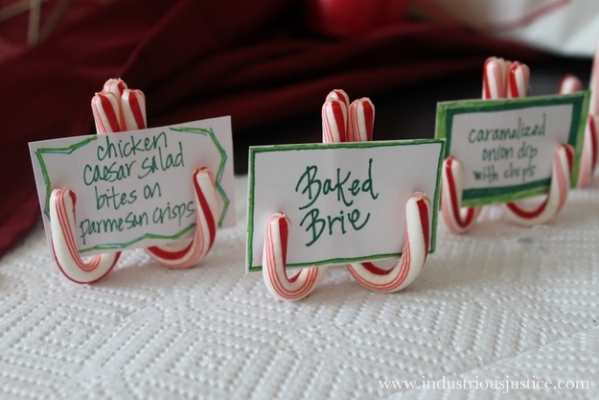 Labeling your food or your name tags has never looked so yummy. Source: www.buzzfeed.com
candy mint centerpieces

Simple, yet appropriately darling. Source: www.buzzfeed.com