Explore Our Sister Brand, Sculptware, Offering Purchase & Rental Solutions For Linens,
Lighting & More To Consumers, Caterers, Hospitality Professionals & More.
Visit
Top 10 Delicious American Appetizers You Don't Want to Miss!
Appetizers! The word magically summons up the sight, smell, and taste of succulent, bite-sized yummy goodies that make a meal inviting and appealing. The life of the party, finger foods and appetizers complement a variety of dishes and drinks with ease. Moreover, when you explore the variety of American finger food, the dishes will leave you wanting more.
Some of the most popular appetizers in America are loaded with a range of flavors, textures, and ingredients. From traditional recipes to finger food ideas with a twist, American appetizers are the quintessential items that satisfy your tastebuds and appetite. If you aren't already drooling, let's dig into the top 10 delicious American appetizer recipes by AppetizerUSA that you don't want to miss indulging in!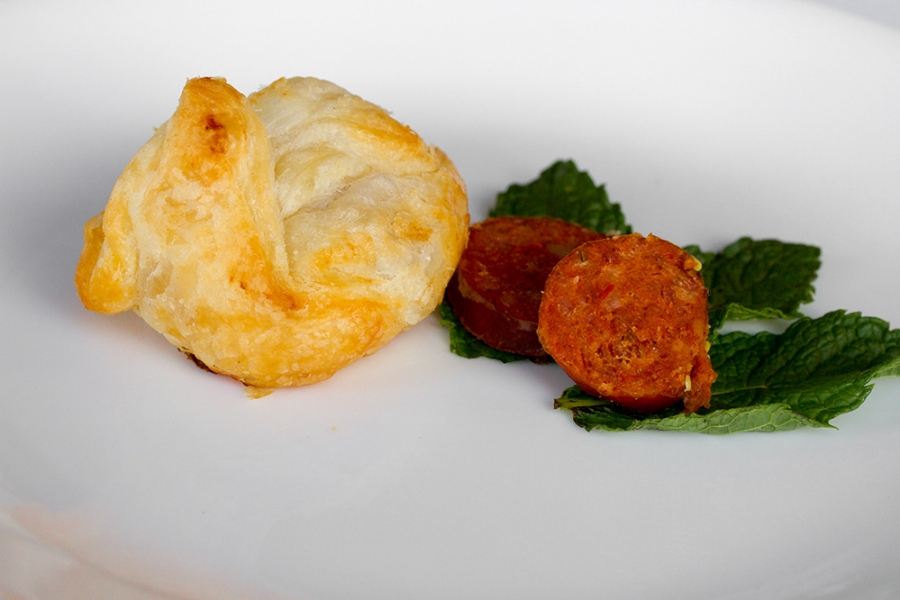 As one of the most popular American appetizers,Andouille sausage en croute is a crispy golden flaky pastry enveloping a burst of flavor. The heat of Cajun spiced Andouille sausage perfectly blends with the zesty pepper jack cheese. You can make these from scratch or grab a tray of premium heat-and-eat appetizers. When baked just right, the crunchy golden pastry melts in your mouth, revealing the richness of the cheese and the meaty goodness of the spiced sausage. Lay out a tray full of these and watch them get snatched up as soon as you serve them!
.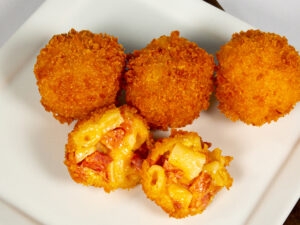 Is it a sausage? Is it Mac & cheese? Is it a popper? It is all that and more! This taste bomb is made with spiced Andouille sausages. The smooth texture of Ditalini pasta and a homemade mac & cheese sauce blends just right with the Cajun from the sausage. Made into bite-sized poppers, this American appetizer recipe is easy to make and will surely suit every palate. Deep fry these poppers till they are crisp but not burnt. You could also try air-frying them for a healthier version. Serve with a cool mayo dip or ketchup to make these poppers irresistible.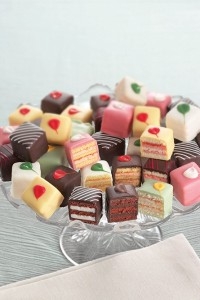 If you thought appetizers were only a savory serving, here's a sweet surprise. Awesome things come in small packages, and the assorted petit fours are just the decadent treats for your next family dinner. Instead of offering just one flavor, serve assorted varieties like sinful chocolate, creamy vanilla, and almond-based mini cakes. Cool fruity flavors like strawberry, lemon, and zesty orange for brunch or lunch make excellent sweet appetizers. Assorted petit fours can brighten the table and add a pop of color and tons of flavor to your next event.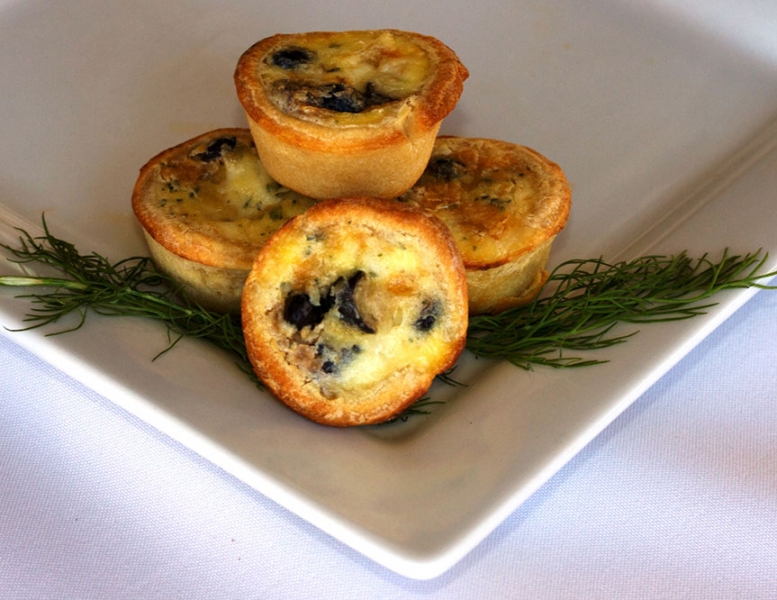 The southwestern flavors of a black bean quiche complement a relaxed evening while enjoying a plateful of comfort food. The light and fluffy quiche has always been a tasteful bite. Mostly combined with a choice of meat, cheese, and veggies, a quiche can be a tricky thing to make and perfect. An interesting combination of black beans and pepper jack cheese gives this fluffy quiche the wholesome comfort food tag!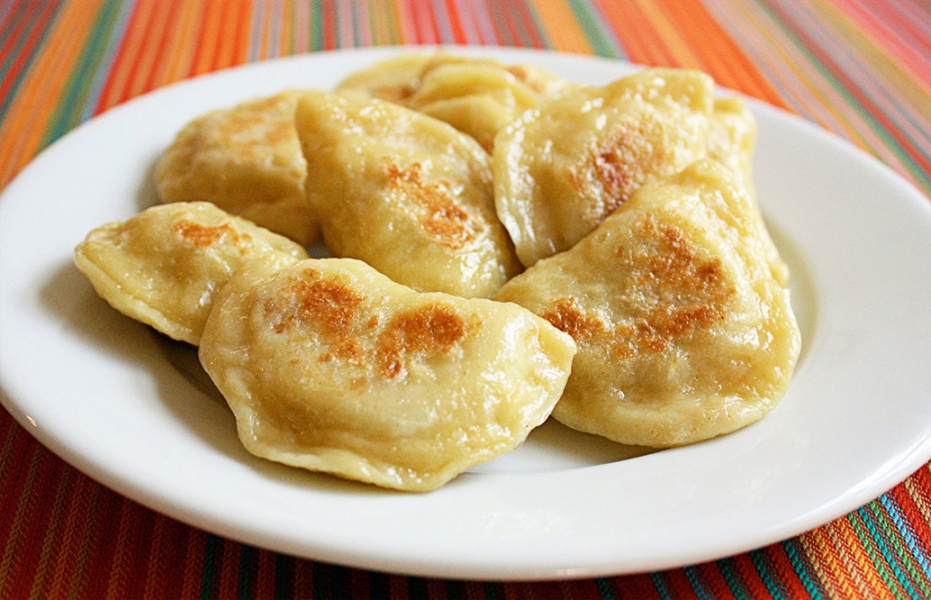 A festive favorite, the braised short rib pierogi brings a smile to your face. The aroma of wonderfully fried or baked dumplings brings back memories of happier days. This traditional dish contains slow-cooked short-rib meat neatly tucked into the pierogi dough. It is usually boiled and then fried or sauteed. This American finger food can be time-consuming to create from scratch, but our premium ready-to-cook option is bursting with flavor and ready to heat up for your next event.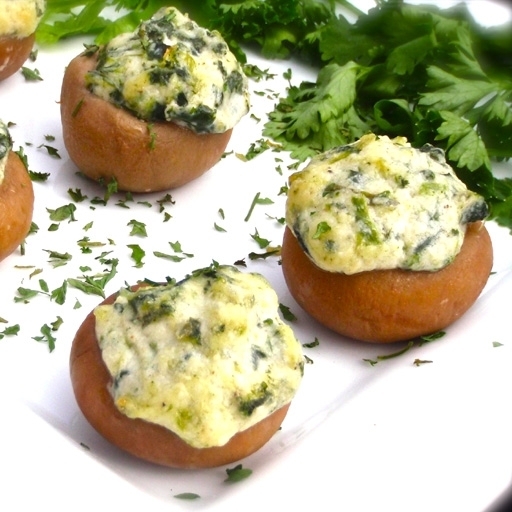 Who can resist the creamy goodness of herbed Boursin and fresh spinach stuffed in mushroom caps? These popular gourmet nibbles are simple, wholesome, and tasty appetizers. Stuffed mushrooms are a popular American finger food that are delicious and easy to cook. The crumbly, herb, and garlic-infused Boursin cheese beautifully blends with the crisp flavor of spinach. Let our delicious Boursin and spinach stuffed mushrooms steal the show at your next event. Simply bake them in batches on parchment paper rather than a baking tray and savor in the bold flavors. When evenly cooked, the wafting aroma will excite the tastebuds and keep you going for more.
Creamy, tangy and crunchy—the Brie & Raspberry with almonds wrapped in phyllo is a delectable bite from food heaven. Double cream Brie cheese is mixed with raspberry sauce and toasted almonds. The mixture is topped with raspberry jam before being wrapped in perfect bite-sides phyllo rolls. Bake these delicate hors d'oeuvres to perfection and bask in the glory of appreciation from your guests.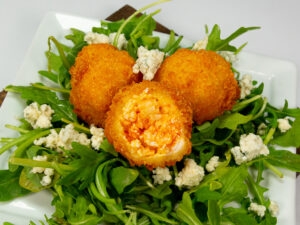 Nothing can go wrong with a tray full of buffalo chicken wings. But it can get better! Add buffalo chicken to mac & cheese. Mix it and roll it into poppers that find their way into friers and become one of the tastiest appetizers. The golden brown, crisp and flavor-rich poppers are an instant hit with friends.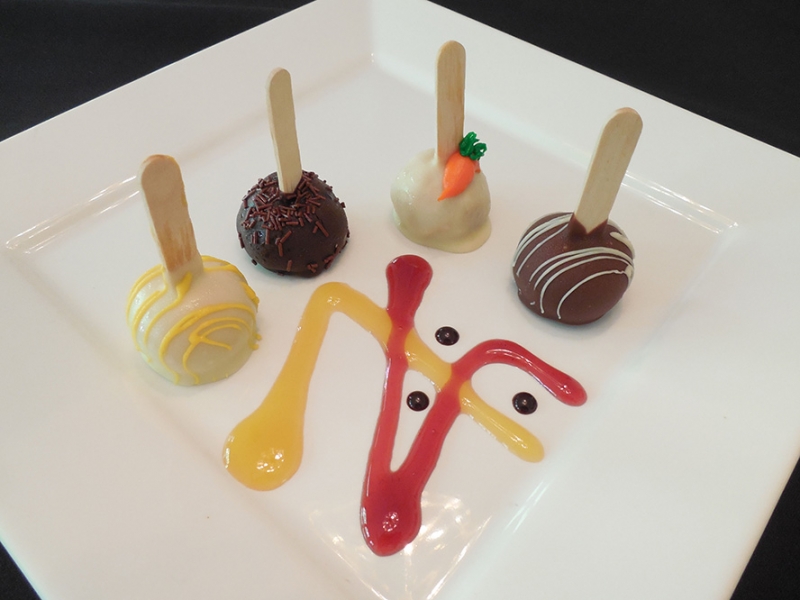 These birthday party favorites are a hit with the youth and adults, too! Cake pop assortments add color and fun elements to the table. Pretty decorated cake balls are sweet invitations to devour a couple of cake pops. Look for various flavors like chocolate, coffee, lemon, carrot, and fudge and decorate them to suit the party's theme, such as pumpkin or spooky cake pops for Halloween. You can also get a tray of ready-to-eat cake pops for last-minute dessert ideas. Try our Cake Pop assortment for a moist, delicious American classic that will be pleasing to both the eye and appetite.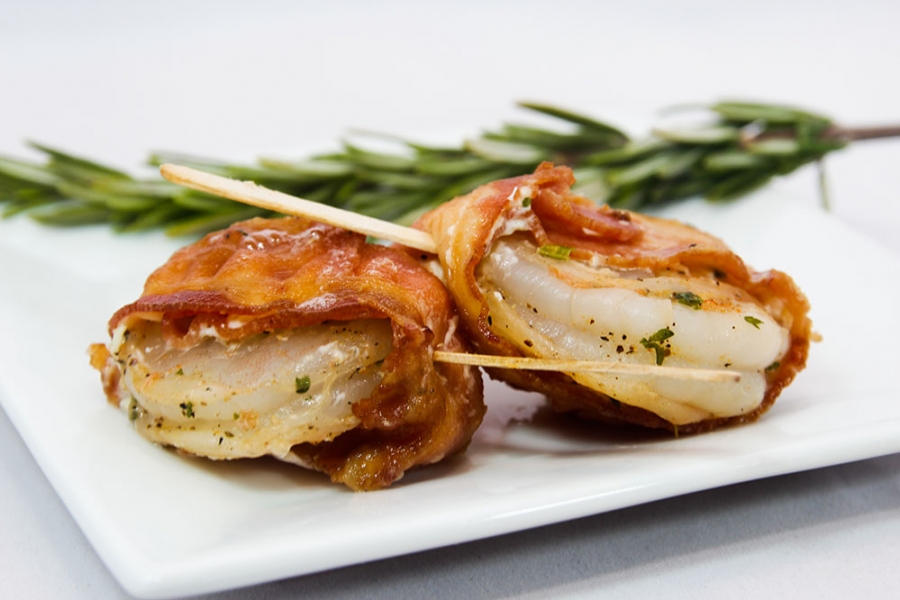 Seafood lovers can hardly resist succulent 21/25 shrimps marinated in spicy casino mix and wrapped in smoked bacon. This American appetizer recipe bursts with flavors of savory bacon and spicy shrimp. Choose the freshest ingredients and bake this appetizer on parchment paper before serving. Wait and see how quickly they will be devoured!
American finger food is the ultimate comfort food and a party favorite. Don't limit yourself to a few appetizers; aim to impress with a variety and try out new items at your next event! Although the most popular American appetizers are fun to create from scratch, often you don't have the time and energy to create the hors d'oeuvres for a large group. Let us help you with the prep work, and stock up your freezer with tasty appetizers by AppetizerUSA. Keep a batch of distinctive sweet and savory treats handy for a hassle-free preparation for your guests. Just relax and dig into something yummy!