Explore Our Sister Brand, Sculptware, Offering Purchase & Rental Solutions For Linens,
Lighting & More To Consumers, Caterers, Hospitality Professionals & More.
Visit
15 Delectable Appetizer Ideas for a Wintry White Wedding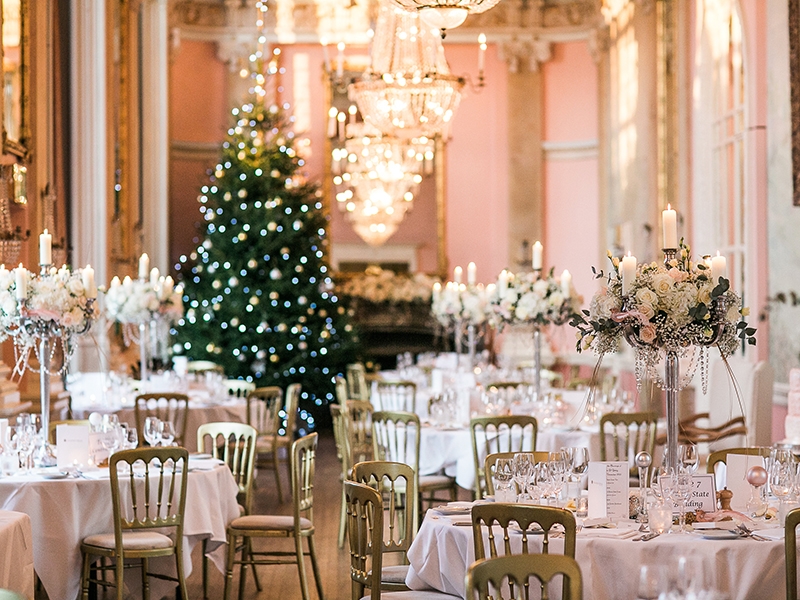 Are you a wedding planner wondering about the right entrees for your guests this winter? You also probably have to take care to never run out of new appetizer ideas and keep your wedding guests happy and well-fed till the main course.
While warm creamy soups are always welcome, having winter appetizers made of meat, sausages, or seafood on the menu would be a fresh way to delight your guests' appetites. For vegetarian guests, crackers, and cheese, vegan meatballs and mushrooms are great choices.
If you are running out of time to decide on the perfect winter menu, here are fifteen ideas for winter wedding appetizers from AppetizersUSA that will leave your guests licking their fingers and asking for more.
Meat appetizers
These hot, bite-size appetizers will keep your guests content through the evening. Add more variety to keep the compliments coming.
1. Beef Wellingtons are delicious, bite-sized appetizers made from aged beef tenderloin and mushroom duxelle and come wrapped in a French-style puff pastry. These appetizers can be easily prepared in a preheated oven set at 400 degrees and baked for 8-10 minutes.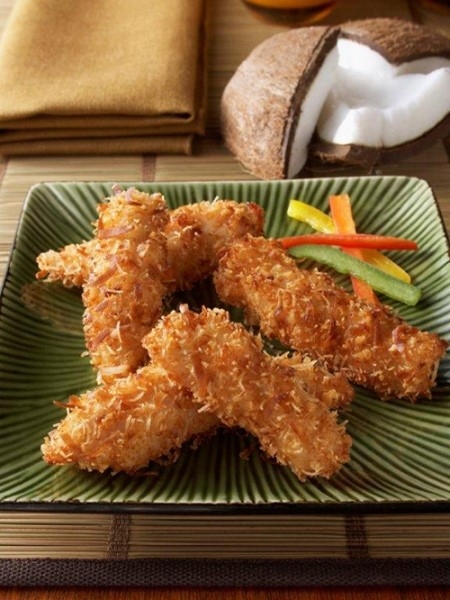 2. Stuffed potato with bacon gives you the unbeatable combination of bacon and cheese stuffed in mini potato skin and topped with Idaho mashed potatoes. These hors d'oeuvres can be easily made by baking them in a preheated oven at 325 degrees for 5 to 10 minutes.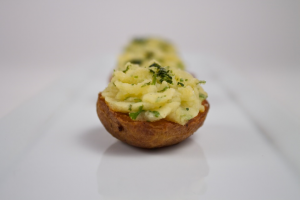 3. Layers of puff pastry surround a roulade of paillard chicken, imported baby Swiss cheese, black forest ham, and finished with a chablis cream sauce. The Chicken Cordon Bleu Puff makes for a perfect appetizer for those in love with Swiss cheese. This Parisian-inspired classic is best when baked on parchment paper at 400 degrees for 20-26 minutes or until the dough is brown.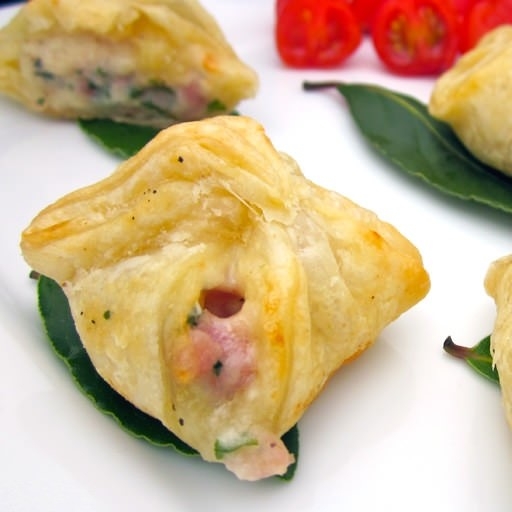 4. The delectable Chicken Dijon Puff is made using tender chicken mixed with broccoli and mushroom, which is blended with honey-dijon mustard layered into a puff pastry and is coated with poppy seeds. Baked at 400 degrees for 20-26 minutes or until the dough is brown, this puff is a bestseller.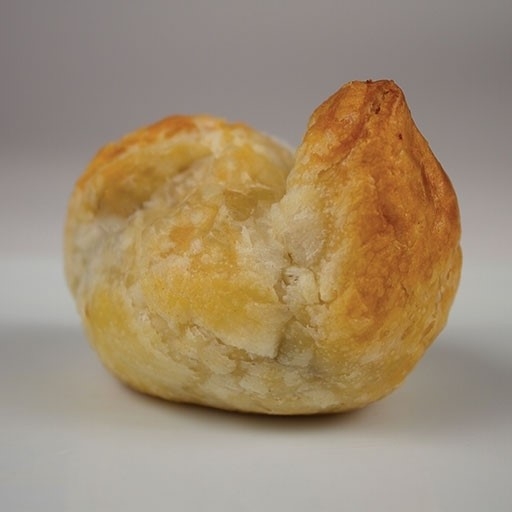 5. Another true classic is the Beef Bourguignonne Puff; beef pieces marinated in bourguignonne wine sauce and layered into a delicate puff. This classic French cuisine delicacy can be baked in a preheated oven at 400 degrees for 8 to 10 minutes.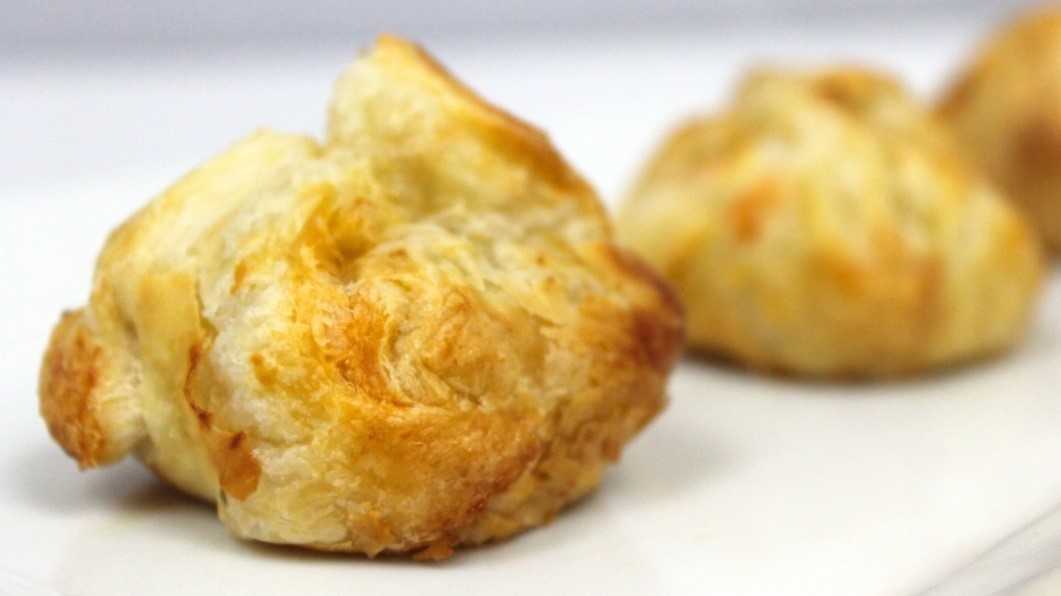 For folks who love fish or seafood, there is a wide variety of seafood appetizers to choose from on our list. Treat your guests to shrimp cocktails, grilled shrimps, or salmon toasts with cream cheese and herbs. These, when served hot, not only taste amazing but are warm and refreshing.
6. Try pastry cups filled with cream cheese, some greens, and grilled shrimps. These are hearty and filling.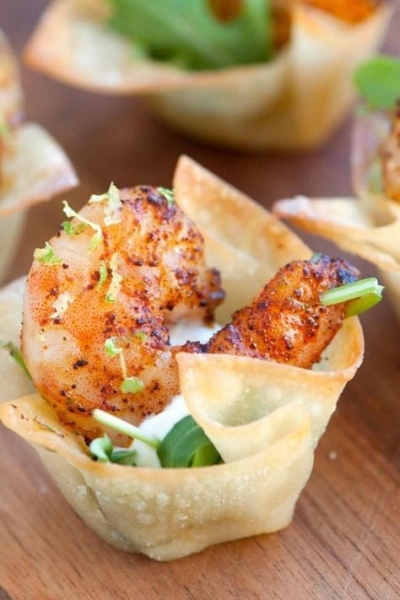 7. Another favorite at AppetizersUSA is the Casino Shrimps, which are made from succulent shrimp, marinated in spicy casino mix and wrapped in Applewood smoked bacon. These are served on a knotted pick and look like a splendid work of art.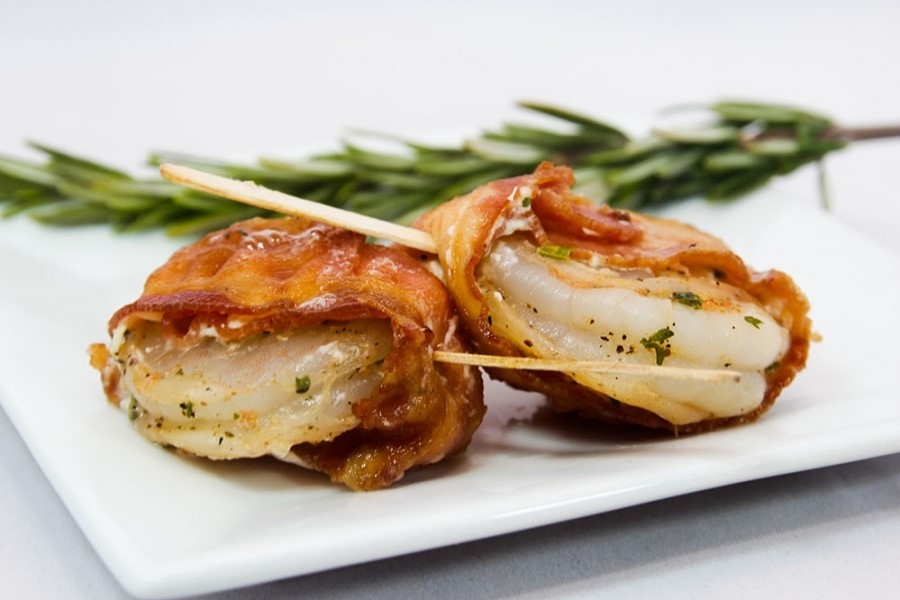 8. Wedding guests will love biting into these mushroom caps filled with Maryland style choice crabs. These crab stuffed mushrooms are cooked in a preheated oven at 350 degrees F and are great as comfort food.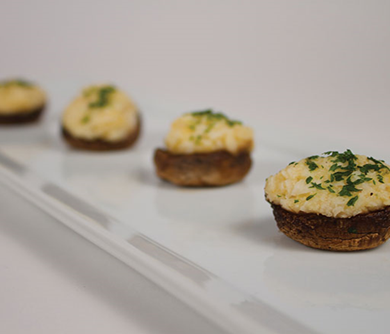 9. Bring in the taste of the tropical with Coconut Shrimp - a large butterflied shrimp dipped in a mild coconut batter and rolled in a mixture of coconut and breadcrumbs. Deep fry or bake until it's golden. The perfect finger food!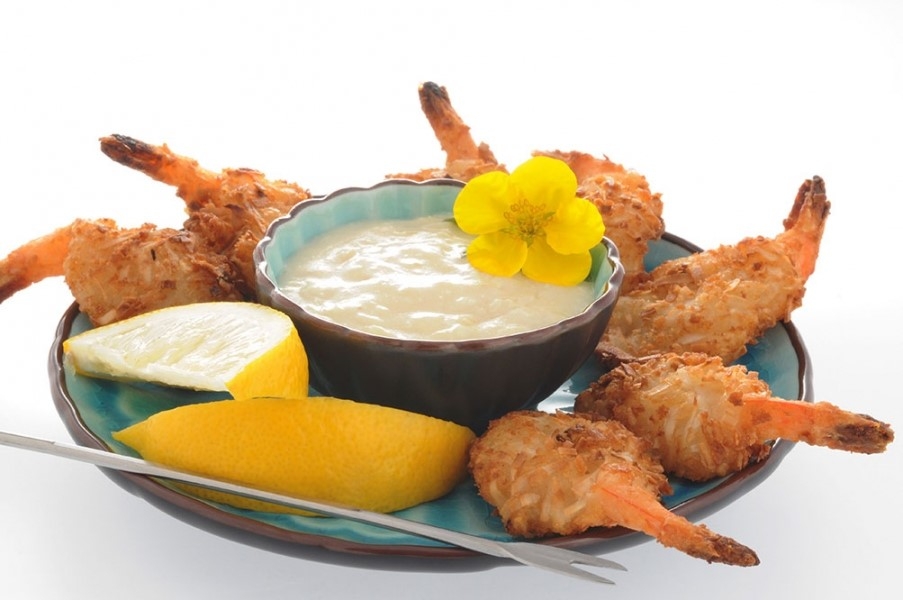 10. Plump scallops are delicately spiced with herbs, spices, lemon and garlic and wrapped in cured bacon. This delightful combination is served on a toothpick skewer and is absolutely scrumptious.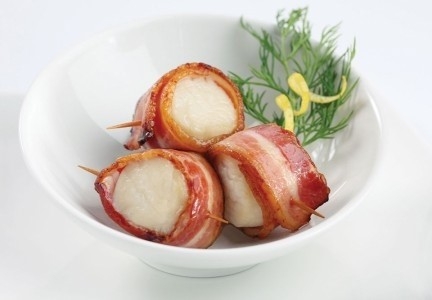 Vegetarian Appetizers Time to win your vegetarian guests over. But keep in mind that those who are not vegetarians always like to nibble on these specialties.
Vegetable canapes and tarts are great options, and so are stuffed mushrooms. Nothing like fresh greens and veggies to make a meal healthy. Use seasonal vegetables to keep the fresh feeling going.
11. Boursin and Spinach stuffed Mushroom are among our bestsellers. They are best when baked on parchment paper in an electric oven at 400 degrees F for 10-15 minutes.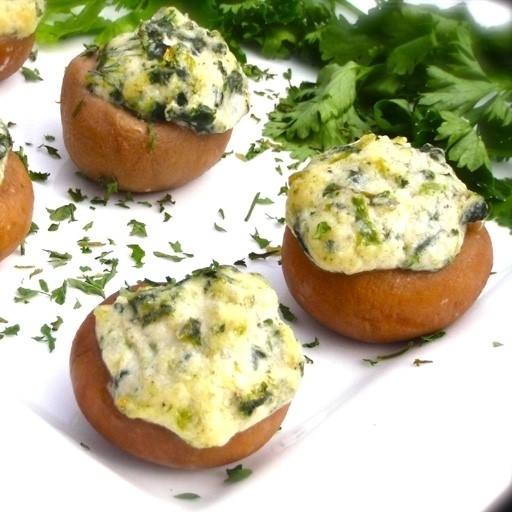 12. Creamy Mushroom Triangles are made by sauteing mushrooms in a light cream sauce mixed with wine, garlic and seasonings. The filling is then placed inside a phyllo triangle. These frozen goodies are best if baked from frozen on parchment paper in a hotel-quality oven at 350 degrees for 8-14 minutes.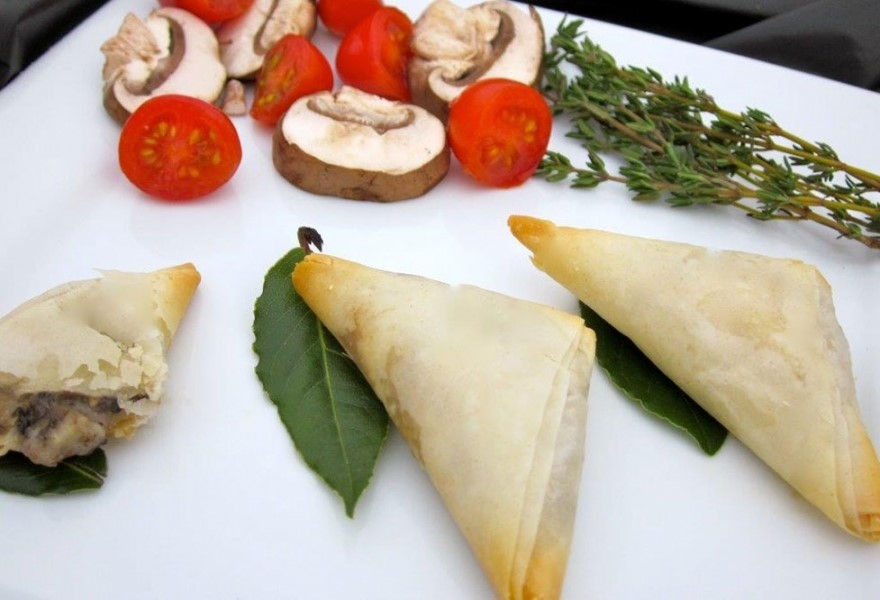 13. Made with a fresh cut asparagus spear and the delicate flavors of asiago cheese, which is wrapped into a crispy phyllo roll, the Crispy Asparagus is a mouth-watering choice.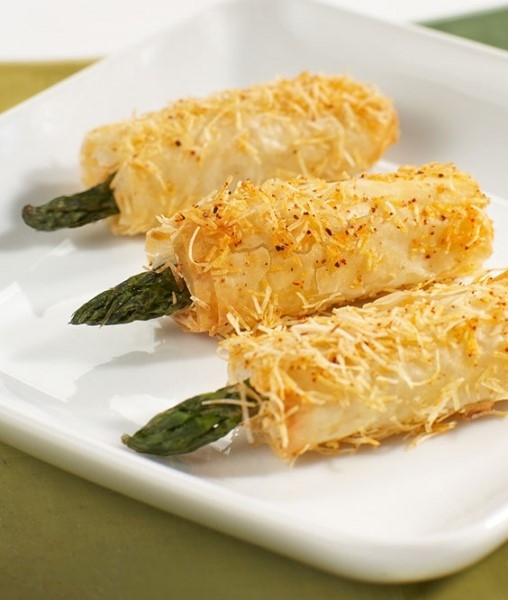 14. The mini vegetable lasagna are a meal unto themselves. They are made from strips of hearty Durum wheat lasagna wrapped around layers of creamy ricotta cheese, sautéed spinach and garlic, and our very own marinara sauce.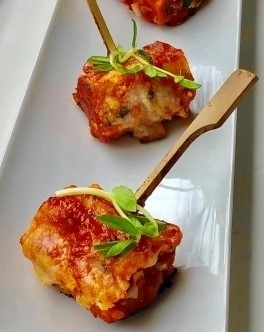 15. Gourmet Truffled Mac & Cheese are a fine winter appetizer and are just right for weddings. The creamy mac and cheese with truffle oil and shaved black truffle slices taste best when baked from frozen.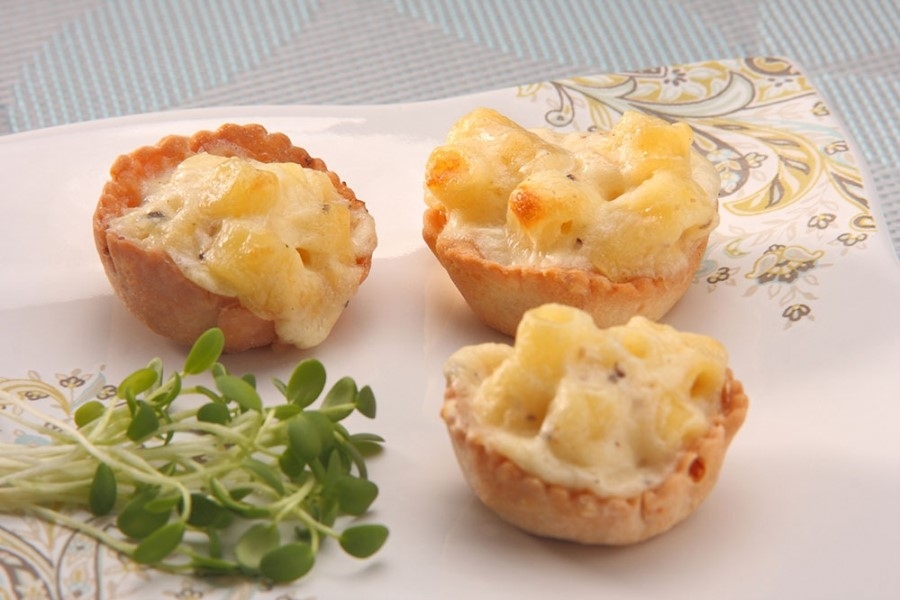 for when your guests walk in from the cold.

At AppetizersUSA, we deliver freshly prepared, delicious, gourmet appetizers, hors d'oeuvres and premium entrees to your address. Our appetizers are readily available to order and when they arrive, all you need to do is pop them in the oven.
Get in touch with us to order the above winter wedding appetizers or to discover other party appetizer ideas.