Explore Our Sister Brand, Sculptware, Offering Purchase & Rental Solutions For Linens,
Lighting & More To Consumers, Caterers, Hospitality Professionals & More.
Visit
6 Creative and Fun 'Edible Containers' to Serve Gourmet Appetizers
Tired of the same old party table and looking for fun, gourmet appetizers, or creative ways to serve your food? Well, your search ends here! Today, we present you with some out-of-the-box ideas to serve appetizers with our edible containers and cutlery. It leaves you with lesser dishes to wash and allows you more time to have fun at the party.
And….. it's kinder to the environment as well!
You can fashion these natural, edible containers out of leaves, skin, or even hollowed out fruits and vegetables to make a perfect bowl shape.
If creativity is not your thing, but you still want to do something different while creating less waste, then look no further than our 'Create Your Own' and 'Edible Spoon' for your upcoming party.
These fancy, tasty, edible bowls besides being unique, fresh, fun, and different, also look great! So, if you are looking for some fun ways to step up your party throwing skills and get creative, here are some really cool ideas. We bring you:
· Blinis
· Unfilled Brioche
· Hot Dog Buns
· Phyllo Shells
· Mini Taco Shells
· Edible Spoons
Want to know what's even more fun? We have some of these edible containers and spoons in plain as well as a few different flavors, allowing you to serve savory appetizers and well as dessert appetizers and dips.
Here are some wonderful and creative ideas for you to use our natural, edible bowls and edible spoons for every occasion.
Blinis
These bite-sized carriers of delicious toppings of your choice are so easy to serve up for a party. Just about anything can go on top of blinis, but ideally, it's a smooth filling of creme fraîche, sour cream, or soft cheeses topped with smoked fish or caviar, or eggs.
You could also go with things like roasted vegetables, pickles, or shredded meat to top your blinis. You could also add fresh herbs like dill, parsley, mint, and chives to garnish the topping on the blinis.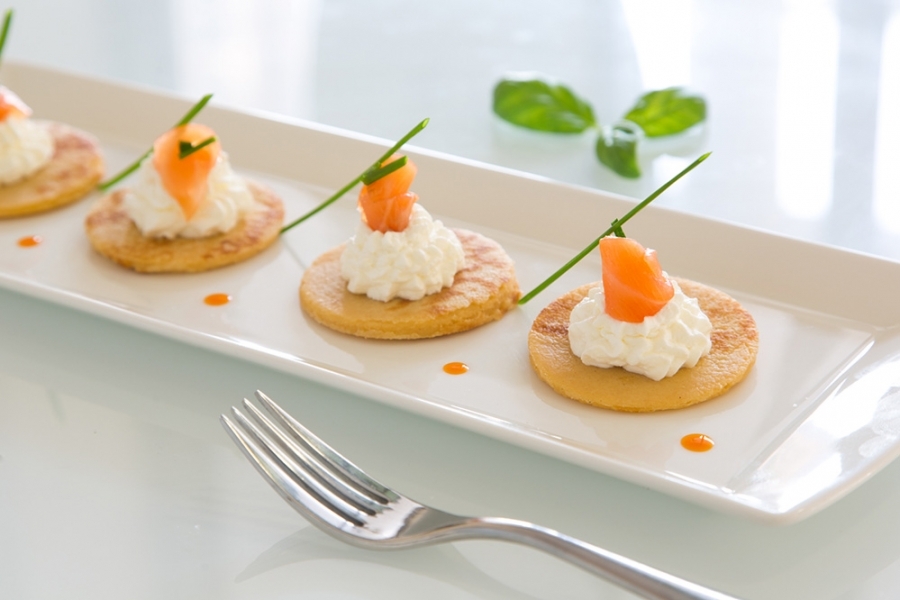 Pixabay
Sale Price: $28.00 / Tray
Regular Price: $39.99
Pieces per tray: 80
Price per piece: $0.35
Our gourmet frozen mini blinis are imported from France and are about 1.75" in diameter. Just defrost the frozen blinis before adding toppings, or you could warm the frozen blini in an oven for 7-9 minutes until lightly re-crisped.
Brioche Unfilled
Brioches are a great way to serve up appetizers and be appetizers themselves if they are bite-sized with interesting fillings. You can use fillings like Crab thermidor, scrambled eggs with smoked salmon or mushrooms and cheese.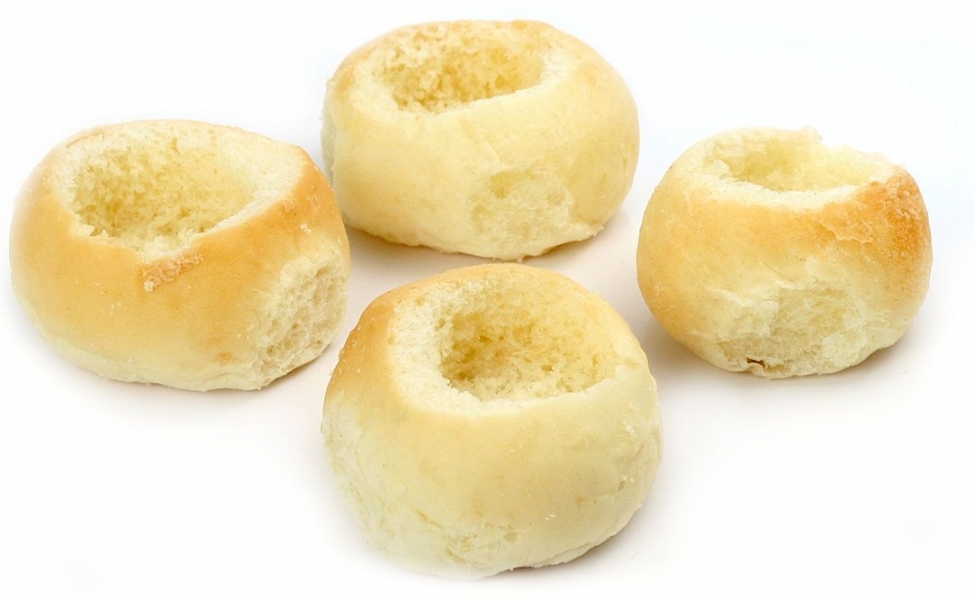 Pixabay
You could even serve them up as dessert appetizers like a filled sweet brioche, with a mixture of raspberries and whipped cream.
Sale Price: $30.60 / Tray
Regular Price: $33.99
Pieces per tray: 36
Price per piece: $0.85
Our imported, mini, unfilled brioches are a great way to present your signature savory or dessert appetizers. Each brioche is 1" tall and 1.5" in diameter. Since the tops have already been scooped out, simply defrost and heat the brioche under a medium grill.
For filling a cold filling into the brioche, place brioche in the oven to toast. This will prevent leakage and keep the brioche from getting soggy too soon.
Hot Dog Buns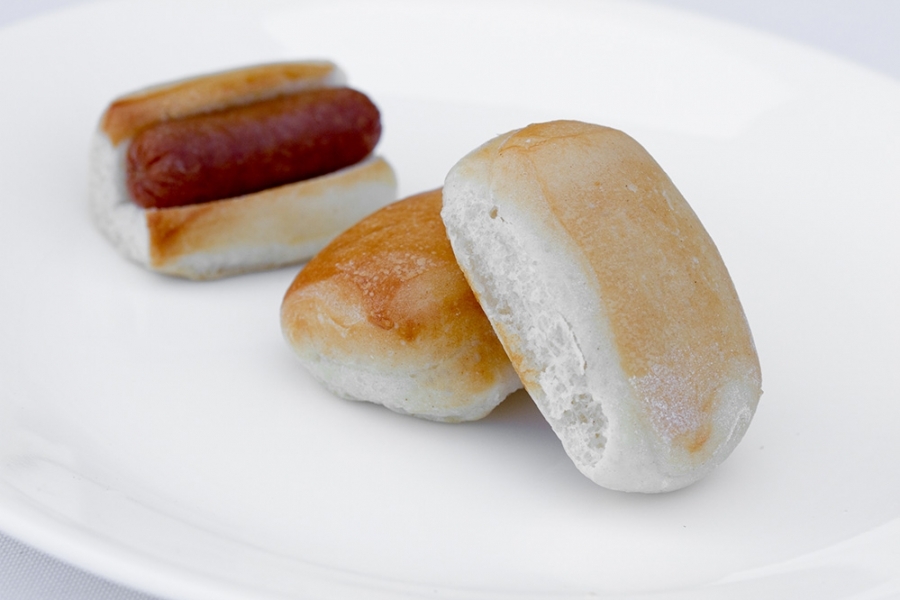 Pixabay
Create your own signature miniature sandwiches with our hot dog buns. These hot dog buns are small and can be filled with Philly steak, Chicago dogs, meatball sandwiches and just about any filling you want. All you have to do is defrost before serving.
Sale Price: $23.80 / Tray
Regular Price: $33.99
Pieces per tray: 50
Price per piece: $0.48
Phyllo Shells
Mini phyllo shells are attractive little pastry shells that you can fill with anything from savory ingredients like taco meat, hummus, pimento cheese and toppings to dessert puddings, dips, and fruits – the possibilities are endless.
Light, flaky, and fun to eat, these phyllo shells are fancy finger foods that can be served at any kind of party.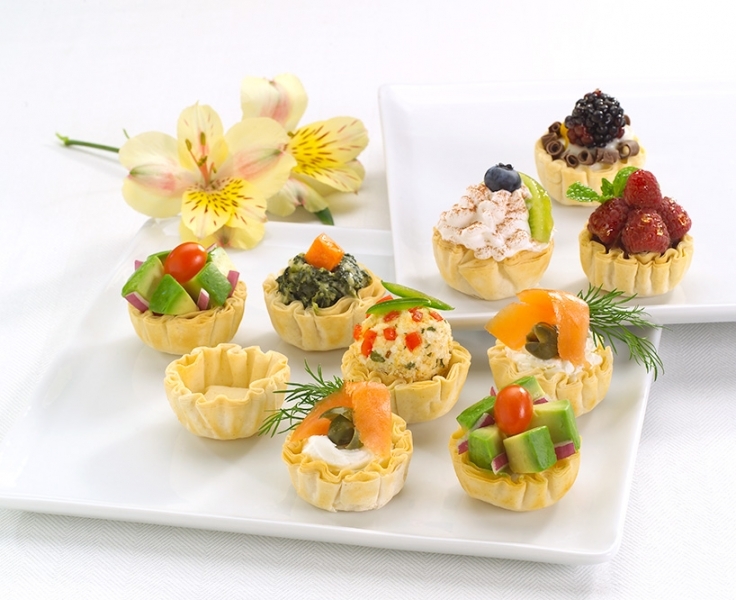 $58.99 / Tray
Pieces per tray: 150
Price per piece: $0.39
Mini Taco Shells*
Tacos are great for parties, mainly because the fillings and toppings are totally customizable. Made with superior quality ingredients, our mini taco shells are a great way to add some fun and color to any appetizer table.
Our 3" Mini Taco Shells are made with 100% stone ground corn to ensure the freshest flavor and are hand-fried. Crispy and fresh, our mini tacos come in 6 different colors – blue, green, orange, red, white and yellow. When paired with delicious fresh fillings, these mini tacos are sure to be a hit at any party.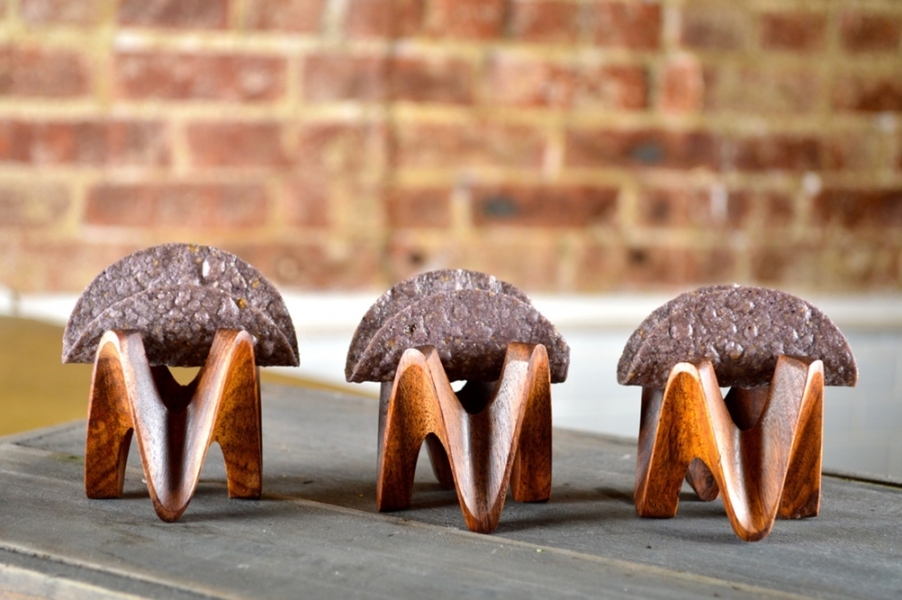 Simply customize these mini taco shells as you see fit. Fill it with meat fillings like goat cheese and chicken or smoked Gouda and pork taco filling, or swap out the meat and add cheese or beans, fresh avocado, other julienned vegetables, and guacamole.
$68.99 / Tray
Pieces per tray: 100
Price per piece: $0.69
*Shipping: This item ships via FedEx Ground at no charge and takes 5-6 days to arrive. Please allow sufficient time for the product to arrive before your event. If the item is required sooner, it will be shipped standard overnight and additional charges will apply. Please specify the date that the product is required during checkout on the serve date field.
Edible Spoons
Create a buzz at your next celebration by serving your signature appetizers in edible spoons. A great opportunity to tap into your creative side, you can come up with a host of sweet and savory fillings that can even be plated creatively to show some extra finesse. What's more, you can say goodbye to post-party cleanup!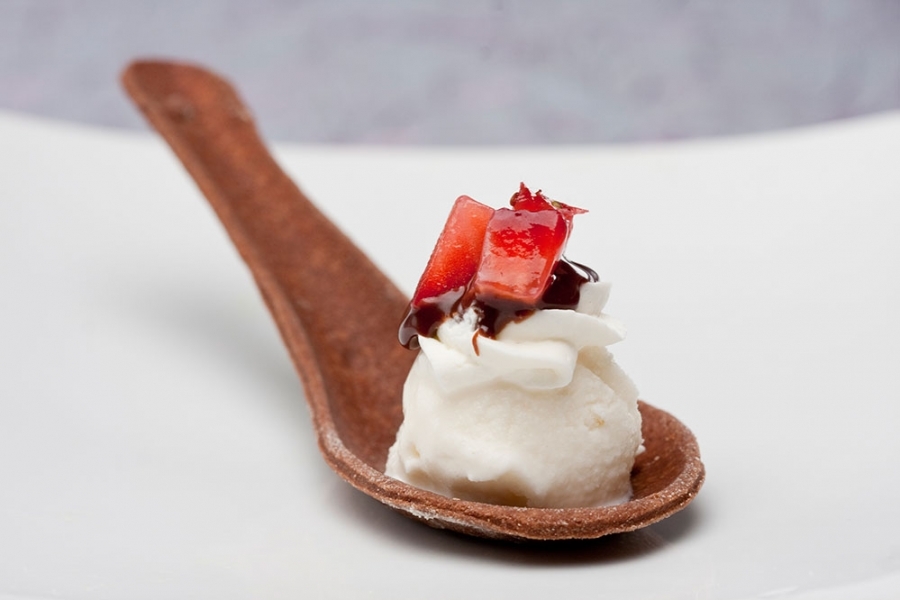 AppetizersUSA
Think of the endless topping possibilities and people just eating the whole thing – a delightful scene indeed.
We have edible spoons in five interesting flavors:
They can be served with any choice of topping/filling, so here a few suggestions to get you going:
· Corn edible spoons - Try pairing with grilled salmon, aioli and red pepper garnish, avocado or guacamole, caviar, or shrimp.
· Parmesan edible spoons - Braised short ribs and mashed potatoes, smoked salmon & cream cheese, taco meat with melted jack cheese.
· Wasabi edible spoons - Ahi tuna and fruit salsa, seafood salad.
· Plain edible spoons - Pair with any flavor profile, savory or sweet.
· Chocolate edible spoons - Torched s'mores, whipped cream, custard, and Bavarian cream.
The corn, parmesan, and wasabi flavored edible spoons can be used for savory fillings and are priced at:
$43.99 / Tray
Pieces per tray: 36
Price per piece: $1.22
Whereas, the chocolate and plain (could also be used for savory topping/fillings) flavored edible spoons are priced at:
Sale Price: $39.60 / Tray
Regular Price: $43.99
Pieces per tray: 36
Price per piece: $1.10
Just order these edible spoon appetizers or edible cups to serve your appetizers at your next do and watch the appreciation pour in. All you need to do after ordering these amazing gourmet appetizer serving spoons and cups is to just kick back, crank up the music and get ready to have a great time!
At AppetizersUSA, we provide all of the above-mentioned party appetizers along with a host of other ready-made classy and very exciting appetizers, readily available and delivered at short notice, to help you host stress-free parties.
AppetizersUSA can help take some of the hassles of planning a big party away with some of our best, readily available high-quality party appetizers that can be shipped to your doorstep in no time at all! Get in touch with us for some great, crowd-pleasing appetizers and do check out 'Create Your Own' and 'Edible Spoon' for your upcoming party today!