Explore Our Sister Brand, Sculptware, Offering Purchase & Rental Solutions For Linens,
Lighting & More To Consumers, Caterers, Hospitality Professionals & More.
Visit
Amazing Beef Appetizers That'll Definitely Fill You Up
When you have friends and family over for a get-together, it's great to serve up a constant supply of delicious, satisfying appetizers so that you can wow the crowd before the main meal. We at AppetizersUSA have created a variety of fancy beef appetizers that will allow you to enjoy your party and keep the guests happy with protein-rich food. Whether you are looking for beef appetizer recipes or just heat-and-go options, we have put together a list of some of our favorite beef appetizers that are sure to inspire you. These tasty appetizers are also a great option to keep handy in your freezer for days when you just want to relax and eat something yummy with minimal prep time.
Asian Short Ribs Pot Pie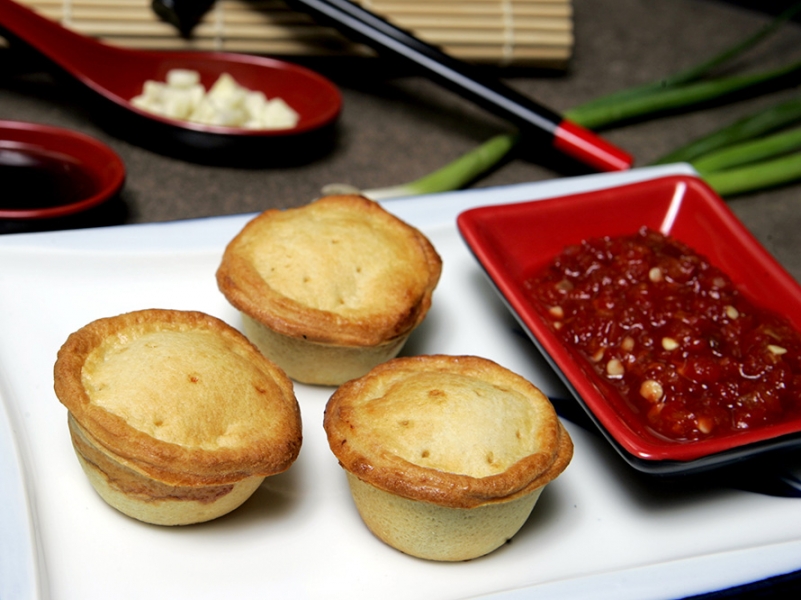 With the perfect twist to a classic recipe, this appetizer is the one that tugs at your heartstrings. With tender braised short ribs in a delicious gravy made with green onions and sweet Asian spices, enjoy this delicacy by itself or with any sauce of your choice. With juicy beef packed into a melt-in-the-mouth tart shell, you can never go wrong serving this for a party or date night at home. Just reheat them in your oven, and you can enjoy this tasty asian short ribs pot pie.
Beef Bourguignonne Puff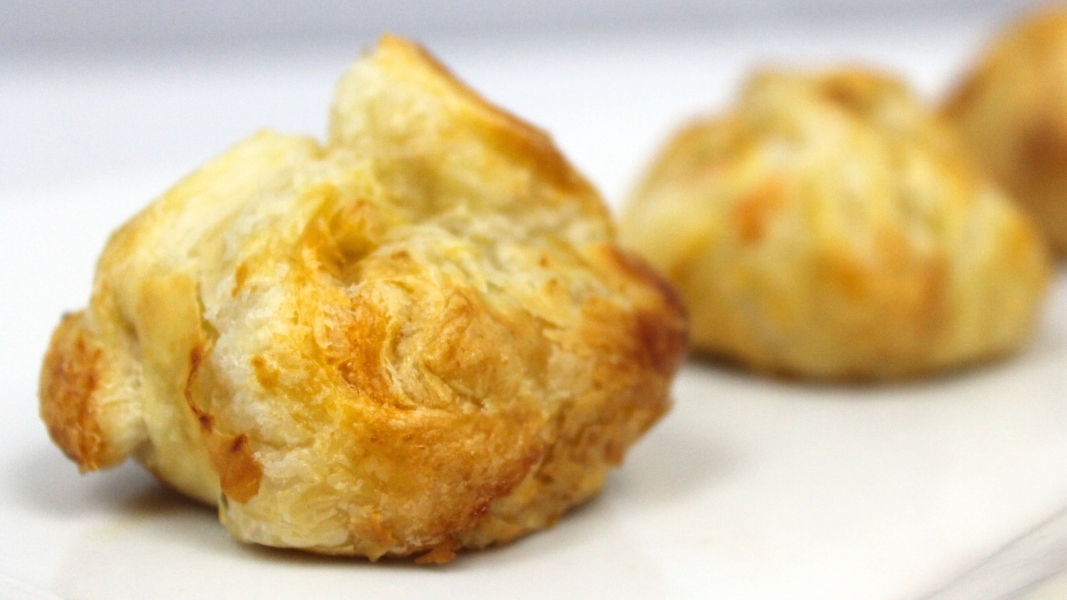 Puff pastry, beef, and red wine, how could you ever go wrong with this classic beef appetizer recipe? The traditional method of making this recipe is a labor of love. A lot of time and effort goes into making the perfectly laminate pastry and ensuring the sauce is seasoned to perfection and the beef is cooked till it can be pulled apart with a fork. Fortunately, we have done all the work for you, and with our three-step recipe, you can enjoy this delicacy without spending hours in the kitchen. Just preheat your oven to 400 degrees, place frozen beef bourguignonne puffs on a baking tray lined with parchment paper, and bake for 8 to 10 minutes till the pastry starts to brown.
Beef Barbacoa Taquito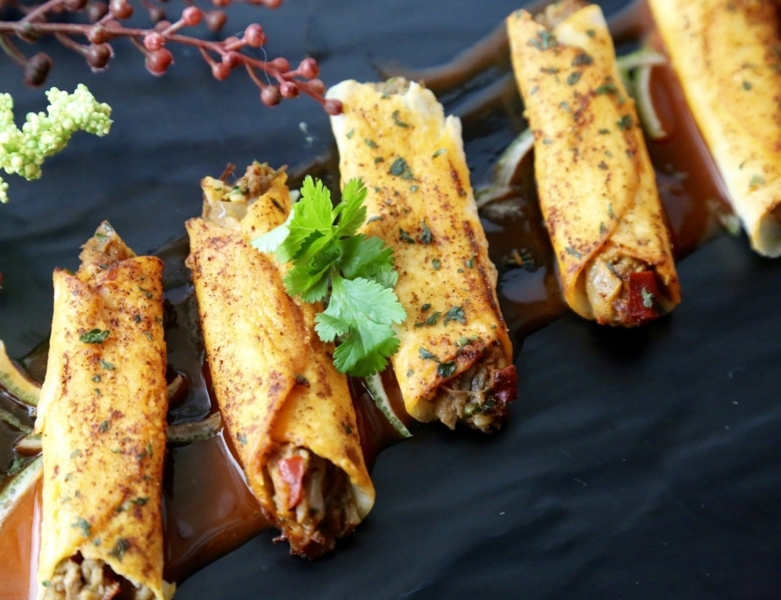 One bite of beef barbacoa taquitos will surely take you back to memories of bright, festive colors and Mariachi bands playing in the background. They are bursting with flavors of onion, fresh lime, an assortment of Mexican flavors, and the quintessential Mexican ingredient, cilantro, stuffed in mini taquitos. These are the perfect one-bite snack for when hunger comes calling or when you want to serve finger foods to your dinner guests. Serve it with a tangy salsa, homemade guacamole, or any dip of your choice.
Beef Empanadas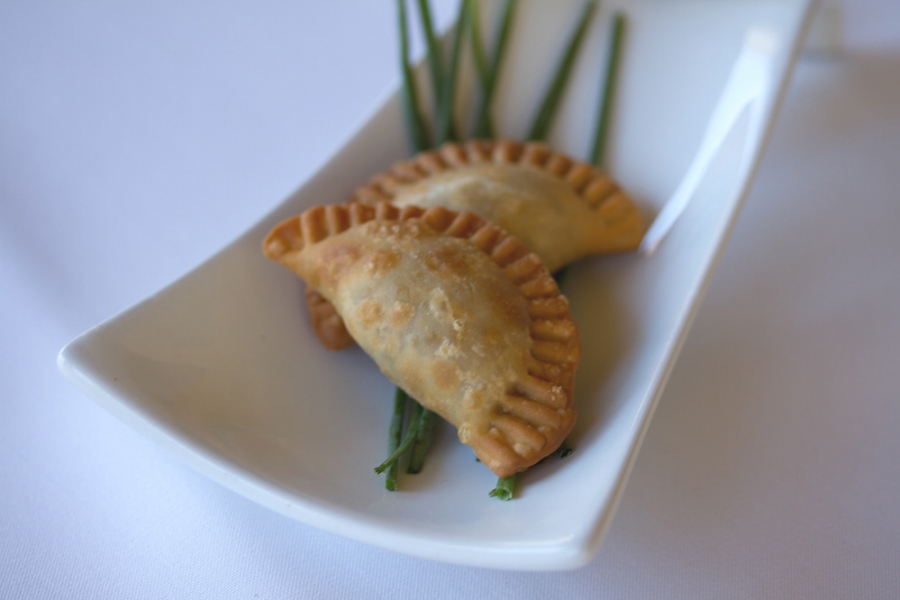 Mouth-watering juicy beef empanadas are the perfect beef appetizer idea for anyone looking for finger food. These deep-fried delicacies are stuffed with juicy shredded beef, black beans, fresh tomatoes, onions, cheddar cheese, jalapeños, and some of the most exotic Mexican spices wrapped in our signature empanada dough. Just take these beauties out of the packet, and deep fry them until they are golden brown. These are sure to satisify you and yours guests. If you want to go low on oil, you can even bake these beef empanadas at 350 degrees, turning them over regularly to get them perfectly golden brown.
Beef Kabobs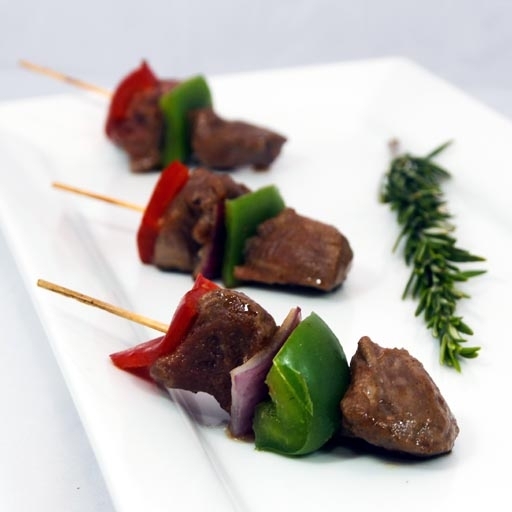 If you are looking for an all-meat fancy beef appetizer that is gluten-free enjoy tender marinated pieces of beef tenderloin paired with red and green peppers along with red onions served on skewers. Place these frozen beef kabobs on a tray lined with parchment paper and bake in an oven at 350-400 degrees for 7 to 18 minutes, based on the type of oven you have. The skewers make the perfect addition to serve with our canapés, making them the ideal fancy beef appetizer for your next social gathering. Be a stress-free party host while the oven does all the work.
Beef Satay Plain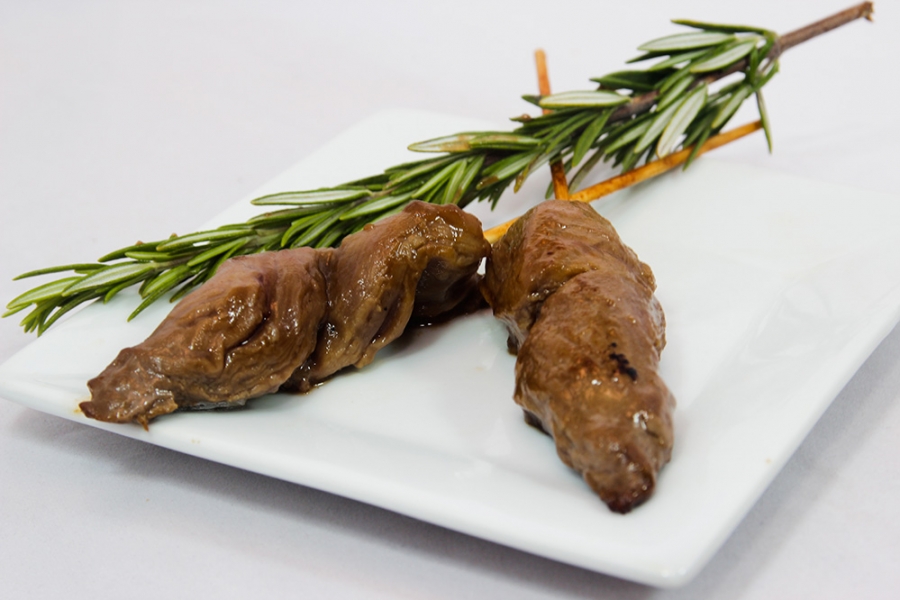 No one can talk about party food without some kind of satay, and the plain beef satay from our menu will make your guest's taste buds sing. Succulent pieces of beef sirloin are placed on 6' skewers; this appetizer is great for more intimate dinner parties where you can serve them with the classic peanut sauce or any sauce you prefer. With two pieces of steak on each skewer, this can be an excellent idea for quick weeknight dinners where all you need to do is place the contents in the oven and serve them with a bit of rice or potato wedges on the side for a wholesome family meal.
Beef Wellington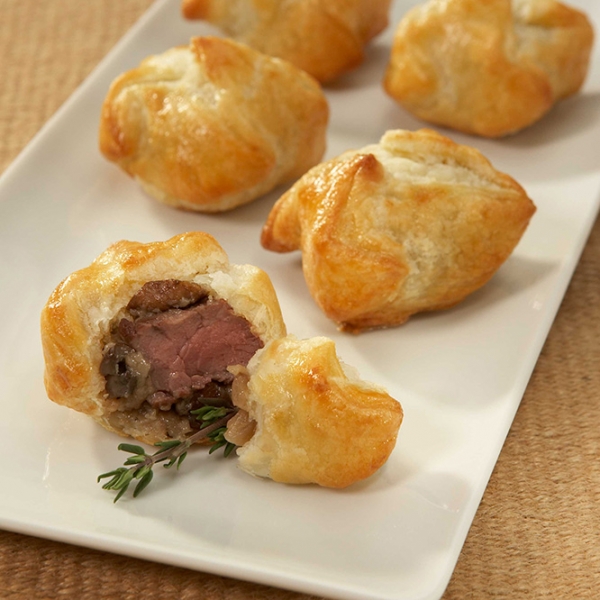 All you need are 8 to 10 minutes to make these delicious parcels of savory goodness. It has all the goodness of a traditional beef wellington but in a bite-sized package. This beef appetizer recipe contains USDA choice aged beef tenderloin accentuated with flavors of mushroom duxelles wrapped up in a classy package of French puff pastry. Your guests will be impressed with you serving up the perfect dish, which comes to you ready to bake, giving you more time to enjoy your event and guests.
Franks In A Blanket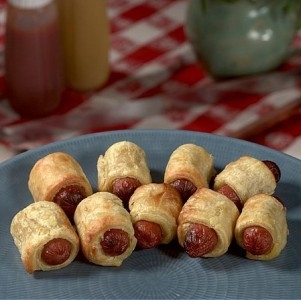 Some of the best beef appetizer recipes come with a warm cozy blanket. Our franks in a blanket are miniature frankfurters in a puff pastry that just need to be baked at 350 degrees for 10 to 20 minutes in any oven. You just have to ensure that the pastry has turned an irresistible golden brown. With carbs, proteins, and fats all present in this decadent dish, your guests will love this simple, yet delicious item. Whether you're lookig for the perfect party food, snacks for movie night, or when you want to indulge in something a little fancy, this is the right option for you!
With so many healthy, tasty, and decadent beef appetizers on our menu, you never need to worry about having boring party snacks again. We pride ourselves on providing delicious, gourmet hors d'oeuvres, premium entrees, and desserts for everyone from the food service industry and retail customers. Our quality and consistency are topped by only our prompt service that ensures our freshly prepared frozen appetizers reach you within two days or even a day using FedEx overnight. Order a single tray or the entire case; you will find the same care and effort in each piece, making it feel homemade. Contact us today for more details about retail as well as wholesale offers.