Explore Our Sister Brand, Sculptware, Offering Purchase & Rental Solutions For Linens,
Lighting & More To Consumers, Caterers, Hospitality Professionals & More.
Visit
Top Pork Appetizers Guaranteed to Impress Your Party Guests
Whether you are looking for an easy dinner for a lazy weekend or an exciting appetizer for an impromptu dinner party, this list of pork appetizer ideas is sure to exceed your needs. With maximum flavor and meat so tender it will melt in your mouth, these dishes are sure to impress your guests, making your dinner party the go-to place to be with minimal much effort. Here is a list of some of our favorite pork appetizer ideas to serve at your dinner party or to keep on hand in the freezer for whenever the craving hits.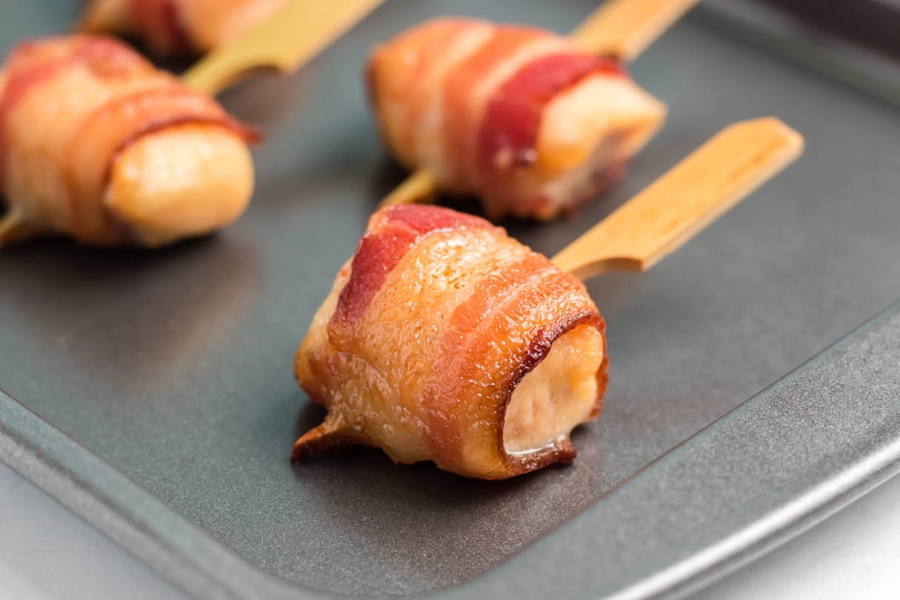 This harmonious all-white meat combination is the perfect option when looking for a twist on the traditional pigs in a blanket. Juicy pieces of marinated chicken are wrapped with applewood smoked bacon to create an irresistible combination of chipotle flavors. This appetizer is topped with sharp cheddar and jalapeños, perfect for taco Tuesdays or Mexican-themed dinner parties. While we have taken care of most of the preparations for this dish, all you need to do is pop them in a preheated oven at 375 for around 8 to 12 minutes and enjoy your time with your guests while the sizzling bacon adds a delicious aroma to your room.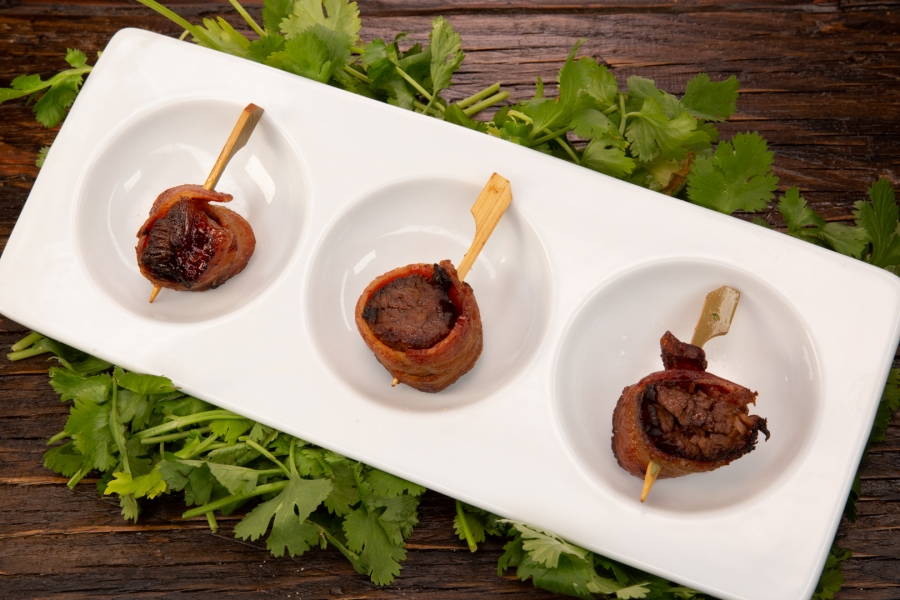 Whoever said that eating ribs is a messy job has never tried these. These bite-sized delights give you all the tastes of saucy, yummy spareribs without any mess. The ribs themselves are marinated in Asian spices, hoisin, and ginger before it is slowly roasted to coax out all the flavors of the pork. These are then cut into bite-sized pieces and wrapped in bacon to build on flavor and give you everything from salty to sweet and spicy, all in the same bite.
To prepare this simple pork appetizer, bake it frozen at 400 degrees for 10 to 12 minutes or until the bacon is fully cooked. You can even flash fry these to create even more texture to the dish.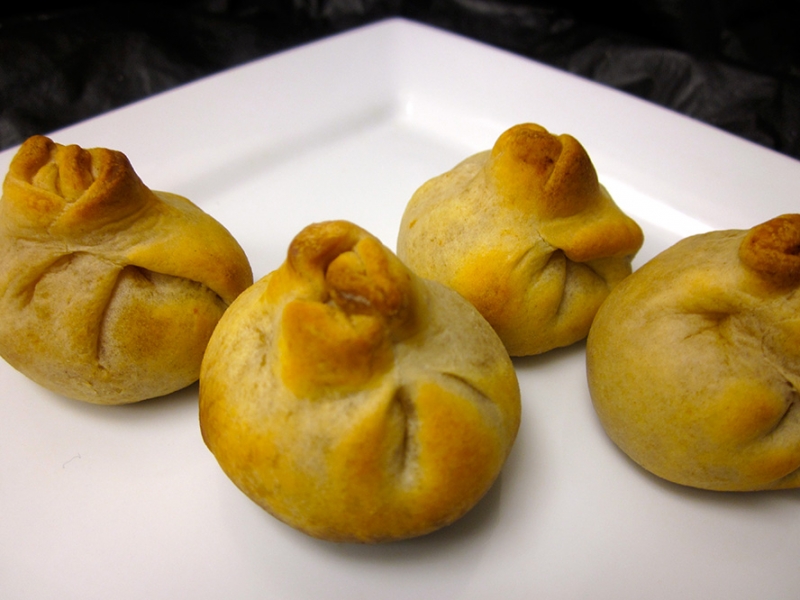 This delicious parcel is a testament to the hearty pork and biscuit meals that remind everyone of home. One of our favorites pulled pork appetizers, these mini delights include slow-cooked pulled pork drenched in an irresistible tangy BBQ sauce and placed in buttery biscuit dough. The parcels are handmade for an authentic back-to-home feel and are an excellent choice for family dinners and the holiday season.
This simple pork appetizer tastes best when baked from a frozen state. Just open the packet, place the parcels on parchment paper and bake at 400 degrees for 8-10 minutes. The time required to bake these parcels will depend on the oven you use, so a good rule of thumb is to ensure they are a lovely golden brown on the outside.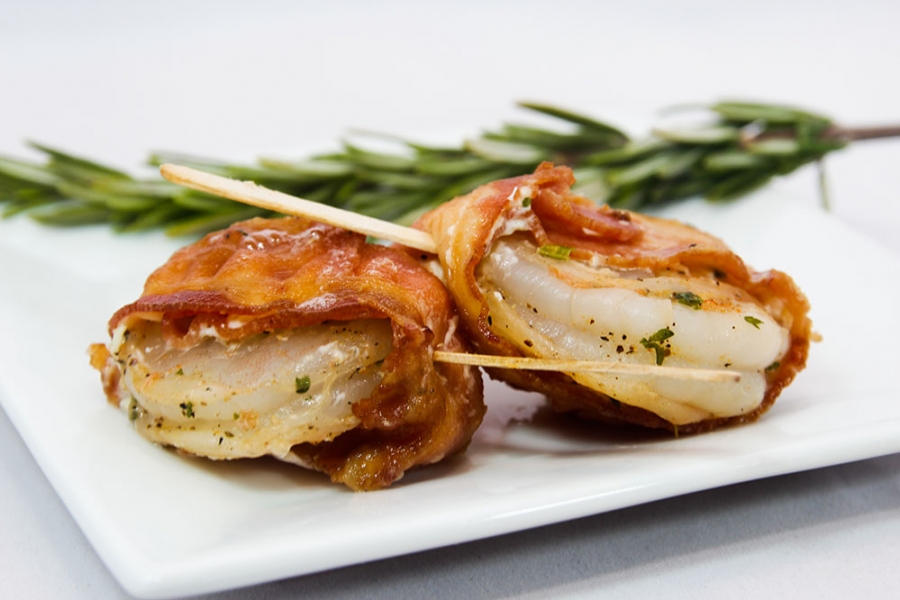 Bacon and shrimp are a classic combination that has no rival. These savory delights are made with succulent 21/25 shrimp marinated in a spicy casino mix that is sure to make your mouth water in anticipation. Add to it the applewood smoked bacon, and we have finger foods that will impress even the pickiest guest.
The best part is that all you have to do is bake the pieces from frozen on parchment paper until the bacon is completely cooked. For hotel-quality ovens, bake at 350 degrees for 8 to 12 minutes, electric ovens need to be at 400 degrees for 14 to 20 minutes, and in a gas oven for 12 to 18 minutes at 375 degrees. Remember to rotate the tray midway through baking to ensure all the pieces are cooked evenly.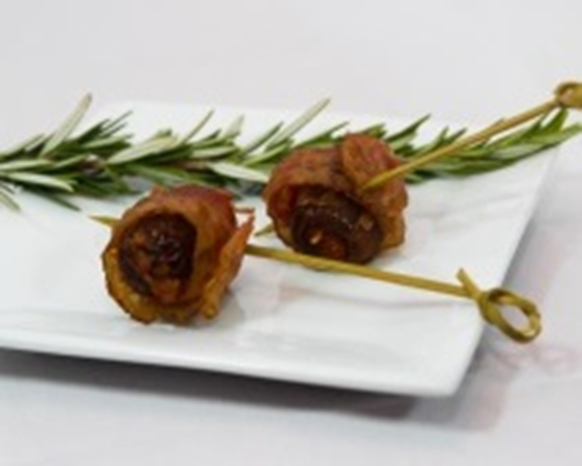 The sweetness from sun-ripened Medjool dates, mixed with the spicy hints of the Spanish Pamplona style chorizo, wrapped in decadent hickory smoked bacon, creates the perfect combination for a dish that will not only ensure that your guests are satisfied but it will also be your new go-to appetizer for every event. The smoky undercurrents of this dish reveal a delicious taste so that you can enjoy every mouthful with the same joy.
Since this is a raw meat product, you need to thaw the packet by keeping it in the fridge overnight or till you need to cook it. Once thawed, preheat the oven to 375 degrees and cook till the internal temperature of the piece is 165 degrees. The approximate cooking time in a conventional oven is 8 to 15 minutes, while a convection oven will take anywhere from 6 to 10 minutes.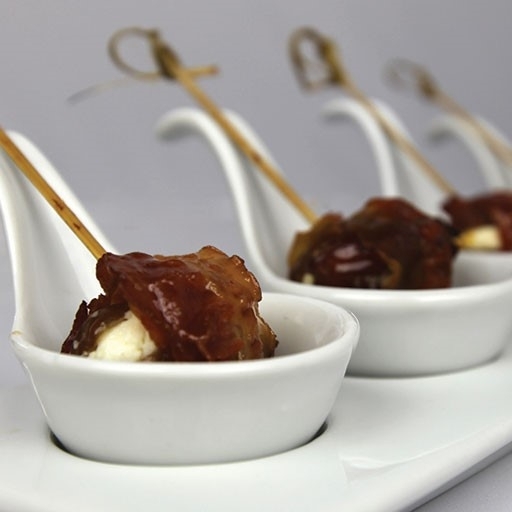 Another delicious variant for the previous appetizer is this sweet and salty combination, dates and goat cheese wrapped in bacon. It is perfect for anyone who loves a creamy appetizer that almost melts in the mouth. Velvety smooth Medjool dates are stuffed with creamy goat cheese before they are wrapped with decadently salty applewood smoked bacon to give you a dish that will keep you reaching out for the next one.
Since these are part of our fully cooked selection of appetizers, they are ideal when you need a quick fix for your party. Just pop these into the oven at 300 degrees and wait until they are warmed before placing them on your favorite serving dish and watch them disappear quickly off the plate.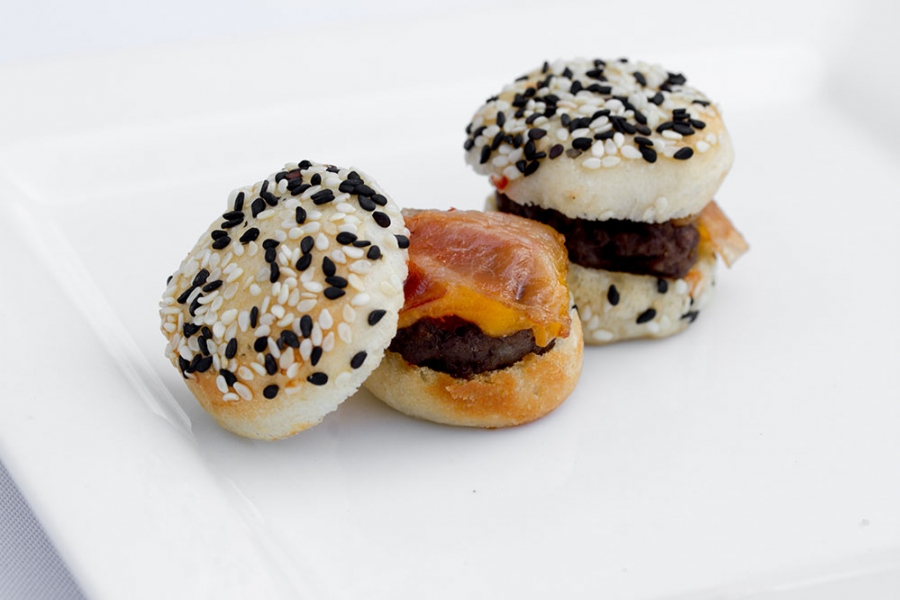 Ever thought about burgers as finger foods? Well, think again. These decadent pork appetizer recipes are ideal for a themed party or game night. They are easy to eat and give you a burst of flavor; enjoy the fun of a mini burger as an appetizer! A juicy burger patty is grilled to perfection before it is topped with cheddar cheese and bacon to add to the dish's richness. Finally, the patty and toppings are placed between a sesame-topped mini burger bun that oozes authenticity.
To prepare these little delights, defrost the packet in the refrigerator overnight or until you cook them. Then place them in a baking dish and cover them with foil; put them in a preheated oven at 350 degrees for 6 to 10 minutes or till the internal temperature of the dish reaches 165 degrees.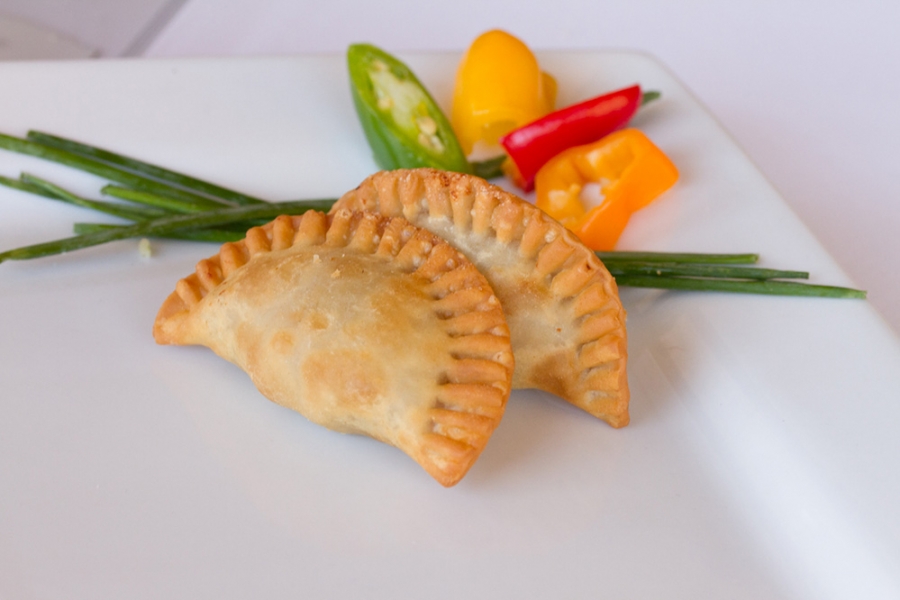 Fried or baked, whatever way you serve these pulled pork appetizers, we are sure that they will be a hit among your friends. With Michoacán style pork shoulder braised with smoky chipotle peppers, this mixture itself can be eaten by the spoonful but add to it flour empanada dough, and you have yourself a dish that is perfect for impressing your guests as well as a quick weeknight dinner recipe that's no fuss to make.
Just fry these parcels at 350 degrees for 5-8 minutes or until they are perfectly golden brown before removing them from the heat and placing them on a kitchen towel. You can also bake them at 350 degrees, turning them over to ensure both sides are golden brown.
Summary
AppetizerUSA is dedicated to providing some of the most delicious frozen appetizers that make party prep a breeze so you can enjoy time with your friends while baking decadent appetizers in your oven. Whether you need one box for yourself or multiple to serve your guests, contact us and place your orders today.