Explore Our Sister Brand, Sculptware, Offering Purchase & Rental Solutions For Linens,
Lighting & More To Consumers, Caterers, Hospitality Professionals & More.
Visit
Jumpstart 2017 With Healthy Appetizers Your Guests Won't Refuse
Whether your 2017 New Year's Resolution is to lose weight and eat healthier, or if you simply lead a healthier lifestyle in general.


It's hard to believe that the holiday season is here and gone. All the planning and preparing was well enjoyed and family and friends were beyond satisfied by all the delicious dinner and treat, but it's now officially a new year, which means getting back to routine and creating new ones to follow.

Whether you've made a New Year's Resolution to eat healthier and focus on weight loss, or if you already feel like you have that down and are just continuing with that trend in your life, you may be concerned with food options when hosting or attending a part. Don't fret though, we have four delicious and HEALTHY appetizer options that will satisfy any food crazing, without putting a dent into your new and improved, healthy self.

Here are four healthy appetizers that you must try today!


Chili Lime salmon satay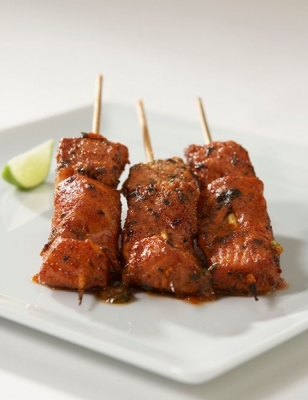 These healthy dinner party appetizers not only taste fabulous but are also gluten-free! You can order our mouth-watering Chili Lime Salmon Satay here or simply make your own with this easy recipe.

Ingredients

For the marinade
1 tablespoon olive oil (extra virgin preferred)
A handful of cilantro, roughly chopped
¼ teaspoon of chili powder (or to taste)
1 ½ to 2 pounds Atlantic salmon cut into chunks
Skewers

Preheat your barbecue or grill.

Thread the marinated chunks on to skewers (about 3- 4 chunks on each skewer depending on the size of the chunks and skewers).

Arrange on the barbecue or grill and lightly brush with olive oil and cook for 5 – 6 minutes turning occasionally until the salmon is cooked.

These oven-baked meatballs are delicious. If you feel like having a cheat day, there's no harm in frying these bad boys, since it will still keep the calories low. For those completely against even lightly fried foods, these meatballs can be grilled or cooked in an air fryer while still keeping the taste of the spices intact.
¼ cup finely diced white onions or shallots
1 cup finely chopped cilantro
1 teaspoon ground coriander
¼ teaspoon ground cinnamon
¼ teaspoon finely ground pepper
Combine all the ingredients in a large bowl. Mix well. (Tip: Using your hands ensures a really even mix).

Serve hot skewered on toothpicks with a yogurt or harissa dip.
Combine all the ingredients in a large bowl. Mix well. (Tip: Using your hands ensures a really even mix).
Cover and let the meat absorb the flavors for at least 30 minutes.
Preheat the oven to 375°F.
Roll into bite-sized meatballs.
Bake for about 15 minutes, until they are cooked through the middle.
Serve hot skewered on toothpicks with a yogurt or harissa dip.
Too many guests to cook for? Order our bestselling pistachio encrusted Moroccan Lamb Lollipops

here

.
---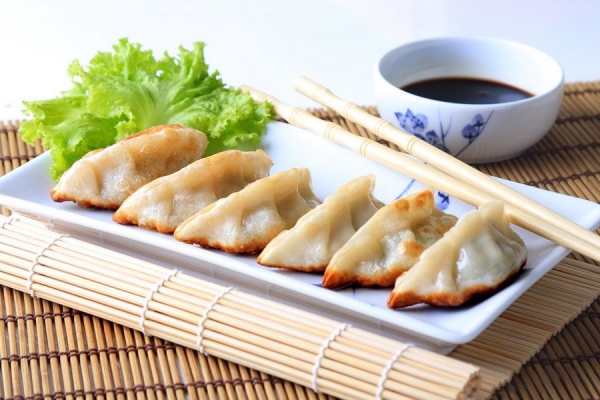 Add a slightly exotic touch with these dumplings. These are steamed, rather then fried, making them the perfect healthy appetizers for your party.
Ingredients
100 grams water chestnuts, rinsed and sliced
2 spring onions, finely chopped
1 clove garlic, finely minced
1 teaspoon fresh ginger, finely chopped
1 teaspoon of rice wine vinegar
2 tablespoons cilantro leaves, finely chopped
20 fresh flour wonton wrappers
Flour
A bowl of water
Mix all the ingredients together well (except for the wrappers, of course!) in a large bowl.
Dust a flat work surface lightly with flour and place your wonton wrappers on it.
Place a teaspoon of mixture in the center of each wrapper and bring opposite corners of a wonton wrapper together and pinch to seal them. Do the same with the other two corners, making sure that there is no air trapped inside the wontons.
Dip your fingers in some water to help seal the pastry.
Steam in a bamboo steamer for around ten minutes until the chicken is cooked thoroughly.
---
sweet potato bites with goat cheese and cranberry
Ingredients
3 small rounds of goat's cheese
Flat leaf parsley to garnish
Instructions
Preheat the oven to 350°F
Scrub the sweet potatoes. Slice them into 1 centimeter thick circles, leaving the skin on.
Toss the sweet potatoes in olive oil along with salt and pepper until they are well coated.
Place on a well-lined baking tray and roast in the oven 20 minutes.
Turn them over halfway through the cooking time and cook until golden brown.
Remove any excess oil using kitchen paper.
Place the potato rounds back onto the baking tray and add a dollop of cranberry sauce to each.
Slice the goat's cheese into thick pieces and place on the baked potato circles next to the cranberry sauce.
Grill until the cheese melts and garnishes with the flat leaf parsley.
Serve hot.
Blend together the lime juice, olive oil, cilantro, and garlic to form a smooth paste. Mix in the chili powder, salt, and pepper.
Instructions
Marinade the chunks of salmon in a covered bowl or a ziplock bag in the refrigerator for at least 30 minutes.
For the Recipe
Preparing the Marinade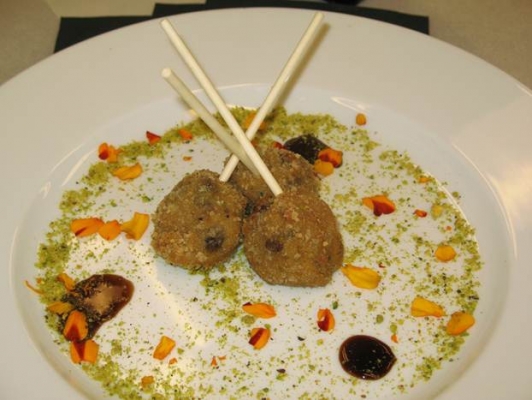 Moroccan spiced lamb meatballs
Instructions
Teriyaki chicken dumplings
Instructions
Serve with a soy-based dipping sauce. You can try our Teriyaki Chicken Dumplings for your dinner party here.
This vegetarian recipe is the perfect healthy-winter food, especially for the month of January.

This makes approximately 48 bites