Explore Our Sister Brand, Sculptware, Offering Purchase & Rental Solutions For Linens,
Lighting & More To Consumers, Caterers, Hospitality Professionals & More.
Visit
Top 5 show-stopping Gourmet Beef Appetizers for Any Celebration
Top 5 show-stopping Gourmet Beef Appetizers for Any Celebration
Be it a cocktail party, a wedding or an engagement party, or just a fun barbecue night to celebrate winter or spring, the perfect beef appetizers can really tantalize your taste buds.
To set the perfect party vibes, take a peek at our list of show-stopping beef appetizers and find the perfect match for any kind of party or get-together.
Delicious beef appetizers:
· Beef Wellington
· Shepherd's Pie
· Beef Empanadas
· Beef & Gorgonzola Wrapped in Bacon
'Beef'ore we get all caught up in describing some of the most amazingly delicious beef appetizers, we must tell you this - If you are thinking about hosting a party and its nitty-gritty impinges on your menu planning or takes too much of your time, allow us to help you take the appetizers off your list with our Frozen Beef Appetizers. Just leave the hard work to us and you can focus on the other details.
Ok, here are some of the most amazing beef appetizer recipes as promised!
Beef Franks in a Blanket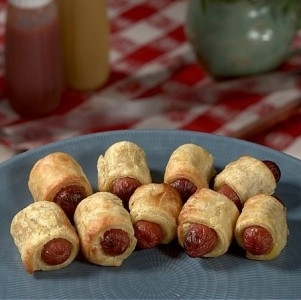 That's the fancy name for pigs in a blanket.
Enveloped in a soft bun with some pickle relish and a healthy dose of ketchup and mustard, is how it would be served if it were a super bowl. But miniature hot dogs wrapped in a delicate, flaky puff pastry, make an elegant dinner bite, rechristened as Beef Franks in a blanket.
Ingredients
· 1 pound frozen puff pastry
· Flour for dusting
· 1 egg beaten (egg wash)
· 16 miniature raw beef hot dogs
· 2 tablespoons mustard
· Fresh thyme or marjoram or chopped rosemary
· Salt
Instructions
Preheat oven to 400° F.
Defrost puff pastry and roll it out on a floured surface to a rectangle of about 19" x 12". Cut in half lengthwise, and then cut both halves into 8 smaller rectangles each to give you 16 rectangles total.
Spread a little mustard towards one end of each pastry rectangle. Lay a miniature hot dog on the mustard and sprinkle with the herb of your choice.
Brush the other end of the rectangle with a little of the egg wash and roll the sausage up in the pastry, sealing the ends. Let it chill in the refrigerator for 15-20 minutes.
Prick the pastry with a fork, brush with egg wash, sprinkle some salt and bake in the oven for 25 to 30 minutes.
This appetizer tends to disappear fast and if you don't fancy rolling pastry to make enough for a party, then you could try our frozen version of Franks in a Blanket or choose from our whole range of beef appetizers.
Beef Wellington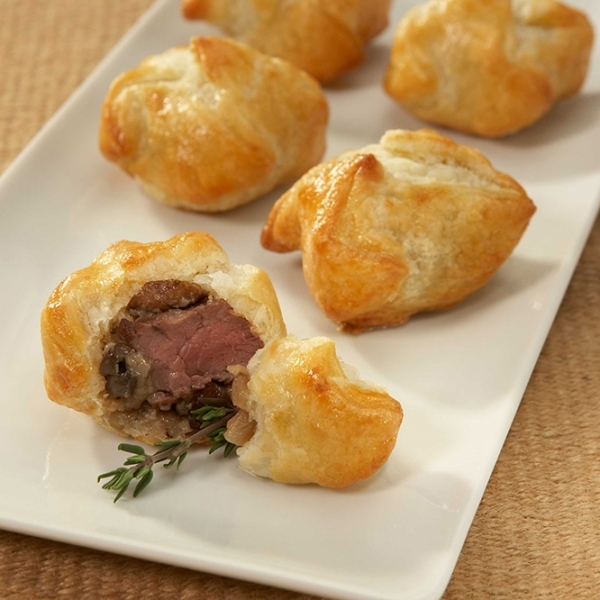 The flavor of fresh, beef tenderloin, emphasized with mushroom duxelle and wrapped in a French-style puff pastry, the beef wellington, is an absolute delicacy. Serve them as individual beef wellingtons, and they transform into an impressive appetizer that can be served at any fancy do.
Ingredients

· 2 tablespoons olive oil
· 2 lbs. beef tenderloin, cut into 24 (1-inch) cubes
· Salt
· Ground black pepper
· 10 ounces mushrooms, finely chopped
· 1 large shallot, finely chopped
· 2 sheets thawed puff pastry
Instructions
Sear the cubes of beef tenderloin in olive oil over medium-high heat until deep golden brown. Remove to cool.
To the same skillet, add the mushrooms and cook for about 5 minutes. Add the shallots and let it cook until mushroom mixture is dry and golden brown and shallots are soft. Remove from heat and cool.
Preheat the oven to 400 degrees F. Line a baking sheet with parchment paper.
Put a teaspoon of mushroom mixture on the rolled puff pastry, evenly spacing them. Top the mushroom mound with a piece of beef. With a sharp knife, cut the pastry into squares around the meat and mushrooms.
Fold the pastry ends over the top to make it look like a packet. Invert them seam side down on the baking sheet and press lightly to seal the pastry.
Bake the beef wellingtons for 20 to 25 minutes until golden brown. Cool at least 10 minutes before serving.
Yes, they are super delicious and also require some serious elbow grease. Now, you can avoid all that and simply order frozen individual beef wellington from us. We have a party pack of 50 per tray that requires you to just bake and serve.
The ultimate comfort food, shepherd's pie is beef sauteed in a variety of spices along with carrots and peas and baked in a savory pastry shell topped with mashed potatoes. When baked in a large pie dish, the shepherd's pie is a comfy home dish, but when baked into individual portions, it converts into an elegant appetizer.
Ingredients
· 1 tbsp. sunflower oil
· 1 large onion, chopped
· 2-3 medium carrots, chopped
· 500g pack lamb mince
· 2 tbsp. tomato purée
· 2 tbsp. Worcestershire sauce
· 500ml beef stock
· 900g potato, cut into chunks
· 85g butter
· 3 tbsp. milk
Instructions
Heat the sunflower oil in a medium saucepan, and cook the chopped onion and carrots for a few minutes until soft.
Turn up the heat, add the lamb mince, tipping off any excess fat and cook it till it's brown.
Add the tomato puree and Worcestershire sauce, and fry for a few minutes.
Pour the beef stock, bring to a simmer, and cook for 40 mins.
Preheat the oven to 180 C.
Boil the potato in salted water for 10-15 minutes until tender. Drain, and mash with butter and milk.
Place the mince into an ovenproof dish and top with mashed potatoes.
Bake for 20-25 mins until the top begins to show a brown hue and the mince is bubbling through at the edges.
There really is no need to sweat it out as we have a pack of 40 individual Shepherd's Pie servings that will do just as well. Simply bake and serve. Easy as pie!
Beef Empanadas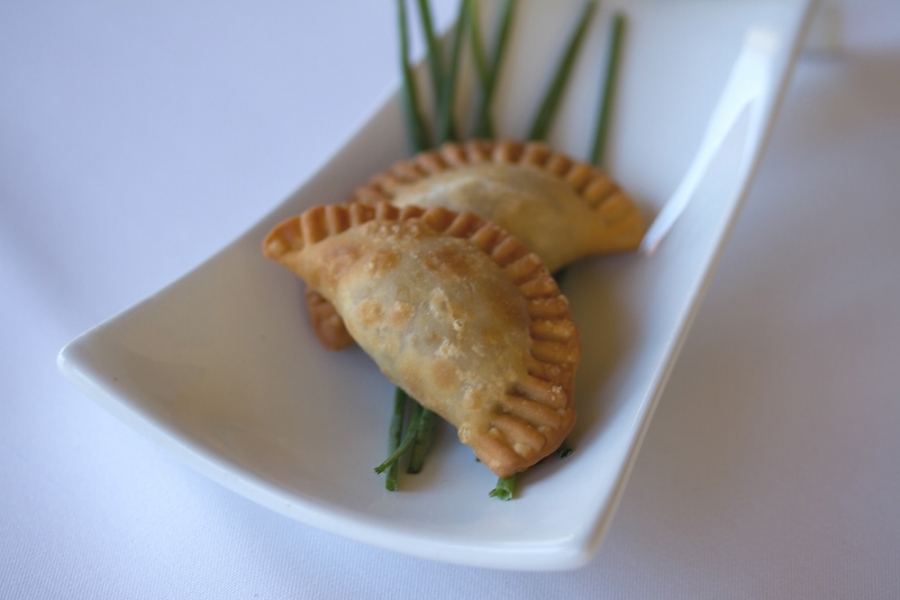 ith shredded seasoned beef, onions and exotic spices as the main ingredients, and wrapped in dough, these beef empanadas are a crowd-puller. There are variations of the filling that you could use to make these .

Ingredients
· 1 lb ground beef
· 1 small red onion, finely chopped
· Salt and pepper to taste
· 1 tablespoon ground cumin
· 1 tablespoon chili powder
· 1 can (8 oz) tomato sauce
· 2 packages of prepared pie dough
· 1 egg white, beaten
· 1 egg yolk, beaten
Place ground beef, onion, salt and pepper in a skillet and cook over medium-high heat until beef turns brown; drain. Stir in cumin, chili powder and tomato sauce. Reduce heat and cook for 5 minutes.
Heat oven to 400°F. Place silicone baking mat on a cookie sheet with sides.
Unroll dough into 1 large rectangle on a baking mat. Using 4-inch round cutter, cut out rounds.
Place about 2 tablespoons of beef mixture in the center of each dough round. Gently brush the edge of each round with beaten egg white. Fold dough round in half to cover filling; press edge together to seal. Brush tops of empanadas lightly with beaten egg yolk.
Bake for 10 to 12 minutes or until golden brown. Serve warm.
With seasoned beef, juicy tomatoes, black beans, cheddar cheese, onions, jalapenos and exotic spices wrapped in dough, we have delicious beef empanadas that can be fried or baked. Serve it and you'll have your guests asking for more.
Beef & Gorgonzola Wrapped in Bacon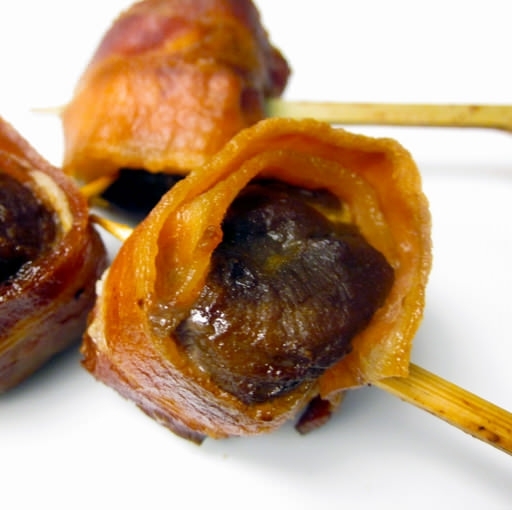 Elegant and impressive, Beef & Gorgonzola Wrapped in Bacon, is full of flavor. Make this elegant recipe for a romantic dinner or for any party.
Ingredients:
· 2 (10-ounce) Beef Filet
· 3 tablespoons Gorgonzola
· 2 tablespoons cream cheese
· 3/4 teaspoon ground black pepper
· 8-10 leaves fresh sage
· 2 thick slices of bacon
· Wooden skewers
· 1/2 teaspoon salt
Instructions:
In a bowl mash together blue cheese, cream cheese and 1/4 teaspoon pepper.
With a sharp paring knife, form a pocket by piercing into the side of each beef filet. Stuff the pocket of each filet with the blue cheese mixture.
Place the sage leaves on the filet sides and wrap with bacon. With the help of skewers, secure the bacon.
Preheat the grill to 350°-400°F.
Season the bacon-wrapped fillets with salt and pepper and place on the cast iron pan. Sear the sides to start crisping the bacon. Close grill and cook the fillets for 10 minutes per side over indirect heat. Allow to rest for 5 minutes before serving.
Fresh cut tenderloin paired with Italian blue-veined gorgonzola and wrapped in apple and hickory smoked bacon, try our party pack of Beef & Gorgonzola Wrapped in Bacon to serve 50. Bake to serve these tempting party appetizers in a jiffy.
While these delicious beef gourmet appetizers are exceptionally popular at celebrations, the sheer amount of time it takes to prepare puts people off. And you simply must have them, because these appetizers add to the perfect gourmet feeling.
No matter what your celebration, we have beef appetizers for cocktail parties, beef appetizers for weddings, beef appetizers for barbecue parties, and even beef appetizers for the Super Bowl.
We have a whole range of lip-smacking high-quality handmade frozen party appetizers that are readily available and made with freshest ingredients. Simply order various party packs and with the instructions included, get gourmet appetizers ready instantly. Tasty and easy, these beef appetizers work for any crowd or occasion.